Stories about Cambodia



HIGH RISK, BIG REWARDS - Investing in troubled countries like Haiti and Cambodia involves extensive risk, but also offers the potential of big rewards. Douglas Clayton has steered Leopard Capital from tiny Cambodia to riskier waters as a pioneer in Frontier Investment.



HAIR ENTREPRENEUR - Hollywood swears by them, but the world's hair extensions mainly come from locks shorn in India. Yet a plucky American woman is challenging the hair magnates with an unusual start-up based in one of the world's poorest countries, Cambodia. Selling direct to customers around the globe, she's bringing commerce and new hope to Cambodia.


ANSEL ADAMS OF ANGKOR - Photographer John McDermott found his life's vocation in the ancient temples buried in the jungles of northern Cambodia. Perhaps the second-most significant export from Little Rock after Bill Clinton, his pictures hang in Cambodia's National Museum, and walls around the world. Now, comes a stunning book from a man many call the Ansel Adams of Angkor.

CAPITALIST CRUSADE - Phnom Penh, claims some of Asia's most unique architecture. Decades of war mean it missed the Asian boom, leaving a collection of stunning colonial palaces, art deco mansions and cool New Khmer Architecture. Now, buildings are being razed for apartments, but rescue comes from unusual quarters - an investment fund that aims to preserve AND profit.

JUNGLE PHOTO FEST - Every fall, some of the world's best photographers gather in one of the world's oldest, and most impressive cities, for the Angkor Photography Festival. Workshops are held, skills passed to a new generation of photojournalists, and fans drawn to the surreal surroundings of ancient Angkor. There is a certain magic in the location, and spirit of giving back.

SEAHORSES VS SINGAPORE SAND - Dredges supplying Singapore with sand are sucking up the reefs and a rare population of seahorses off the coast of Cambodia. A recent ban has provided a respite for the pristine coastline, but the question is whether it will be enforced by Cambodia's corrupt government, and for long enough to save the Seahorses.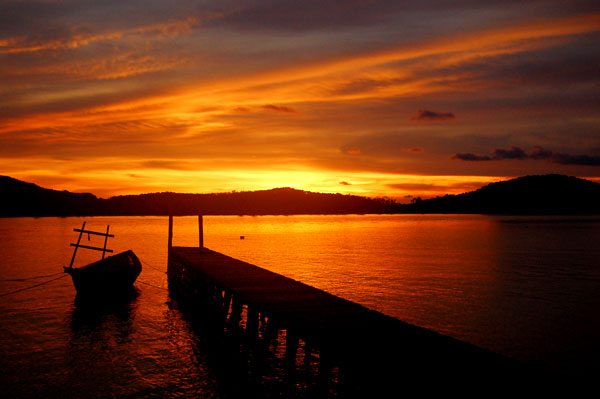 INDOCHINE RIVIERA - White beaches and uncut forests are the norm in a wide swatch of seaside from Vietnam to Thailand, including some of Southeast Asia's last undeveloped islands off the coast of Cambodia. But developers plan a massive wave of developments including luxury villa resorts and yachting marinas, as a gold rush has begun along what many call the Indochine Riviera.
CAMBODIAN LAND GRAB - The coastal free-for-old is only one facet of an unprecedented land grab in corrupt Cambodia, where an economic boom hasn't trickled down to locals, vast numbers of which are being made landless while foreign investors grab vast tracts of land as leaders line their pockets in what is shaping up as a world-class land grab.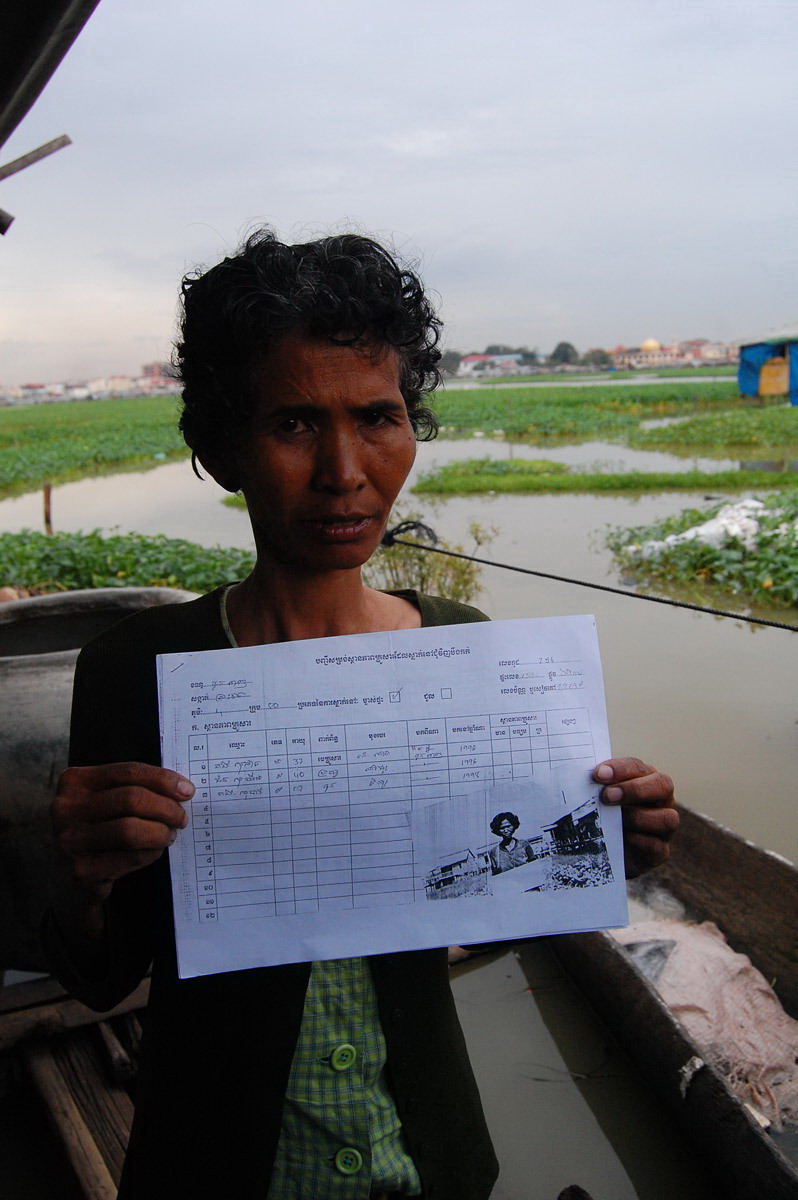 BATTLE FOR BOEUNG KAK LAKE - Despite a booming economy, the biggest threat to the poor in an impoverished nation in Cambodia can be prosperity. Case in point, Boeung Kak Lake in Phnom Penh, where developers are working with the corrupt Cambodian government to evict thousands of refuges who found shelter in swampland, only to be threatened by the biggest relocations since the Khmer Rouge emptied the cities.

CHINESE HOUSE - One of oldest Chinese shop houses in Phnom Penh escapes the wrecking ball of redevelopment and it reborn as a cool, heritage-rich bar and art gallery, Chinese House.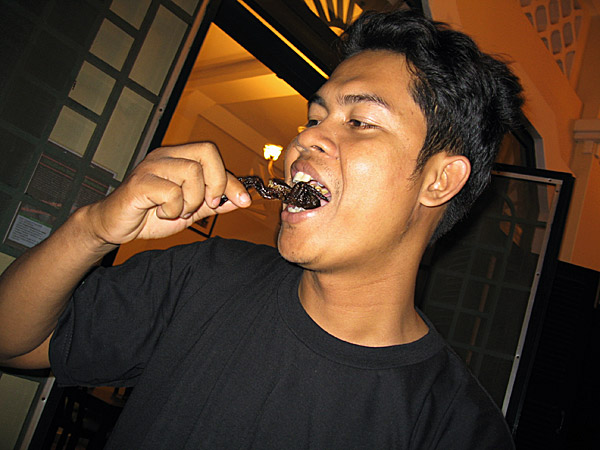 CAMBODIA'S IT CUISINE - Long derided for its lack of spice, the subtlety, or starvation policies of the Khmer Rouge, Cambodian cookery is being hailed as the world's new It Cuisine. A new cookbook showcases the country's culinary creativity, from spiders to water lillies.

MEKONG RIVER DOLPHINS - Pushed to the edge of extinction, a rare variety of freshwater dolphin is making a fin-al stand in a scenic stretch of the Mekong, in remote Laos and Cambodia. Locals who used to fish the dolphins are no embracing them as the driving force of an ambitious development program designed to alleviate poverty and use tourism to save the species.

WORLD'S SMALLEST HOTEL - With just a single room, the One Hotel offers the ultimate in exclusivity, along with plenty of pampering in Siem Reap, gateway to the majestic temples of Cambodia's Angkor. And, to avoid any booking problems, eccentric hotelier Martin Dishman has just come up with Plan Be.



CAMBODIA'S PAIN, AMERICA'S SHAME - Escaping the Khmer Rouge genocide, hundreds of Cambodian refugees reached safety in America, only to wind up, decades later, deported to a land many never even knew. Blame tightening immigration laws and the hysteria over Homeland Security, as America not only failed to provide promised shelter, but offers no access to appeal, let alone human decency, simply stamping them: Return to Sender.

NEW CAMBODIAN ARCHITECTURE - New architectural forms arise rarely, especially in Asia, where much of the great creations arose centuries ago. That was the case with the great Khmer civilization that created magnificent Angkor. Yet a half century ago, as Cambodia celebrated its rebirth in independence, a spate of new construction ensued, much in the style increasingly celebrated as New Khmer Architecture.

PHNOM PENH ARCHITECTURE - Capital cities around Asia grew madly during the regional economic boom, but war kept Cambodia in a stagnant state. Yet slow growth meant that much of Phnom Penh's architecture is intact. This includes fine colonial treasures from old Indochine, a mix of churches and Chinese temples, and an unique school of New Khmer Architecture. All can be seen in a delightful guided tour.
PHNOM PENH'S NEW LOOK - War-torn and forlorn for decades, Cambodia's capital is bouncing back as an edgy new destination. With glorious colonial-era buildings being turned into boutique hotels and trendy bars, cool views over a river whose flow reverses every year, and an intoxicating slow pace, Phnom Penh is back on the tourist maps.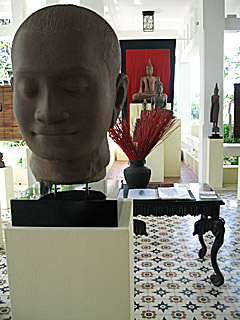 ASIA'S HOT NEW ART ENCLAVE - Move over Ubud and Hanoi, Asia has a hot new arts enclave - Siem Reap, upcountry in Cambodia. This riverside town serves as gateway to the temples of Angkor, and swarms with tourists. Now, the laid-back lifestyle is attracting scores of regional artists, and fueling a boom in art galleries.

CAMBODIA'S COOL COAST - Hailed as Asia's new Riviera, the southern coast of Cambodia is booming, with new resorts, restaurants and spas. Tourists swarm to Sihanoukville, but the chic set head to Kep, a sleepy seaside town that has been the in-destination for decades.

NEW FACE OF CAMBODIAN CAPITALISM - Nobody better embodies the frontier style and risky nature of business in this war-torn country than Kith Meng, who is helping to transform this former economic backwater into one of Asia's best performing economies

CAMBODIAN BUILDING BOOM - Asia's economic basket-case has become the region's new tiger, roaring as double-digit growth rates fuel a frenzy of new development projects. As dozens of high-rises reshape a skyline of mostly three-story buildings in the capital of Phnom Penh, Cambodia is experiencing its first construction boom in 1,000 years.

THE KING'S LAST SONG - Amidst all the books about the glories of ancient Angkor or forgettable tales from recent aid workers, Geoff Ryman has delivered a Cambodian volume that is truly novel, and well worth a read.

TRIBULATIONS AT TRIAL - Cambodians have waited three decades for justice to come to the Killing Fields, where nearly 20 percent of the population died. An odd UN Tribunal brought hope, but after a year, still no court cases, only more controversy. Sadly, survivors of the ruthless Khmer Rouge will just have to wait a little longer.



ANGKOR: OVER? - Cambodia's Angkor temples are an undisputed world wonder. After decades of war, they are finally open to tourism, which is vital to this poor country. But the arrival of mass tourism in a corrupt country ill equipped for the boom, makes many wonder whether tourists will love the ancient wonder of Angkor to death.

CAPITAL CUISINE - Phnom Penh has long claimed a wide array of international restaurants, but these have been renowned across Asia more for hearty servings and cheap prices than quality or atmosphere. But a trio of new Cambodian restaurants raise the bar higher.

A SURVIVOR'S STORY - The Cambodia Tribunal hopes to gather victims, explain the carnage and foster reconciliation with the Khmer Rouge, three decades after their murderous rule. But the same thing has already been done, rather well, by a shocking film, "S-21: The Khmer Rouge Killing Machine."

BACK TO YEAR ZERO - In his "The Lost Executioner," photographer Nic Dunlop offers unique perspective on Cambodia, his focus for over a decade. His book details his discovery of Duch, the Khmer Rouge death camp commandant. Part detective, more self-discovery tale, it also offers new insight to the tragedy of Cambodia.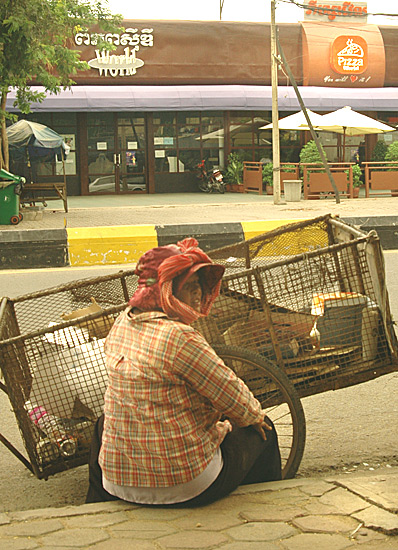 A TASTE OF HOPE - Phnom Penh lacks paved streets and honest police, but it's always had plenty of pizza, including Herb's popular pot-laced pies. So, why all the excitement over the opening of Pizza Company? It brings Cambodia it's first franchise restaurant.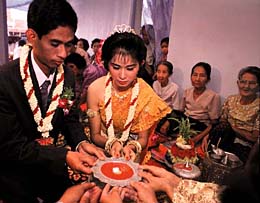 THE URGE TO MERGE - Every year in Cambodia, as the murky waters of the Tonle Sap reverse their flow into the infamous Mekong River, the annual aquatic miracle casts a romantic spell on the capital, putting young couples in the mood for matrimony


HAIRCUTS 100 - The World Bank worries about GDP. The Economist has it's Big Mac Meter. My take on different places often begins with views from a mirror. When you live on the road, even haircuts are an adventure.

Cambodian deportee with tattoos courtesy of Stuart Isett (©2008 Stuart Isett - http://isett.com)
Wedding picture, haircut and Phnom Penh's new look by David Paul Morris; all others by Ron Gluckman

All words and images are copyright RON GLUCKMAN, protected by international law barring any reproduction or reprint without the permission of Ron Gluckman
---
To return to the opening page and index



push here
---