Haircut 100 - and counting
Call it peculiar, but I rarely get my hair cut twice in the same place. And why not? I'm well traveled - so is my tendency to shed my locks, often in the oddest places.
By Ron Gluckman /Mongolia, Beijing, Phnom Penh, Hanoi, and everywhere else
---
LIFE ON THE RAZOR'S EDGE. That's the general assessment of a reporter's miserable existence.
Bullets for breakfast, deadlines for dinner, and plenty of bad whiskey, women, lies and ties in between. Exaggerated, of course, and romanticized to the limits.
Still, there is a shred of truth to stories of fear and loathing on the news trail. And a wild adrenalin rush that gets left behind when we move to softer stuff, like travel writing.
The money and hours may be easier, but commanding a pub with tales of busted bed springs is tough. Yet moments of danger and daring exist in every profession.
I've faced a few in Thailand, China, Central America and the Philippines. Barbers, I mean.
Some writers maintain that you get to know a country by its women, or its bars. Others say understanding can be gained by assessing a nation's laws, sanitation, road system or schools. One colleague insists he can tell everything worth knowing about a country from his first visit to the toilet. Power of the paper, I guess.
However, I've worked out my own simple formula for figuring things out. "Cut my hair," I say.
It's not strictly scientific, but what is? One leading indicator of comparative wealth in the world, originated by the Economist magazine, is the Big Mac meter, measuring the relative price of two-double-cheese-lettuce-tomatoes-in-a-sesame-seed-bun.
"Shear me," is what I say.
For 10 years, I've had my hair cut everywhere, everywhere that is but at home. I've put my head on the line in dozens of different countries and found haircuts are anything but universal.
I've been clipped in the Philippines and Japan. Beside the Nile in Egypt. At Venice Beach as roller skaters wheeled past the Pacific Ocean. And by a giggling Kiwi girl who ignored the pounding on the door of the train toilet as we rattled across Russia's Siberia on one glorious vodka night.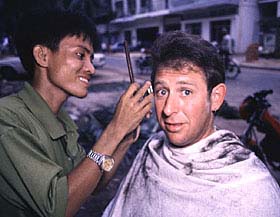 My hair has been sheered in back alleys in China, in threadbare, homemade boutiques in Laos, and by guys setting up shop with a chair and mirror along a hedge in Phnom Penh, capital of Cambodia, as seen in this early 1990s photo.
Not that I've always been brave with my bangs. Visiting East Germany before the fall of the Berlin Wall, I ventured down a shopping street in dreary Potsdam. Thousands of chimneys poured soot into the air. My hair felt so dirty, I nearly opted for a quick cut.
A peak at the window display of one beauty salon put me off. On offer, among all the other bleak goods, was a hair-care set. Inside a travel case with what appeared to be a pitchfork and a shovel were curlers that could have passed for huge coils of telephone wires.
It might have suited Tammy Baker's facial makeup, but not mine.
My most timid moment came in Mongolia, where a crumbling currency presented a nearly irresistible haircut bargain. A shampoo, shave and cut cost the equivalent of 2.5 cents American. Even at this price, I couldn't get past visions of Attila the barber wielding a rusty razor shipped from Moscow during Stalin's reign.
Upon the recommendation of a famous Hong Kong travel writer, I sought out a special hair saloon during my first visit to Seoul. Care of the hair and something more, he promised with a wink. And he was right. My wallet was clipped to the tune of nearly US$20. And all I got was a haircut, among the worst of my life.
However, two of my best cuts have been among the least expensive. One came at the hands of a limp-wristed barber named Jun in the back alleys of Manila's Ermita district. Wearing an American-flag T-shirt and twirling an old pair of shears, Jun copied the cut of some hot Hollywood star.
To be honest, I looked nothing like Tom Cruise. But I've never looked better. The price was US$1.25. Jun has cut my hair twice since, but I rarely return for a repeat clipping, no matter how good the first meeting goes.
Life is short. And the barbers are many.
Beijing also rates high on my haircut list. Backstreet barbers offer bargain cuts alongside dimestore dentists who pull teeth with common pliers. One of the best cuts in Beijing, perhaps anywhere, is a splurge at the International Club, near the embassies east of the city. You sit on old-fashioned Mayberry seats. The capes are neatly creased, the smell of hair grease is strong and the price is about $2.
A more recent discovery is the Worker's Stadium Barber, located, naturally, across from the drab concrete Worker's Stadium in the capital. It's a stodgy old place, where the customers are in their 60s-70s, and the staff is all Middle Aged. But they do a great cut for 5 RMB (60 cents), or US$1.25 if you want shampoo. And, in crisp, old Commie style, they proudly refuse tips.
Another memorable Chinese cut came in the cluttered shopping district of old Shanghai. A crowd gathered to watch me shed my long locks, and various camps argued hairstyles in a language I didn't understand. Amidst much laughter, I managed to change money at a nice black market rate and pocket far more in difference than my neat $1 cut.
I've always been a bit weird about cutting my hair, ever since entering teen-hood in San Francisco's Summer of Love. For years I didn't bother with cuts at all, wearing my hair in the hippy fashion, the longer the better to piss the parents off.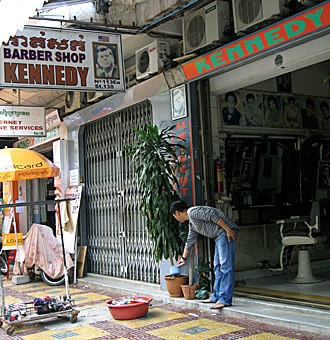 Not that my father didn't deserve every bit of aggravation. His haircuts had traumatized me since childhood. My keenest early memories are of that evil look on his face as he unpacked his haircut kit, army surplus, circa World War II.
The process was painful for both of us. His worst assault was the crew-cut I wore crying to my grade-school graduation. It was the last time he cut my hair. He couldn't catch me after that.
Women seem to have fun with their hair, at least it appears to be almost a recreational pursuit. The misery of my childhood cuts led to an understandable adolescent abstention. For years afterwards, visits to the barber were very sporadic.
Usually, I submitted only to the scissors of girlfriends who had decided enough was enough. That all changed in Alaska, where I got my first good cut from a real clown.
Mr. Frank entertained at children's parties, but he also fronted a punk band (which released one tape, "Please Don't Eat My Eskimos), hosted a video rock program, and was a hell of a haircutter. After an interview one night, he suggested that I do something, anything with my hair.
"It looks like you've been combing it the same way for 10 years." Nearly 20 was more accurate. I told Mr. Frank my maxim about hair care, that you should be able to stick your head out a car window on the way to work and have it looked combed upon arrival.
Mr. Frank did just that, creating an idiot-proof hairdo. And I still haven't messed it up.
---
Ron Gluckman is an American reporter who is based in Hong Kong, but who roams around Asia for a number of publications, such as Sawasdee, the airline magazine of Thai Airlines, which ran this story in 2001.Ron remains committed to cheap cuts.
The photo of Ron getting clipped by a hedge-side barber in Phnom Penh is by David Paul Morris, a frequent traveling companion whose work can be seen at www.davidpaulmorris.com This was from my first visit to Cambodia in 1993. (Price 50 cents)
Bottom photo from the John F Kennedy Barber Shop also in Phnom Penh, on my most recent haircut (July 2008). Price - $2. (Photo by Ron Gluckman)
---
To return to the opening page and index

push here
---