Cambodian capital's new cuisine
Phnom Penh has long claimed a wide array of international cuisine, renowned across the region more for hearty portions and cheap prices rather than quality or atmosphere. But a trio of new Cambodian restaurants raise the bar.
By Ron Gluckman /Phnom Penh, Cambodia
---
PHNOM PENH, the Cambodian capital, has long boasted a diverse, unusually affordable array of international cuisine that cannot be challenged by practically any other Asian destination. Yet quality and atmosphere have often lagged far behind. A trio of new restaurants - Pacharan, Mali and Lotus - raise the bar to new heights.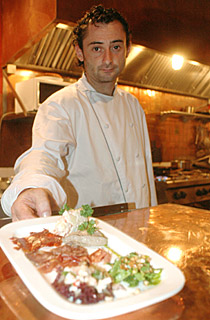 Pacharan is a zesty tapas outlet tucked on the second floor of an exquisitely-restored colonial mansion overlooking the Mekong River.
Catalonians manager Andreas Arias and chef Fernando Olivares have created a menu showcasing the finest food from their native Spain.
Tapas are too often written off as mere snacks. Not Pacharan mainstays like Grilled Prawns (steeped in a garlic, wine and tomato sauce, served sizzling), Paella Seafood (a saffron-rich feast), or the succulent pork (roasted four hours, marinated, than cooked four more).
Arias, recently from Nobu in Londonís Mayfair, keeps a boisterous, welcoming ambience, aided by the irresistible fruit-filled Sangria of his own recipe.
Malis is a modern Khmer restaurant, with winning design of Lotus pond, Buddha heads and red, sponge-painted walls reminiscent of the royal palace.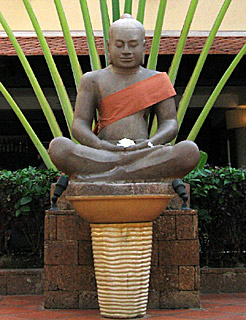 Still, spiffy design takes a backseat to the menu, a celebration of traditional flavors in updated recipes like Mango and Dried Fish; Riverfish with herbs and tamarind, and Pepper Crab (wok fired and spiced with chili and peppercorn).
Starters include chef Luu Mengís Beef Carpaccio (marinated in lime juice, fish sauce, lemongrass and green peppercorns). Leave space for desert, unique concoctions like Malis (Khmer for Jasmine flower) ice cream in sweet watermelon soup, or the dreamy pumpkin broulee.
Lotus is a Vietnamese restaurant in a two-story mansion, wood terrace over a lush, tropical garden, and elegant interior evoking 1930s Indochine: mahogany tables, lantern lights and red silk cushions. Dishes include Grilled Chicken with honey and lemon leaf; barbecued beef in perfumed leaves and fish fried in crispy sesame seed.
* Pacharan: 389 E1 Sisowath Quay; Tel: 023-224394 ($35 dinner, drinks for two).
* Maliís: 136 Norodom Blvd.; Tel: 023-221022 ($30).
* Lotus: 17, Street 322; Tel: 023-994514 ($20).
---
Ron Gluckman is an American reporter who has been living in and covering Asia for 16 years. He is currently based in Bangkok, but spends much of his time in Cambodia, where he wrote this piece in 2006 for Destinasian Magazine.
All pictures by Ron Gluckman.
---
To return to the opening page and index



push here
---