The Tao of Lao
Long closed to the outside world, Laos is suddenly hip, and even the quiet capital of Vientiane is starting to feel the tourism boom. Although, like everything in Laos, the boom is slow and measured, thankfully so.
By Ron Gluckman /Vientiane, Laos
---
THE ORIGINS ARE UNCERTAIN,
but Greek philosopher Heraclitus is credited with being the first to opine that everything flows, nothing stays the same, or, as it's commonly repeated, the only constant in the world is change.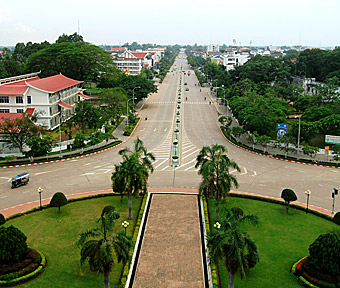 Here's betting Heraclitus never visited Vientiane.
Such thoughts bubble merrily to mind one tranquil night in what must be Asia's most-laid back capital. I'd arrived, as so often in years past, from northern Thailand, crossing the Mekong River into neighboring Laos.
Back then, this was not just a dream journey but a difficult one. Isolated Laos issued few tourist visas from the 1970s, when a vicious civil war ended in the takeover of a Communist regime, until its initial steps towards opening in the 1990s. My first visits were early that decade, usually week-long hops into the capital, on short-stay visas that took weeks to arrange.
Nowadays access is easy, and tourism is soaring, but sleepy still defines Laos, properly called the People's Democratic Republic, although it's a long-running joke that PDR really means, "Please Don't Rush." Construction of the first bridge across the Mekong offers illumination. Thais, driving on the left side, and Laos, on the right, couldn't agree upon an interchange, so for years the Friendship Bridge remained forlorn. Tortoise-minded Laos leaders feared that fast-paced Thais would overrun them.
Caution is the backbone of this country, but it has preserved a unique land that always seemed a privilege to visit. My latest journey from Thailand is by mini-van; border transfers are quick. Across that same bridge, roadside scenery alters drastically, becomes less hectic. Gone are signs for 7-11s and Big Macs. Laos is Southeast Asia's sole nation without a fast-food franchise. Billboards are descriptive for what they don't advertise. Many are blank.
While the Asian boom of the past decades has transformed practically every major city across the region, Vientiane remains little altered from the blissful backwater I first encountered over 15 years ago.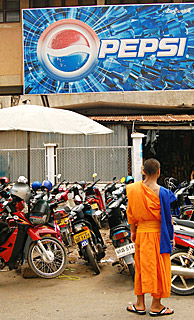 Then the center of activity – practically the only activity in the quiet capital, was a central fountain bubbling like the focal point of any Latin city. Wild boar and truffles were on many menus, or you sat on plastic chairs alongside the fountain, munched fries with mustard, sipping beer from paper cups under the stars in what passed for a local beer hall.
The fries are gone, but the veritable Scandinavian Bakery still stocks cakes and croissants by the fountain. Tables are set with fine linen nightly in an arc of French cafes like Nam Phu, run by the same owners since 1982. "Laos is changing," the founder's grandson tells me, serving a thick steak smothered in pepper sauce. "But change, Lao style - slow and careful."
You still find wild boar and other old-world delicacies on menus, but a slew of trendy new cafes and silk boutiques near the fountain attest to tourism's surge. Longtime residents say a boom – but not in the Bangkok or Beijing style, they hasten to add – has swept the city.
"Vientiane has boomed the last couple of years," says Sandra Yuck, a native of Montreal, and Asia-based textile trader for decades. She visited Laos in the 1980s, "when there were no tourists," moving in 1997 to Vientiane, where she runs Caruso, a high-end wood and housewares business with several Lao showrooms and exports around the world.
"In 1997 there were 235 foreign tourists," she recalls. "The breakthrough," she notes, came in 2003. "Indochina became hot, and everyone had been to Thailand. When Vietnam emerged, Laos just started picking up."
Eric Howe, manager of the Seetha Palace, Vientiane's most historic hotel, concurs that 2003 was landmark. "That's when the internet came, and mobile phone service improved. We got traffic lights, parking laws, lots of changes."
Still, he feels Vientiane retains it's remarkable small town charm. "It's a very laid-back city, very unique these days. It's the kind of place Mick Jagger comes to," he says of the Rolling Stones lead singer, "and nobody recognizes him. He told me that. Where else in the world is that possible?"
---
Long derided as a destination, Laos is suddenly undeniably hip, topping travel lists of Must-See destinations. While Cambodia hogs the headlines for explosive growth – tourism there topped two million last year in 2007, Laos, under the radar as always, logged an astonishing 1.6 million, almost without practically any notice.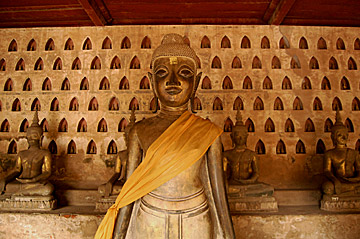 Over the years, Vientiane saw very little of that traffic, especially after an international airport opened in Luang Prabang, a World Heritage site of stunning temples where two rivers meet majestically in the northern jungles of Laos. The impact mirrors that of neighboring Cambodia, where most visitors tended to bypass Phnom Penh once flights started to Siem Reap and the nearby Angkor temples. But tourism growth is now sending curiosity seekers further a field and both capitals are gaining.
Admittedly, Vientiane lacks Luang Prabang's unrivalled portfolio of picturesque temples. Still, Wat Si Saket will satisfy any sightseers. Vientiane's oldest temple dates to 1818, but feels centuries older. Built in a Thai style that may have spared it sacking in a Siamese raid in 1828, it has been left in a lovely state of unrestored authenticity.
On misty mornings, you can have the place to yourself; the courtyard is an atmospheric place to unwind from a day of sightseeing, surrounded by thousands of images of Buddha, cast in stone, silver, bronze and wood - no two alike.
Closer to the Presidential Palace are several other temples including Haw Pha Kaew (or Ho Pra Keo), the former Royal Temple. This was built in the 1600s, or the previous century – historians continue the debate – but none dispute that it has been razed and rebuilt many times, most recently in World War II. While critics note that it has scant historical value – the Emerald Buddha, despite alleged magical powers, was repeatedly snatched by Siamese forces and now sits in Bangkok's Wat Phra Kaew – it does boast exquisitely carved columns. There is also a small artifacts museum on the grounds, which have been spruced up since my previous visit, as have most of Vientiane's temples. Credit tourism's flow, which has also helped transform many old colonial villas into boutiques and cafes.
Of course, few would compare Vientiane to Hanoi, or even Phnom Penh, the other capitals of old Indochine. "Luang Prabang was the capital until 1912, so Vientiane really doesn't have that much that stands out and grabs you," concedes Allison Brown, founder of Bolisat Anulak Heuan Lao (Unique Lao Properties) a Vientiane group devoted to saving historical buildings. Focusing upon buildings that date back to the 1960s, the group saves historical structures by helping owners restore and rent them out.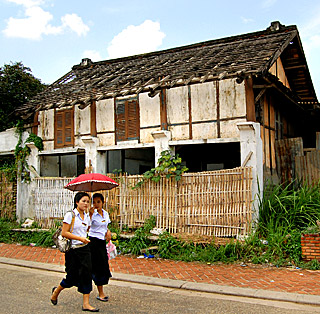 Some of the best examples are on Vat Chan Street, where the group has its headquarters in an old wooden Lao house on a leafy estate. This is in Chanthabuli Distict, which includes many villas from the mid-1900s. It's an atmospheric area to roam without any agenda; alleys left entirely to foot traffic exude a sense of bygone times you never feel anymore in Vietnam.
Chanthabuli also claims a series of temples like Wat Inpeng and Wat Mixay. None are particularly important in the big picture, but all feature spacious grounds and a large population of young, inquisitive monks, as eager to query you about your culture as share insights into Lao life with visitors.
I spend many pleasant afternoons among them, soaking up the tranquility of the temple grounds, answering endless questions about the outside world. This, too, is reminiscent of my earliest visits to Vientiane. I recall dining in one restaurant where the owner suddenly emerged from the kitchen to offer me a gift simply for eating there. The glow from that early visit resurfaced a few months later, when I received letters written in broken English from some of the novices I had met in local temples, each signed off with exaggerated expressions of affection.
Those days, though, are long gone, I think one day while sitting at Wat Inpeng, as a young monk pulls out a cell phone blurting the sound of Western hip-hop. This city was once totally closed off, and untouched by the outside world. Then, weeks later, back at home, I receive emails in broken English from those same monks, repeating almost the exact same affection expressions as a decade and a half ago. The technology had advanced, but the charming message was essentially the same.
---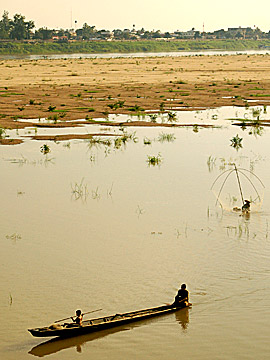 Most visitors to Vientiane these days are budget travelers who congregate along the Mekong River, whether in the guesthouses, lively cafes and pubs, or wooden stalls offering beer, barbecue and stunning sunset views.
Few amble down the river, which is a surprise, since so much local color is found along the banks. Fishermen wade in the water with enormous nets, propelled by machinery that dates to the French era, although much modified. You can rent bicycles ($1-2/day), which provide a perfect sightseeing pace; Vientiane is compact and flat, with few must-see attractions.
The obvious exception is Patuxay, or Victory Monument, Vientiane's own Arc de Triumphe. Built of concrete - siphoned from supplies America sent for an airport, according to local lore – it's actually higher than the Paris original; climb steps to the top for sweeping views of Vientiane.
Another towering landmark is Don Chan Palace Hotel, an ugly box by the river that sent Vientiane's skyline soaring - to 14 stories. The restaurant is worth a visit, if only for amazingly uninterrupted views that some joke stretch all the way to Vietnam.
Otherwise, Vientiane is all about sampling local life at ground level. A great spot to start is Morning Market, which perks up soon after sunrise. Stalls offer a fine selection of famed Lao silk, along with temple gongs, local crafts and all manner of house wares. Revamped recently as the city's first modern mall, it sports escalators, and crowds fearfully mulling the "moving stairs." Outside, though, the market remains timeless: lottery sellers, Lao snacks, and artisans assembling jewelry with Smithsonian-era welders.
Another mainstay of Vientiane is Carol Cassidy, an American who came two decades ago to help revive the local weaving trade and fell in love with Laos.We've stayed in touch through the years, and I've watched her Lao Textiles expand as the tourist traffic grows. Now she has showrooms in both Vientiane and Luang Prabang, and ships fine Lao silk to customers and design studios around the world.
"Globilization has had its positive impacts," she says, showing looms where dozens of Lao women recreate the patterns of their grandparents' time. "Now we get orders by internet and Skype, send samples by Federal Express, and can support a new generation of weavers earning a good salary."
Still, she grows nostalgic recalling all the tribulations of those early days. Calls had to be booked days in advance in an era that predated email and even faxes. Progress has brought more flights and choice of cafes to the capital, she notes, but also traffic and parking regulations. "There used to hardly be any rules. It used to feel special, such a privilege to be here. I really hope as Vientiane grows, we can hang onto that, those things that made it so special here."
---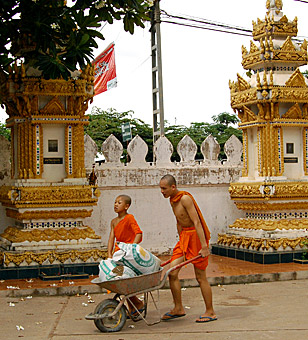 Indeed, Vientiane has it's growing pains, but also pleasures. Dining has grown increasingly sophisticated especially over the past year. Friends, a charity running two restaurants staffed by rescued street children in Phnom Penh, recently set up shop in Vientiane, opening Makphet. The simple, but smartly decorated restaurant serves traditional Lao food with a modern spin.
Best among a slew of new bistros and cafes opening in the last year is Amphone, serving upmarket Lao cuisine. With wooden tables set on a breezy terrace, jazz tunes and stylish décor, the restaurant could fit the hip scene in Bangkok or Bali.
Few options existed years ago, when San Lo was practically the only bar in town. I've got a soft spot for the pub, not only because of the quantity of beer consumed on assignment here in the early 1990s; it's also where I met my wife, a Dutch tourist then living, as I did, in Hong Kong. She joins me on this return to Vientiane, and we naturally make our way to San Lo, where we met a dozen years ago. There is hardly another city in Asia where you could expect to make such a return visit. Not only is the pub still there, like much of Vientiane, it's stuck in a Rip Van Winkle state: the design, decor, even the dust balls seem unchanged by time.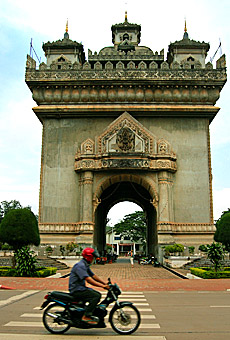 Hardly romantic, San Lo looks all the more run down amongst all the new bars, cafes and boutique hotels courting travelers. In this regard, Vientiane has changed, much for the better. Khop Chai Deu, near the fountain, remains a popular gathering point, but with welcome competition. Across the street, Jazzy Brick serves chill tunes and cool cocktails on two levels under the gaze of Miles Davis posters.
Still, some fret that the future is coming too fast. "Prosperity is good, and it's wonderful to see the young people blossom," says Yuck, who recalls when the view from her showroom was of water buffalos in rice fields rather than street traffic. "I think you'll find the reason so many people are so protective of Laos is because it really is so different, like the last place on Earth."
The last place one would be expected to find caution on commerce would be the Seetha Palace. The original 19-room hotel, which opened in 1932, was taken over by the Communists and turned into a boarding house. The original owners bought it back in the mid-90s, then struggled through a decade of isolation.
Now, the restored 29-room inn ranks with Asia's classy historical hotels, and turns a profit. Yet even Howe worries that too much tourism too fast may not be a good thing. "What makes this place special is what it is not. It's not Bangkok, or even Hanoi. There is nowhere like Vientiane."
Indeed, that's what draws repeat visitors like Mick Jagger. Yet, you needn't be a Rolling Stone to marvel at locals learning about escalators, or where a 14-story building sets them gawking. Vientiane is growing, but I'm happy to report that after all this time, it still feels a privilege to be here.
---
WHEN TO GO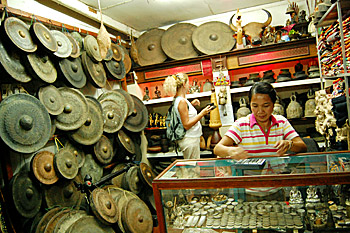 November to February are the coolest parts of dry season, but the busiest time for tourists. Rainy season offers lush greenery in surrounding countryside – and steep discounts at hotels - but roads can be muddy in the height of rainy season, July into October.
GETTING THERE
Flights are mainly from neighboring nations like Vietnam and Cambodia, with the best connections from Bangkok. Air Asia recently added a route from Kuala Lumpur. Travelers from Thailand can use the Friendship Bridge - visas on arrival for many nationalities – accessible by mini-van from the airport in Udon Thani, Thailand.
WHERE TO STAY
Settha Palace Hotel offers 29 rooms and evocative old-world atmosphere, from ceiling fans in the stylish salon, to antiques in each uniquely-decorated room. Easily the top place in town. 6 Pang Kham Street; (856-21) 217581; http://www.setthapalace.com; doubles from $125/low season.
Hotel Novotel is distant from the city center but has space for conferences and swarms of business delegations. A good pool and buffet, but service and facilities can sometimes feel parked in the Communist Party past. Samsenthai Road, (856-21) 213570; http://www.novotel.com/gb/hotel-1828-novotel-vientiane/index.shtml; doubles from $150
Beau Rivage Mekong is an artistically-designed boutique inn, tucked out of town, along the river. Sixteen bright, spacious, self-contained suites, in vivid pastels. Fa Ngum Road in Seetarn Neua; (856 21) 243350; www.hbrm.com; doubles from $60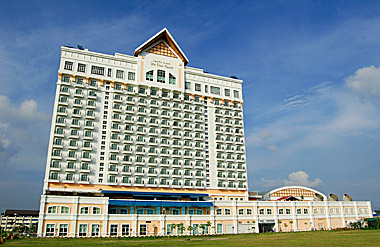 Don Chan Palace dominates the riverside; at 14 stories, it towers over this tranquil city. Not for everyone, but the only big international-quality hotel in Vientiane boasts a disco and sky-high restaurant. Unit 6 Piawat Village, Sisattanak District, (856-21) 244288; www.donchanpalacelaopdr.com; doubles from $150
Tai Pan has had a recent restoration, converting the 44-room property into a mid-range option with full facilities including pool and sauna, that is walking district to nearly everything. 2-12 Francois Nginn Street; (856-21) 216906; www.taipanhotel-vientiane.com/; doubles from $60
Day Inn is a charming, bargain-priced city hotel that is a favorite of NGOs and aide workers. Big rooms and friendly service near the Settha Palace Hotel. 059/3 Rue Pangkham; (856 21) 222985; dayinn@laopdr.com. Doubles from $30.
WHERE TO EAT
Khop Chai Deu, meaning thank you in Lao, is in a wonderfully-restored French villa near the fountain. The menu is as sprawling as the restaurant – covering all cuisines with tables set on various floors and in hidden nooks. But this is the long-running meeting point and liveliest night-time option. 54 Setthathirat Rd; (856-21) 251564; http://www.khopchaideu.com
Breakfast is a pleasure around town – thank the French legacy of croissants and coffee – but two of the best options are JoMa and Daofa, facing Kop Chai Deu on Setthathirit. Both serve fantastic coffees, whip up eggs and pack great lunches, complete with cookies and cakes; breakfast or lunch, from $15 for two.
Amphone is the smartest new addition to the local scene, with scrumptious food to match the breezy setting, on an elevated wooden platform with both covered and open-air terraces. Traditional Lao food like sun-drief beef, marinated quail and mouth-watering grilled meats are spiced up and beautifully presented; (856-20) 7711138; dinner for two $30.
Makpet is run by the charity Friends International, which operates Friends and Romdeng in Phnom Penh. Staffed by street children who have been rescued and trained in cooking and hospitality, this is more than cuisine with a conscience – also delicious modern takes on Lao comfort food like banana blossom salad, mekong fish steam in ginger, or cabbage and pork rolls. Setthathirat Road opposite Wat Impeng; (856-21) 260587. Dinner for two $20.
---
Ron Gluckman is an American reporter who has been living in and covering Asia since 1991, roaming widely around the region for various publications, including Travel + Leisure magazine, which ran this story* in the Southeast Asian edition in January 2009. (*T+L ran a slighty different version; this is the original version)

Words and all photos copyright RON GLUCKMAN
---
To return to the opening page and index



push here
---