Back to China Beach
Americans have returned to Vietnam, but this time they have left behind their tanks. They're coming back as tourists, bringing welcome US dollars to some of the most beautiful but shellshocked parts of Vietnam
By Ron Gluckman/Danang, Vietnam
---
T

O MILLIONS OF AMERICAN VIEWERS, China Beach was merely the backdrop for a hit TV show. But it was dead real to thousands of GIs, offering them a rare respite from battle. The Vietcong used the place as a terrorist base. Later, it launched the boat people, perpetuating the tragedy of the Vietnam War for a new generation.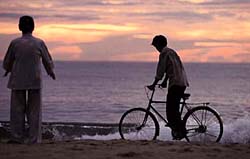 Nowadays, though, hawkers sell seashells and stalls grill up local delicacies for a new invading force: foreign tourists. This is healthy tidings for China Beach. After decades of confusing infamy, it's finally gaining acclaim for what it has always been, even when nobody noticed: A beach, one of the finest in Asia.
Restitution for the white sands blanketing a breathtaking bay outside Danang, in central Vietnam, started a few years ago, when renegade surfers held a competition in the choppy waves of China Beach. In a few months, the world's media will return in force for an even larger international surfing extravaganza.
When they do, all will be in for a pleasant shock. Instead of the beach dives or the overpriced clunky concrete villas common to Vietnam, visitors will be able to lounge by a large pool, downing tasty Hue Beers (made in an odd, export-only venture with some Texans) or crisp martinis at the Furama Resort Danang.
The $35 million seaside resort opened this summer, giving Vietnam much more than a significant investment in a skyrocketing tourism industry that attracted 1.6 million visitors last year. It's the country's first authentic luxury resort.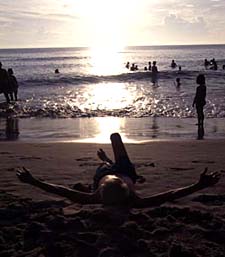 More poignantly, the Furama's opening signals a new stage in the ongoing healing process for a war-torn nation that has remained rather xenophobic after a century of foreign rule, and nearly as much colonial rebellion.
That troublesome history nearly repeated itself and almost doomed the resort. The American firm that proposed the resort in 1993 pulled out after infighting destroyed its partnership with the area government. An adjoining project went bankrupt. And Australian supervisors practically came to blows with local workers used to the lackadaisical communist construction work ethic.
"But it's done and it's a big success," says Paul Stoll, general manager of the resort, which is just the first beachhead in a China Beach development plan that will eventually include several other hotels and a golf course. "Everybody is looking at this area. China Beach is now on the map."
Detractors will gleefully pull out maps to note that this isn't really China Beach at all. And they are right. China Beach, the one that became famed to wounded and weary American soldiers, is actually down the sand from the resort site. It's easy enough to spot. You can still see the old hangers that housed bombers by the beach, in full view of the Vietcong, who maintained a spectacular network of tunnels in the overlooking Marble Mountains.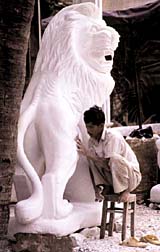 Still, the very fact that an imperialistic name like China Beach was tagged on the project says a great deal about local sentiment. "For years, we didn't use the name, but now we see the benefit for marketing," says Luong Minh Sam, Director of the Tourism Department of Danang. He describes plans for adding retirement villas for rich Japanese and Taiwanese, plus hotels and golf courses, and a series of canals to take tourists to nearby villages. "We are calling the whole beach as China Beach, since tourists know this name."
War tourism is big business for Danang, he acknowledges. "This area is where so many strategic battles were fought, and not just for the Americans, but also the French before them. But American tourism is really our aim. We really want to promote to the US market. In the past, it was difficult, but now, we have a big plus in China Beach."
The area is rich in military memories. China Beach's hospital is now a seafood processing plant, but the former guesthouses have fittingly become an army hotel. Duffers will soon be driving golf carts around the old marine aircraft base, and a Novotel is set to rise upon the site of the first US consulate.
"China Beach does have that old vibe," says Fred Burke, an American lawyer in Ho Chi Minh, who also chairs its American Chamber of Commerce. Launched in 1993 with eight members, it now has 280; likewise a sister chamber in Hanoi. In April, the two groups met together for the first time at the China Beach resort. "It was a big blowout," Burke says. "Talk about memories."
Of course, some are better than others. Earlier this summer, a fracas erupted amongst some US soldiers involved in the search for MIA remains. Local sources say the soldiers had been drinking, and, perhaps in reaction to the pestering of a local beach photographer, pulled out their private parts and demanded souvenir snapshots. Not so, counter American officials. In any case, the photographer was tossed in the surf, the police came and a big beach brawl ensued.
"It was quite a scene," says one ex-pat resident of the area, adding, with perhaps a touch of nostalgia: "just like in the old days."
---
Ron Gluckman is an American reporter based in Hong Kong, who wanders the Asian region for a number of publications, including the Wall Street Journal, which ran this piece in September 1997. Ron Gluckman spent many years as a rock journalist and pop culturist, which explains his interest in the clash of cultures sweeping Asia. For a look some of his other stories on the subject, please click on the Americanization of China or Rock 'n' Rangoon.
The photos on this page, and much of the scanning for this web site, are by David Paul Morris, an American photographer who often travels with Ron Gluckman. For other examples of Mr Morris' work, turn to the Urge to Merge, Melbourne Comedy, Hung Le, Coober Pedy, Sin City in the South China Sea and Spears of Death. Or visit his new web site: www.davidpaulmorris.com
---
To return to the opening page and index



push here
---