Where Comedy is King
A wise-cracking Vietnamese boat person in electric dreadlocks, a stand-up granny with a taste for trash and a doctor who is hopelessly addicted to laughter are some of the characters who make Melbourne a most funny place
By Ron Gluckman / Melbourne
---
A

LANKY VIETNAMESE MAN IN BLACK TUXEDO and tennis shoes struts to the microphone. His hair is a hive of zigzag dreadlocks. He bills himself as the world's only boat-person comic.

"We left Vietnam in a hurry because the commies were coming," he tells the audience. "So we packed our bags and fed the dog to Granny."

Tasteless? Sure, but Hung Le, a classically trained violinist, gets away with it because in his adopted homeland, Australia, he's well known for using humor to overcome the bitter memories of a desperate past.

The escape from Vietnam on an overcrowded barge in which people died every day was "kind of like Gilligan's Island," Le quips. And the refugee camp in Guam? "Like Club Med with barbed wire."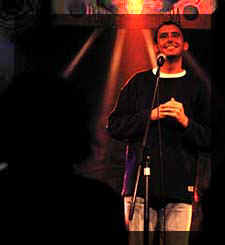 A few minutes later, another comedian, Greg Fleet, bounds into the spotlight to recall how he once backpacked through Asia, got robbed in Bangkok and wound up working with refugees on the Thai-Burmese border. "The thing about refugee camps," he observes, "is that they are always filled with writers and intellectuals. How come you never get any master chefs?"
Meanwhile, backstage, Linda Haggar is warming up for an equally bizarre performance. She describes herself as "Australia's only stand-up granny."
If this all sounds like a fast trip to the funny farm, that is just about what it is. All these antics and more are on tap at the hugely popular Melbourne International Comedy Festival.
Last year, a record 1.5 million people attended the festival's 1,200 performances. This year, capacity crowds are again expected to attend shows running April 1 to April 21, as the madcap comics take to the streets, overflowing into neighborhood theaters, onto any stage. The entire city is swept up in the giddy mood, and quips flow from cabbies, club workers, even cops.
"Melbourne has always nurtured comedy, nobody knows exactly why," says Susan Provan, general manager of the festival that celebrates its 10th anniversary this year. "Why Melbourne? That's like saying, why are there cafes in Paris? Things just evolve."
And evolve they have. Considered boring by many, Australia's second-largest city has always found itself the butt of jokes. When Hollywood star Ava Gardner arrived there to film Neville Shute's On the Beach in the late 1950s, she described it as the perfect place to make a movie about the end of the world.
No longer. As part of an increasingly sophisticated nightlife and cultural scene, Melbourne today hosts one of the world's major comedy festivals. In the process it has also demonstrated that the comedy business is no laughing matter. The box-office take alone reached $1.8 million last year, while the festival draws thousands of tourists.
Millions more watch the performances on television, including a nationally broadcast comedy debate that produces no winners or losers, but does offer a jackpot of laughter. The festival has also boosted the careers of a flock of funnymen, including some of Australia's most successful comics, like perennial crowd-pleaser Anthony Morgan.
"All the best have come through this festival," boasts Trevor Hoare, pony-tailed manager of Esplanade Comedy, one of the city's principal comedy venues. "It's making Melbourne the world capital of comedy."
Hoare says the comedy business has expanded during the mid-1990s, with new clubs opening and television offering wider exposure for rising comics. "Comedy is really happening right now," he enthuses. "Everybody wants to get in on the show."
That includes Dr. Dave, a genuine physician who takes a break from healing patients to indulge his humor habit; he's performed about 20 shows in the last few years. "I pretty much bombed," he admits one night at the Espy, as the Esplanade is affectionately known. "But still, I'm glad I did it, and I'll try again."
The attraction? "It's pretty much ingrained in Melbourne," Dr. Dave says. "If you lived here, you'd understand."
Festival chief Provan adds: "Melbourne isn't a particularly funny place. But comedy has become a big part of the city." At some of the shows, comics are even mobbed by young groupies. "Here, comedy is like rock 'n' roll," she says. "It's the big buzz, like music and theater. The weather isn't as good as in other parts of Australia. Instead of going to the beach, in Melbourne people go to a show."
Or get up on stage. Hoare runs a pair of weekly comedy shows, including an amateur night. "Joe Blow will ring me up and tell me he's never been on stage before. I get a lot of these calls and I can pretty much tell on the phone whether or not they have it. But I usually give them a go."
Around Melbourne, the comedy craze infects everyone. Janet McLeod was one of hundreds of volunteers who over the years pasted up posters to advertise other people's performances. Last year, she decided to get in on the act herself and performed a sort of belly dance in her routine "The Dance of the Seven Self-Adhesive Wax Strips."
"I like doing bizarre things," she says. "It's something about Melbourne and this festival. I can't help it."
Then there are people like "granny" Haggar, who live normal lives for years before contracting comic fever without any warning.
Haggar recalls watching a comedy show at the Espy a few years ago when it suddenly occurred to her: "That could be me on stage."
Soon it was. Last year, she staged a two-woman show called "Aaaargh! Miss Itchy." She met her performance partner "right here in this room, at the Esplanade. We were both here for a show. That's how it goes. Comedy is one huge club."
Comic references to tough situations figure in many of the shows. That includes Hung Le's boat-people skit as well as last year's original show by Greg Fleet, "Thai Die." The long monologue, based on Fleet's real-life experiences in Thailand, grew out of a letter home.
"And it's not like you expect," he says of his guerrilla experience. "Everyone is wearing Fido Dido T-shirts. Not exactly what you expect for jungle combat."
And so it goes, joke after joke, night after night at Melbourne's merry comedy celebration. This year's festival will feature imported talent, including America's Rich Hall and Britain's Bill Bailey. At the same time, though, the program will bulge with original local productions, like last year's "Robbing Liberace's Tomb," "The Lucille Ball Ball," "Girls! Girls! Girls! on Planet K" and "The Grumpy Old Dyke Show."
Yet Hoare says there is a serious side to all the wisecracks. "I'm fascinated by comedy," he says. "It's a powerful tool. It goes to the deepest fears of people, pulls some chord and gets them to laugh about those fears. When they do, the fears disappear. That's magic."
Not that deep meaning needs to infuse this funny business. Melbourne comic Morgan, who frequently appears on television, notes: "You don't need to have a social conscience; I've thought about it for you."
---
Ron Gluckman is an American journalist based in Hong Kong, who travels widely around the Asian region for a variety of publications, including Asia, Inc., which ran this story in March 1995. For another story on the Vietnamese comic, click on Hung Le. To dig deeper into Aussie culture, have a click on Coober Pedy.
The photo on this page, and much of the scanning for this web site, are by David Paul Morris, an American photographer who often travels with Ron Gluckman. For other examples of Mr Morris' work, turn to the Urge to Merge, China Beach, Hung Le, Coober Pedy, Postcards from The Beach, and Spears of Death. Or visit his new web site: www.davidpaulmorris.com
---
To return to the opening page and index



push here
---