Copy Kingdom
You can punt the Thames, visit the Eiffel Tower, and take in the Swiss Alps - and never leave China. Long renowned for factories churning out faux goods - watches, gadgets and textile, the Middle Kingdom is now copying entire cities!
By Ron Gluckman/Beijing, Shanghai, Hangzhou, and Shenzhen, China
---
MY WIFE AND I RECENTLY TRAVELED TO PARIS, for what might have been a romantic getaway, except she flew to France, while I went to Paris, China.
My version of Paree boasted the world's second largest replica of the Eiffel Tower (Number One is in Las Vegas) towering over a Chinese Champs-Elysées, set in a dusty stretch of cranes and construction in the outskirts of Hangzhou.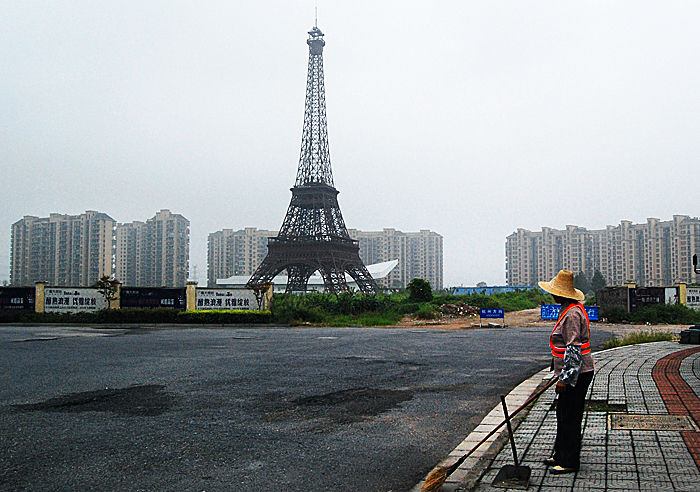 My Parisian holiday was part of a whirlwind two-week European tour. I toured French chateaus and provincial winery towns complete with churches and cafes, Dutch canals and windmills, Sweden, England, and a Swiss Alps hamlet, all without leaving China.
This Copy Kingdom is famed for its fakery. Recently, a shop in Kunming copied an entire Apple store. Not just iPhony products, but the distinctive Apple store design and uniforms of employees, who all thought they were working for the real Big Mac. Later, it was revealed that there four more fake Apple showrooms in Kunming alone.
Such brazen banditry has made China a center of piracy of everything from designer togs to DVDs. Still, it's quite an upgrade to copy entire cities. Earlier this year, residents of Hallstatt, an Austrian hamlet that is on the UNESCO World Heritage List, discovered Chinese visitors weren't snapping pictures for scrapbooks, but design schemes. An exact copy of Hallstatt is currently under construction in Southern China.
(China's fascination with western architecture, and copying it, dates at least to the 1800s, when numerous European structures were built at the Summer Palace in the western hills of Beijing. China's fondness for faux Greek columns and Italian arches didn't extend to the actual creators or occupants. After fanatic Chinese slaughtered foreigners during the Boxer Rebellion, the old Summer Palace was razed by retaliating western troops. Yet affluent Chinese nowadays are fixated on western architecture, from villas to entire mock cities.)
Le French countryside, near Beijing:
Real estate magnate Zhang Yuchen went to France a decade ago to scout manors that might serve as a model for his new development in the suburbs of Beijing. When he spotted Château Maisons-Laffitte, the 1650 landmark by Gothic pioneer François Mansart, it was love at first sight. He took thousands of pictures, boasted of obtaining copies of the original blueprints, and spared no expense in his adoring recreation, even shipping tons of white Chantilly stone to China.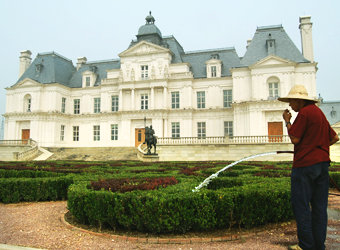 Of course, love can be fickle, and alter with time. Zhang decided the symmetrical lines of Mansart's classic chateau would be better offset by Greco columns and Roman statues. He added a garden and fountains in the model of Fontainebleau, and modestly dubbed the expanded 21st Century version, Chateau Zhang Laffitte.
Five years ago, when I first visited, the site not only seemed surreal, but grim, surrounded by foreboding gates, guards and an actual moat. But the badlands outside Beijing have filled in with hundreds of other developments catering to China's privileged class, and Chateau Laffitte, as it is now called, doesn't seem quite as outlandish.
Fitted out as a hotel, with frilly pink and lavender curtains and Provincial couches and tables with cabriole legs, Chateau Laffitte offers over 500 rooms (including in a second building) that are extremely popular for retreats and company events. And Laffitte has company serving a taste of Tuscany or Province to Beijing weekenders. An hour north of the capital, is Chateau Changyu, a castle complete with fairytale minarets and 1,000 acres of surrounding vineyards. Built by one of China's largest wineries, it features a wine museum, along with faux French town, complete with outdoor cafes, hotels, a post office and church popular for wedding portraits.
Paris, Hangzhou
Even with its own Eiffel Tower, over 350 feet high, it is tough to find Tianducheng, self-styled Paris of China. Sources place it somewhere near Shanghai or Hangzhou but no drivers have heard of it. My disbelieving local driver spins in circles, stopping often for directions amidst the thick haze of construction outside Hangzhou.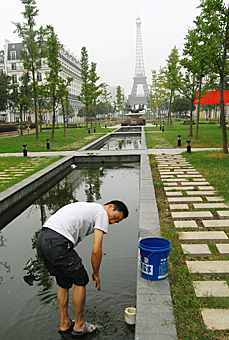 We pass billboards fronting stadium-sized dirt fields touting Greentown or Olympic Villas, then turn down a deserted six-lane road and roll right out of China into a fantasy au Francois.
Enormous fountains sprout from plazas, connected by wide pedestrian walkways. On a hilltop is perched Tianducheng's Arc de Triomphe. You sit on the steps of the Bassin de Latone, blink, and think you are in Paris. Except, there's not a croissant to be found. But residents and visitors alike chain-smoke, even while leaning on the no-smoking sign at the glass chandelier-strewn Tianducheng Resort.
Just like in real France, nobody speaks English, and the signs inside the hotel are all in French, as well as Chinese. Kitted out in foo-foo velvet draperies with kitschy porcelain figurines on marble tables, the hotel walls are packed with reproductions of priceless French masterworks. It's all part of a $1 billion project launched by Guangsha Group, the largest real estate developer in China's Zhejiang Province.
Launched in 2001, Tianducheng will house over 100,000 people; 2,000 people have moved in. They run a smattering of businesses like Homely-Lovely Mother and Babies Article Life Club, and Paris Café, where I lunch. From massive gold-trimmed picture windows, my view is the Eiffel Tower, already noticeably rusting. I'm the sole customer. The menu has snails but nothing else of French resonance. However, walls are filled with religious art in French style. As I slurp noodles, the staff sleeps on purple Louis XIV couches, under the gaze of dozens of renditions of baby Jesus and Mary.
Dutch and Swedish cities: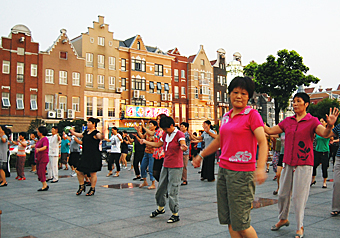 In Shanghai's Roaring Twenties heyday, there were French, German and British areas, each with their own cafes, clubs and architecture. The colonial enclaves were swept away when the Communists took power in 1949, but now they are back, in a manner.
By subway you ride for over an hour, passing endless developments adorned with Greek columns, Italian frippery, Hansel and Gretel steeples, Moorish lines. But these are paltry housing schemes compared to the Swedish (really northern European) section of Luodian, or the charming thicket of canal houses in Chinamsterdam.
Both Holland Village and Swedish Luodian are part of the Nine New Cities plan for the Shanghai suburbs. Originally, there were to be a dozen European-themed new cities to house hundreds of residents in the outskirts of Shanghai, a city of 15 million bursting at the seams. But along the way, the American town dropped out of the Euro-zone with a couple other new cities, leaving nine.
Holland Village has but a single windmill, but plenty of Grachtenpand, distinctive canal houses fronting atmospheric waterways. A popular site for photographs is the giant clog across the river, with the sign: "Wooden shoes, tulip, windmill and cheese are the four treasures of the Netherlands." Nobody has opened a head shop yet.
Like everywhere else in China's recession-defiant real estate market, speculation keeps prices percolating, and developments can resemble ghost towns, even when most units are sold. Small villas in Holland, China run a cool million, according to Feng Long Sheng, a salesman at the Holland Village real estate office. The office walls are adorned with pictures of charming chateaus, in France. But the stereo is Phillips.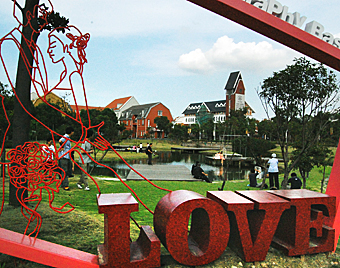 (A woman pushing her son in a stroller says she bought a modest apartment in an early phase of construction, four years ago. Everything has moved slower than promised, she notes, but expresses happiness with Holland, China. "Nothing is open and there is very little business here, but we like it. It's quiet, the roads are new, and there is no traffic. In Shanghai, everything is so crowded and crazy."
Indeed, as the sun casts an orange glow on the canal houses, hordes of women from nearby neighborhoods flock the main plaza for spirited Chinese dancing. A passion around the country, here they have space to spread out, in a nifty plaza lacking both Chinese garbage and Dutch dog poo. At least until the real residents arrive.
Swedish city is more lived in, but more ambiguous. There is a huge lake attracting day visitors, and lots of Nordic statues in sexy poses, some borderline pornographic, unlike anything you see elsewhere in China. But a smattering of Swedish-style housing is already dissipating into a mish-mash of styles, with Chinese signs and Outlet malls.
"In 10 or 20 years, if you come back, I think all these towns will look Chinese," says Liu Gang, a young photographer who recently produced a book on the new towns. "Then, we will all have a laugh at this." One distinctly Chinese feature in Swedish town is no laughing matter: Nobel Peace Park is locked up, and has been ever since a prize was awarded to imprisoned Chinese dissident Liu Xiaobo.)
The Swiss Alps of Shenzhen
Plans to copy the Austrian hamlet of Hallstatt in Huizhou, an ugly industrial area in China's southern Guangdong Province, spurred explosive reactions around the world, but nobody seems to have noticed that nearby Shenzhen already did much the same thing, recreating a Swiss Alps village about 90 minutes by road north of Hong Kong.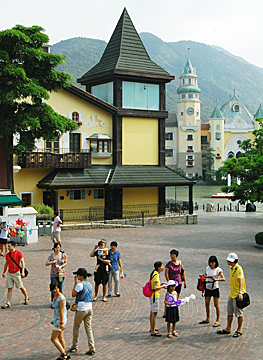 A mock steam train rolls on an overhead track, chugs into a gingerbread station by the cobbled square, than slowly chugs past rows of Swiss stores in distinctive wood-beam style. From a stage in the main square comes polka and performances by costumed entertainers in Frau smocks and Lederhosen.
(Interlaken has more of a theme park texture than most Chinese copy cities, perhaps because it really started off as a resort park. The proximity to Hong Kong, and rapid expansion of Shenzhen, the global factory that now claims the highest average incomes in China, provided plenty of tourist traffic. "It's really beautiful, and so peaceful," says Daisy Chen, on a weekend break from Hong Kong with her boyfriend.
Yet, as in all copy cities, the pseudo old town is part of a marketing scheme for real estate. In this case, you can buy an actual Swiss castle, or a slice of it, your own condo castle, starting around $1 million. Homes are well situated in the greenery above Interlaken, offering a sense of the Alps, all the more alluring in a part of China where temperatures rarely dip below the 40s, and never reach snow levels.)
In the old town, authenticity is a bit haphazard. Coffee shops lack java and Swiss crumbles. European Delicacies, an old-style grocery, offers Mooncakes, Chinese pickles, Taro cookies and chicken feet treats. Finally, I spot comfort cookies, but on closer inspection, even the Oreos here are Chinese copies!
As I exit the shop, a group of African performers take Lederhosen Stage. Dressed in comic-rap parody, they bound around lip-syncing like Village People. As I leave the Shenzhen Alps, the hills are alive with "I Wanna Make Love to You Na Na."
Thames on the Yangtze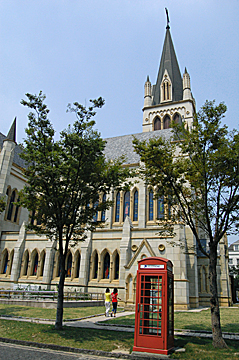 Set along canals that snake around, and under, classic English brick stones, with an assortment of pubs and its own High Street, Thames Town practically begs visitors to pole a punt, or sip Pims. Part of the original Nine New Cities scheme for Shanghai, it's among the furthest along and most scrutinized of all Chinese copy cities.
British papers gleefully pinpointed buildings that had been copied, quoting outraged pub and chippery owners. "The Great Chinese Fakeaway," was one headline.
Few looked beyond the classic rendition of a British town to the master plan, which is staggering. Thames' old town is a tiny crumb in a 22 square kilometer plot that is but a third of the entire area of New Songjiang, about 70 minutes by subway from Shanghai. Universities, hospitals, parks and thousands of housing units are all detailed in volumes of drawings by British architectural firm Atkins.
"I don't like Thames town, I just don't like this concept of faking towns, which they like to do here in China," confides Anthony Mackay, an urban planner who oversaw the master plan of New Songjiang. His issues are widespread and include the way British buildings were greatly enlarged to provide more retail and rental space. Nobody wanted cramped English cottages, either, so a kind of Americanized version was adopted. The result, he says, "is a weird theme village. It's so totally unreal."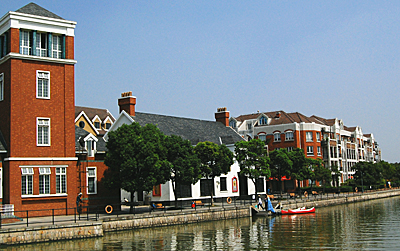 Martin Jocman, the Atkins design director who focused on Thames Town, takes a more liberal view. "We wanted to make the town playful, but not Disney, not showy, or kitschy. It's not exactly successful, but it could have been worse."
Indeed, the town is already moving in the direction photographer Liu Gang surmised. A huge sign behind the statue of Winston Churchill advertises "Afternoon Green Tea." Incomplete Coffee, by the plaza at the entrance to Thames Town offers Aloe Beauty Tea. "I think within five or 10 years, this place will be quite different," Jocman says. "Much of it will probably be knocked down, and it will become more Chinese."
Actually, changes are already afoot. Wedding couples pose in front of the church with steep roof and iconic red phone boxes, but the waterfront has already had a romantic revamp. A British tram is parked in the riverside plaza but surrounding paintings on iron seats are tres Montmarte. Around the square shops abound with French signs. Zut alors! It's Normandy all over again. Or just another twist of fate in the Copy Kingdom.
---
Ron Gluckman is an American reporter who has been living in and covering Asia since 1991 - living for nine years in Hong Kong and another eight years in Beijing. He traveled to nearly a dozen Chinese copy cities for this story for Town and Country Magazine.
All pictures by RON GLUCKMAN
Words and pictures, copyright Ron Gluckman
---
To return to the opening page and index

push here
---