World Music, according to Yo-Yo Ma
For centuries, music and culture flowed from East to West and back again along the old Silk Road. Now, a modern product of that very flow wants to send some of the old sounds back.
By Ron Gluckman /Beijing
---
P

ERSIAN DRUMS DANCED in the background, as a Chinese erhu (a two-stringed violin) recalled the cant of Mongolian herders. African marimbas melded with Mid-East flavorings, and Tibetan bells echoed from the Himalayas.

Centuries ago, such hybrid chants hummed across the Silk Road, then swept westward to Europe. Now, the flow is being reversed in fitting fashion by Yo-Yo Ma, an energetic Paris-born Chinese-American who has found, at last, in his ancestral homeland, his lifeís great challenge: He wants to bring the music back.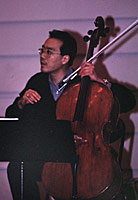 The Silk Road, an ancient trading route that connected China to the West at the time of Christ, used to be the preeminent path of commerce. It carried not only goods but ideas and culture as well. Mr. Ma is trying to tap a flow of ideas, creativity and what he calls "intangibles."
Excited, he adds: "The Silk Road was the internet of the ancient world." Music, then, was the first worldwide web.
World Music has been a rage long before globalization, but the Chinese capital has never heard anything quite like Mr. Maís version, performed the first weekend of March 2001, in a concert showcasing the initial fruits of his much-ballyhooed Silk Road Project, launched three years before.
Eventually, according to Mr Ma, there will be documentaries, educational programs, recordings and a web site from a project designed to promote and encourage development of the sounds of the old Silk Road.
At first listening, it was an eclectic brew, with instruments ranging from pipa (a small lute) to the sheng, a Chinese oboe that blends bamboo and bronze tubes (imagine panpipes crossed with radiator).
There were tablas, wind chimes and the Zheng, a coffee-table-sized zither. And a piano, too, although it sounded anything but.
The case was flung open, strings strung with glass beads, pounded with mallet to evoke sounds of traditional Azerbaijani instruments (a tuning devised by avant-garde composer John Cage).
The band was also an odd mix with a pair of gangly American percussionists in China for the first time, and three Chinese traditional musicians now based in the United States.
Completing the septet was Asia-American Joel Fan, whose prowess as pianist involved banging beaded-strings with sticks and tapping out percussion by hand upon the piano frame. He never tickled a single ivory key.
Perhaps the most conventional thing about the entire ensemble was its quirky and boisterous director, Mr Ma, who provided the same rich tones that have made him perhaps the worldís most renowned--and genre-defying--cellist.
In times past, Mr Ma has performed duets with singer Bobby McFerrin and dished out delightful Irish-American jigs in the brilliant "Appalachian Journey" (partnering with bluegrass picker Mark OíConner and jazz bassist Edgar Meyer).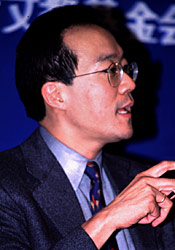 Eschewing labels is a passion to Mr Ma, who nonetheless strikes a chord with the masses. To his many Grammy awards, he may soon add an Oscar for his play on the soundtrack of Ang Leeís film, "Crouching Tiger, Hidden Dragon."
A prodigy born to a family of Chinese musicians in Paris, Yo-Yo had his formal debut at the age of 5. He attended all the finest schools and was marked for fame early by mentors like Isaac Stern, who saw, not only musical talent but "charisma in spades."
Conductor David Zinman has often likened his appeal to other cross-over dynamos, saying, "I see Tiger Woods as the Yo-Yo Ma of golf."
This charisma overflowed in the Chinese capital, where Mr Ma last visited four years ago to perform a special work commemorating the Hong Kong handover. There were mugs for cameras and lots of hugs. Mr Ma met old friends, introduced his band and explained the undertaking to Chinese reporters.
He was Mr Charm from the start, refusing the help of a translator, propelling gingerly spoken Chinese with loud and exuberant hand gestures.
Mr Ma gushed about the timeless ebb and flow of musical forms--how Irish tunes crossed to England, traveled to the New World and then south, reborn as Appalacian fiddle music and bluegrass.
"This is not a new thing, just a creative mixture," added Xu Ke, one of Chinaís most accomplished erhu players. Nanjing-born, Xu now lives in New Orleans, birthplace of Dixieland jazz. "A lot of things are the same in New Orleans and China. Not the music. Thatís routine. Itís the thinking. The tradition."
Yet in the real world, when East meets West, itís often over Nokio or Motorola, whether upon the golf course or in the concert hall. Such perceptions do not intimidate Mr Ma.
In rehearsal, as mobiles rang, Mr Ma tried facial admonishments, then picked up his bow and quickly played a lovely riff, a short Senata for Cello and Cell Phone.
Mr Ma has always exuded charm and elicited mirth. But in middle age, he reaches a maturity where the topic of legacy looms larger. He has already produced an astonishing body of work that greatly expanded the repertoire of his instrument, but many believe Mr Ma has failed to plum the true depth of his talent.
Despite constant acclaim over the course of his career, critics ravaged his last lofty project, a multimedia experiment mixing Bach music with videos.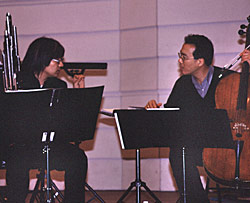 If anything, Silk Road is an even bigger gamble. In Beijing, the first results were decidedly uneven. There were beautiful moments, especially the interplay of Xu Keís mournful erhu and the soulful wailing of Shanghai-born, Chicago-based Yang Weiís sheng.
Still, riven with rough edges, it sounded experimental in every way. But that is understandable as the group only came together last summer. "Itís all very much a work in progress," noted percussionist Joseph Gramley.
The Beijing show (there were also performances in other Chinese capitals of Hong Kong, Shanghai and Taipei) was a prelude to a long tour that launches in August, when Mr Ma plans to take his Silk Road Ensemble along that very road.
Then will come a series of festivals around the globe ending at the Smithsonian Folklore Festival in Washinbton, D.C. in 2002. By then, the world will know if Mr Ma is indeed onto a new musical breakthrough or merely indulging in another diversion on a phenomenal career.
In Beijing, Yo-Yo Ma was exuberant, nodding and smiling, happy to see the curtain come up at last on his long dream. Will the experiment pay off? Mr Ma is confident, and patient, as he must be.
After all, it took centuries for stringed instruments to make the journey from Asia to Europe. It will take some time for this celebrated cellist to complete the cycle of sending some of those old sounds back.
---
Ron Gluckman is an American reporter who has been living in Asia since 1991, roaming around the region for a number of publications, such as the Wall Street Journal, which ran this piece in March 2001.
All pictures by RON GLUCKMAN
---
To return to the opening page and index

push here
---