Tibet at a Crossroads
The Tibet train brings not only hordes of tourists and questions of impact to the land of Shangri-la, but also the warm embrace of millions of Chinese visitors. Many worry that the magic that attracted them to Tibet will be trampled by tourism.
By Ron Gluckman/ in Lhasa, Shigatse and Gyantse, Tibet, and Beijing, China
---
"ALL MY LIFE, I HAVE DREAMED OF THIS," Xiao Liu confides one evening at Moment Bar. With a sweep of her hands, she seems to be referring to the pub, which is the first business venture for this 26 year old from the Chinese city of Hangzhou. As Liu continues, though, it's clear her excitement centers upon its location: Lhasa.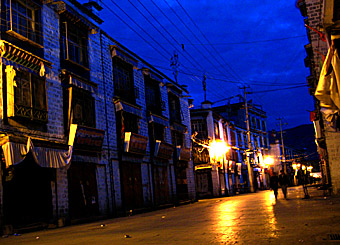 Moment Bar recently opened on a cobbled lane behind Yak Hotel in the ancient capital of Tibet, which is humming these days. Everywhere you wander, spotted amongst the Buddhist temples are signs of this old city's vibrant buzz: new bars, bistros and boutiques.
Once a hangout of backpackers and smugglers of Tibetan artifacts, Snowlands Hotel is now surrounded by shops selling art, designer clothes and camping gear. Across the street, Summit Café serves frothy cappuccinos with homemade scones and pies. Nearby, House of Shambhala recently gave Tibet its first high-end boutique inn.
"Tibet is hip," pronounces Lilly, who looks likewise, in her tiny square-framed glasses. This 25-year-old from Shanghai has repeatedly visited Tibet in the past. Now, she racks Cuban, Brazilian and Buddha lounge CDs at Tibet's first world-music shop, which she is opening down the same lane from Moment Bar.
The entire lane is being redeveloped, and all the entrepreneurs, like Lilly and Liu, are from China. "Tibet has been, for Chinese, for so long, this incredible land, a secret place," says Lilly, explaining the appeal to her generation.
Then, she sighs as she takes in all the construction altering the Medieval look of Lhasa. "But now," she adds, "it isn't secret anymore."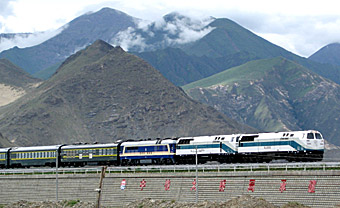 Like many here, Lilly attributes this largely to the new Tibet train, which last summer began amazing runs from major cities around China to the Rooftop of the World. An engineering accomplishment that experts had deemed impossible, the world's highest altitude train roars over permafrost for much of its 5,000-meter elevation ascent through soaring snow-topped mountains to dazzling two-mile high grass plateaus filled with Tibetan antelope and herds of yak.
Making this miracle train possible, Chinese engineers devised over a hundred techniques never before tried. Murray Hughes, editor of Railway Gazette International, called it "the world's most ambitious railway construction project." Mile for mile, the $4.2 billion line is also the most expensive.
The cost, in terms of transformation, is impossible to compute. Critics charge that it will only bring more Chinese workers to Tibet, and exploitation of its mineral wealth, while delivering scant benefit to the local population, among the poorest in China. Proponents counter that the train will bring prosperity to a region of limited development, the last Chinese province without rail service.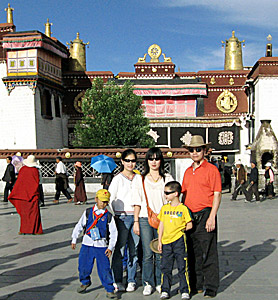 Already, you see the impact on the streets of Lhasa, where pilgrims dressed in tattered yak-skin robes prostrate themselves before the Potala Palace, the iconic castle overlooking the Tibetan capital. Pilgrams travel for weeks to make the holy journey to the ancient residence of the Dalai Lama, former ruler of Tibet, as they have for centuries. But now, they jostle with camera-toting tourists.
Last year a record 2.5 million tourists came to Tibet, and that was with train service from only a limited number of cities since July. With more Chinese cities linked to Lhasa, and luxury service set to start later this year, tourism will soar even more, to as many as five or six million by the end of the decade.
The train has unquestionably brought Tibet within reach of masses upon the mainland, but in reality, this transformation began long ago, and can be tracked in the radical revision in Chinese attitudes to this remote region.
"Tibet is cool these days, no question," confirms Mei Zheng, a woman from China's Yunnan Province who founded Wild China, after taking her MBA at Harvard University. Her Beijing company is an online travel agency offering trips to Tibet and many parts of China with large ethnic Tibetan populations.
"To go to Tibet is a big deal for young people these days," she explains. "It really demonstrates your independence, your adventure. It says that you are cool." Growing up, Mei was exposed to a vastly different view of Tibet. Official publications portrayed it as a land of savagery, where monks ruled brutally.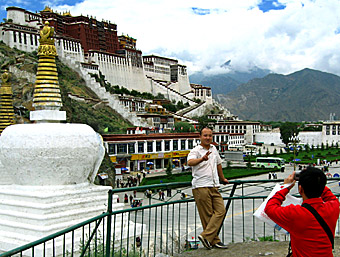 "The older generation still thinks of Tibet as dirty, as primitive," concedes Mei. Not so a new generation of Chinese, who are increasingly roaming around the country like western backpackers of a generation ago.
"Tibet is one of the most special areas in the world," says Zhang Jin, author of Chiru's guide to Tibet, the top seller in China. She describes an evocative land filled with mysticism that exerts a magnetic pull on China's new generation of free spirits. "It's really a frontier for young Chinese," says Zhang.
From Lijiang in Yunan, through the mountainous region to Tibet, you see these new-age travelers, cramming into CD cafes, booking budget tours to Tibet. Yet the young no longer have a corner on the Tibet craze.
Across the mainland, Tibet boutiques, antiques and jewelry are increasingly in vogue. Monasteries are also spreading on the mainland, attracting new spiritual seekers. "Chinese are really excited by and attracted to Tibet these days," says Laurence Brahm, a writer and maker of documentaries that have helped to track this trend.
Brahm is an American who has lived in China since the late 1980s. He runs the Red Capital Restaurant and Guesthouse in Beijing, and another lodge near the Great Wall. Last summer, he moved to Lhasa, where he took over a traditional Tibetan estate that reportedly belonged to a local prince, and turned it into the House of Shambhala, Tibet's first luxury boutique lodge.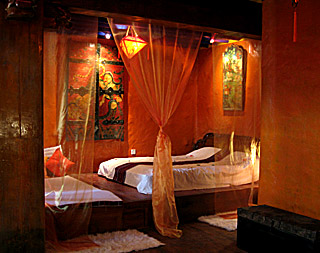 Walls are decorated with Tibetan murals. Fabrics, although of high-quality imported material and designed by Brahm's own team, were made by local craftsmen in Tibetan style. Brahm describes painstaking research of Tibetan scripts to try and create a form of yoga with uniquely-Tibetan characteristics. He also opened the first Tibetan spa offering treatments inspired by the region.
"This is a new era for Tibet," says Brahm, partly crediting the train, which he terms a mostly positive development. "You hear a lot of moaning and groaning about the train," he notes, "mainly by people who have no idea what they are talking about."
Luxury service expected later this year, will bring $1,000 per day bookings, private butler service, and more high-end western visitors, along with more local employment. He praises plans to extend track to other parts of Tibet, and India. "This could create a wonderful corridor through the Himalayas."
Brahm says most Tibetans are excited about the possibilities, and the feeling is even keener on the mainland. "Tibet exerts this pull on Chinese nowadays," says Brahm, who would know. In recent years, he has increasingly focused on books and documentary films on Tibetan culture. His "Search for Shangri-la," showed on television stations nationwide, demonstrating the popularity of Tibet.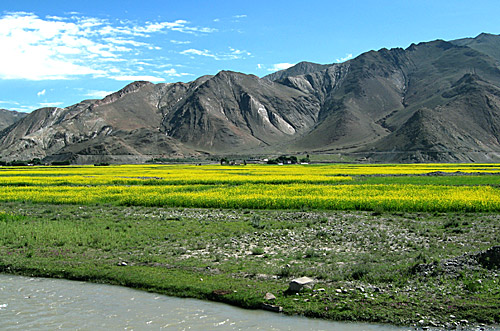 Indeed, despite all the development in Lhasa, one only needs to travel a short way from the capital to feel the irresistible appeal of this timeless land.
Leaving behind the ugly sprawl of work sites, where Chinese migrants labor to build new apartment blocks and business centers, you quickly reach the vast Tibetan plateau, rimmed by rolling hills and a vast, evocative sense of emptiness.
Yaks pull wood plows in sprawling farms dotted with the traditional pressed-earth Tibetan houses, all of the trapezoidal design unique to this region.
Everywhere you look, prayer flags, colorful strips of cloth inscribed with Buddhist prayers, flutter in the breeze. Stupahs top practically every hill.
The Chinese presence is evident in cities like Shigatse and Gyantse, yet around the countryside, Tibetan culture survives in such all-enveloping richness that it is easy to imagine that you have traveled not only to a distant land, high in the Himalayas, but also an ancient time.
Progress has its pluses and minuses, but travel in Tibet has never been easier. New guesthouses and travel services offer options that didn't exist a few years ago, as more and more of Tibet is opening to tourism.
While group tours crowd popular sites like the monasteries of Gyantse and Shigatse, it's easy to escape the throngs to feel Tibet's magical appeal.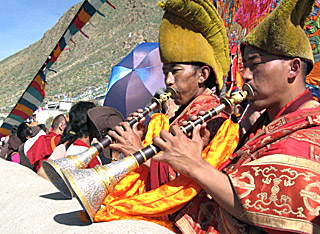 We were caught up in the excitement one morning at the sprawling monastery in Shigatse. At a temple high in the hills, horns blared as monks in colorful gold robes announced the unveiling of a 10-story thangka (Buddhist scroll).
Pilgrims from miles away came for the once-a-decade ceremony, rubbing wooden beads and muttering prayers as they climbed the steep paths to the temple. All the way down, they spun massive golden prayer wheels, and the very hills hummed with harmonious chanting.
All around us, we saw wrinkled farmer faces and radiant Tibetan children. There was nothing touristy about this festival.
Will such moments survive the suffocating crush of mass tourism? That's the big question for Tibet, and China, which has ruled this region since the late 1950s and remains embroiled in controversy. At Gyantse's colorful, cake-box temple, a young monk describes Chinese visitors thusly: "They are like flies. They come in a big group and just make noise. Like flies, they just make noise, buzz, buzz. They pay no attention to the temples. I hate the Chinese. We all do."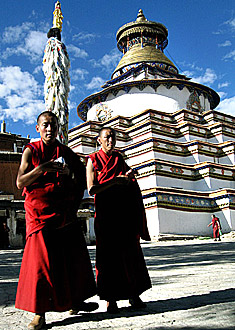 Yet, atop the temple, with its stunning panoramic view of wildflowers and hilltop forts, Su, who is visiting for the first time from Hong Kong, provides a contrasting view.
"Tibet is different from China, sure," she says, "but so is Hong Kong. In America, you have New York and Alaska. You can have different parts of one country, you just need to make sure all the parts fit.
"China has learned a lot with Hong Kong," she notes. "Now you have cities in China like Shanghai. This is partly because of the influence of Hong Kong. I'm not sure how Tibet fit with China in the past, but that's before. China is different now, and Tibet, too. Tibet can benefit from China if it takes the chance."
Back in Lhasa on my last night, I drop by the Moment Bar, now drawing a good crowd of visiting Chinese. Musicians play free-form jams, and Xiao Liu translates the lyrics. Most songs seem to focus on freedom, exploration and adventure, the same sort of coming-of-age themes popular in any land, at any time.
Indeed, the more Liu explains the appeal of Tibet to Chinese newcomers, the more it reminds me of how Alaska seemed like the last frontier as I was growing up in America.
"Tibet was always this land of magic, of mystery," she tells me. "I came here and fell in love, with the landscape and the culture.
"This place is so mysterious. That's what I like," she bubbles. But then the smile fades into genuine concern. "With so many people coming I worry about Tibet, that it will lose it's mystery."
---
Ron Gluckman is an American reporter who has been living and covering Asia since 1990, from bases in Hong Kong, Beijing and Bangkok. He has made numerous trips to Tibet, most recently as one of the first independent foreign travelers to rid the Tibet train soon after it launched in July 2006. This story ran in Closer Magazine in March 2007.
All pictures RON GLUCKMAN
All words and pictures are copyright by RON GLUCKMAN
---
To return to the opening page and index

push here
---