BRIGHT LIGHTS, BEAUTIFUL BUND
Shanghai's gorgeous riverside row of brownstones used to be the Wall Street of China, where money flowed and good times roared into the wildest city of the Far East. The Commies ended that party, leaving the Bund dark for decades. But now, the lights are coming back up.
By Ron Gluckman /Shanghai
---
"THE ESTABLISHMENT HAD SIX FLOORS...Six floors that seethed with life and all the commotion that goes with it, studded with every variety of entertainment Chinese ingenuity has contrived: on the first floor, were gambling tables, singsong girls, magicians, pickpockets, slot machines, fireworks, bird cages, fan, stick incense, acrobats and ginger. One flight up were the restaurants, a dozen different groups of actors, crickets in cages, pimps, midwives, barbers and earwax extractors." On upward floors, "jugglers, herb medicines, ice cream parlors, photographers, a new bevy of girls," and higher still, "tightrope walkers slithered back and forth, and there were seesaws, lottery tickets and marriage brokers."
The place? Shanghai. More specifically, just blocks off the Bund, that magical district of brownstones that served both as the Wall Street of China, and the party district for this Paris of the Far East. Hollywood producer Josef von Sternberg detailed his colorful 1930s visit in "Fun in a Chinese Laundry."
Long ago and far away. That's been the case during a half century of Communist rule, but a new vision for the Bund shares more qualities of its roaring pre-War epoch than staid socialism with Chinese characteristics. Credit Handel Lee, an American lawyer who has stormed into Shanghai with fanciful dreams and, maybe the right backing and partners to pull off what has eluded so many others: the revival of Shanghai's Bund.
"Shanghai is happening right now. It's the place to be," says Lee, who turns 40 in July, the same month that the Communist Party celebrates its 80th. His family is from Taiwan and he grew up in Washington, D.C., hardly the resume of a mainland wheeler-dealer. Yet Lee has proven himself with the Courtyard, a Chinese restaurant and contemporary art gallery opened in Beijing in 1992. His dazzling restoration of an old building by the Imperial Palace has won ample fans; it's the only Chinese restaurant listed on many world food guides. Lee is cooking up the same quality for Shanghai.
Only the kettle is bigger by a wide margin along the Bund, a massive stock of untouched brownstones that sit like an urban gold mine, just waiting for the right spark to set off a boom. Thus far, the district has lacked any development of distinction - KFC and fast food joints haven't recaptured the old verve – save for M on the Bund, a nifty entree from Hong Kong restaurateurs. "Negotiating was a nightmare," says Michelle Garnaut, proprietor of M, recalling years of on-again, off-again talks. In comparison, Lee says his project has been smooth sailing despite its awesome scale.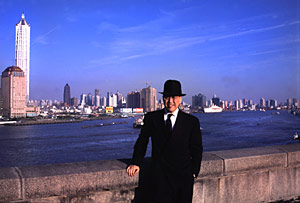 Dressed in black hat and three-piece suit, Lee looks like a period gangster as he shows off the project site – fitting perhaps, because he's arrived with all guns blazing. His big project involves gutting a massive seven-story structure right across the street from M. Built in 1915 for the Union Assurance Company, it later housed the Mercantile Bank of India. Those names are dwarfed by the contemporary blockbusters Lee mentions as possible tenants: Nobu, famous fusion chain from Japan, and Spago, wunderkind of Southern Californian nouveau cuisine (CK spelling both).
Lee plans several restaurants, a jazz club, and massive art galleries for the spacious 1,800 square meter floors. And a showroom of designer goods, with his own labels, hopefully rekindling Shanghai's old reputation for quality of worldwide renown.
The cost will be as sky-high as the ambitions. Lee declines to discuss exact numbers (although perhaps TK), but a project insider says the building was purchased years ago for $47 million. The total restoration will add tens of millions. "I don't want to talk numbers," says Lee. "However many tens of millions you print, it will be more."
Pulling off this restoration would be a grand slam for any developer, but Lee has big eyes on the Bund. He wants to develop a lavish private club on the rooftop of the old Hong Kong Shanghai Bank, perhaps the signature structure of old Shanghai. Built by Palmer and Turner, a British firm that crafted much of the Bund, the HSBC building has housed both the local Communist Party offices and municipal government.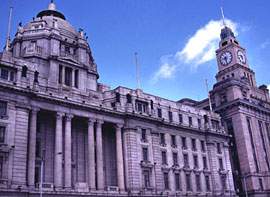 In a funny twist, it's now the Pudong Development Bank. Funny, because HSBC is back, but based in Pudong, where the government decreed that banks should move.
In fact, Lee's Indonesian partners, GT International, originally purchased the Union Assurance building five years ago with the plan to serve banks and offices. "But it's the perfect building, and the perfect time for this kind of project," says Lee. "Shanghai is happening. Something like this couldn't be done in Beijing for 10 years."
Prospects for a cultural revival of the Bund have never looked better. Mandarin Oriental Hotels, which runs Bangkok's legendary Oriental, has reportedly inked a deal to refurbish and run the Peace Hotel, perhaps the finest art deco palace in Shanghai, and all of Asia. Hong Kong-Shanghai Hotels, which runs the equally opulent Peninsula in Hong Kong, has also been looking to return to the city it fled after liberation turned down the lights on the Bund half a century ago.
People say Lee's project could be the most significant thing to happen to Shanghai in at least as long. "The Bund stands there as a symbol," says Tina Liu, communications manager at the Grand Hyatt, across the river in Pudong. "It's just tragic that it has sat empty for so long."
But the lights are coming up fast. Lee's seven-story project won't come on line for at least another year, but, with him or not, the private club will open in October.
That's when Shanghai hosts the APEC summit. Leaders from around the world will be wined and dined along the Bund – just like in decadent times of old. You can bank on it.
---
Ron Gluckman is an American reporter based in Hong Kong, who roams around Asia for a number of publications, such as Asiaweek Magazine, which ran this piece in a special issue on Shanghai, in March 2001.
---
To return to the opening page and index

push here
---
[right.htm]