SHANGHAI RISING
Once the hottest city in Asia, this Chinese city is happening again in a big way. For the former Paris of the East, it's bright lights, fine dining and the freest living that the PRC has ever seen. Perhaps it's also blazing a path for the New China.
By Ron Gluckman /Shanghai
---
FRIDAY EVENING and the weekend warriors are already out in force, gin-tonics, beer or wine in hand, cell phones buzzing, drifting into Happy Hour with joy. Deals done, schmoozing ensues, as the hassles of doing business in China are drowned in drink.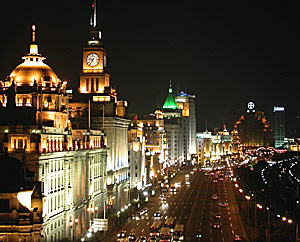 One TGIF favorite in Shanghai has been, since opening in 1999, M on the Bund, perched over the magical riverfront promenade that dazzles with blasts of the past and awesome contrasts. From Mís rooftop terrace, eyes wander to the towering skyline of Pudong, mega-city of the future rising across Huangpu River, where a constant flow of cargo ships, barges and junks reiterates Shanghai's age-old role as lifeline of the Yangzi region.
Down below, horns blare and traffic illuminates brownstones of the Bundís fabled Bankerís Row. Firms from every corner of the globe schemed and scammed in Chinaís main port and financial center, until Mao Zedong's liberation army chased away imperialists and entrepreneurs half a century ago.
Intoxicating sights and smells drift from river to rooftop, as dreamy winds cast imagination back to glory days, when Shanghai was Asiaís biggest city, rivaling the capitals of the world. Hence, it seems so unseemly, this ritual of the wait: for the lights to come up on the Bund, brightening those memories.
Darkened until dusk, the Bund has long been dusted with even greater sadness. For decades, the grand edifices have sat deserted. But good news is bound at last for this impressive urban graveyard. Handel Lee, who runs the Courtyard restaurant in Beijing, is refurbishing seven floors of an old tower near M.
Besides art galleries and more five-star dining, Lee plans to bring jazz back to a district that danced around the clock during its heyday. Up the block, Lee envisions a lavish private club in another Bund relic. Soon, Lee vows, the lights of the Bund will be ablaze, a beacon for a new Shanghai. "Shanghai has a lot of discretion right now, a long leash," he says, wind rustling hair on the rooftop of his future club. "Here, itís all happening. Once you let go of the wild horse, itís hard to put back in the corral."
The wild beast ran rampant in mid-1800s Shanghai, when foreigners carved out concessions, built palatial estates and clubs, earning the city such titles as Paris of the East and Whore of the Orient. Clearly, the beast is stirring again. Thatís the proclamation of the world media, which has flooded Shanghai in recent months to tout its renewed glory.
Hong Kong ravers are flocking in, too. They packed the recent opening of Pegasus, current in-club, then dashed, nose rings flapping, from Club Vogue to DKD (decadence kills depression), seeking the killer vibe. "Itís a totally cool place to party," says a weekender from Hong Kong. "Shanghai is on the go-go-go. Thereís nowhere else like it in Asia." Adds a Londoner on the mobbed dance floor of California: "Shanghai has a buzz. There are better party cities, but the fact that this is China gives it more of an edge."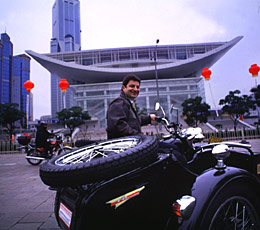 Nowhere is that edge sharper than back at the Bund. Mark DeCocinis, general manager of the posh Ritz Carlton Hotel, whisks guest here in the sidecar of his vintage motorbike Ė copy of a 1938 BMW. Former US President Bill Clinton bunked at the Ritz, where moneyed visitors pay $18,000 for a deluxe package featuring this personally-guided sidecar tour. Even world travelers who have seen it all are stunned.
"Hereís where they all get wowed," screams DeCocinis over a rocketing engine. Halting at an elbow in an elevated road, he gestures to a vista spanning centuries. The Bund below; across the water, frantic Pudong, and its futuristic TV tower. Past and present vividly on show. "But if you want an even bigger buzz, have a look at the planning museum," DeCocinis advises.
Days later, I rise from Shanghaiís efficient subway system to Peopleís Square. Flanked by the new Art Museum and magnificent Grand Theater (dubbed the Crystal Palace), sits the Urban Planning Museum. Ground level is unremarkable, although kitsch fans will relish the revolving gold sculpture of Shanghai.
City history is detailed on several floors, with unusual attention paid to last century, when trolleys clanged along Nanjing Lu, now the nationís premium shopping street, and much of the Bund was built. On the fourth floor is the showstopper Ė a massive mock up of the entire city. Not today; 20 years in the future. Every high-rise, hotel and road neatly in place. Even canals are etched in stucco.
"Where else can you see such a complete vision of the future?" asks DeCocinis, a native of New York. Right here, says Lee. "In the 1800s, planners in New York got together and devised a huge park for an island. There was nothing on it except trees. People thought they were crazy, to make a park in a forest."
It was Central Park; the isle was Manhattan. "They mapped New York!" says Lee, admiringly. "They knew what they wanted, every street and building. They mapped it out and did it."
The same confident, self-determination permeates modern Shanghai. Itís always had a special verve. Nobody walked the old streets, went an adage, they ran. For decades, though, the city hunkered down, reeling from state disapproval.
"This city was punished for its capitalism and commercial acumen," notes one local businessmen; itís a common opinion. While Shenzhen and other cities were tipped for Special Economic Zones, Shanghai languished until the early 1990s. Then, Deng Xiaoping proclaimed that it was time to catch up. After a few frantic warm-up years, Shanghai is running laps around the rest of the country.
Nowhere is the pace more frenetic than in Pudong. This Lego-block wanna-be 21st Century metropolis aroused little more than derision for years, but with the recent opening of international airport, conference centers and myriad of transit options Ė bridges, tunnels, subways, trains, highways Ė the ant farm is shaping up. Shops are emerging from dust and scaffolding. People are stopping by.
However one feels about climb-the-clouds architecture and meticulously-planned communities, Pudong is but a Space Age product of that age-old dynamism, the unique drive that shapes empires.
This former fishing village never served as a Chinese capital, yet claimed so many firsts: gaslights, electricity, telephones, running water and streetcars. Chinaís first cars cruised the first paved roads in Shanghai, which claimed more autos than all of China. Pudongís Grand Hyatt is listed in the Guinness Book of Records as the worldís highest hotel (complete with highest swimming pool and longest laundry shoot), sitting in the upper floors of the worldís third highest building. Soon, it may be third highest - just in Pudong.
Thatís if plans proceed for a next-door high-rise and Bionic Tower, a $15 billion skyscraper set to rise 300 stories, a self-contained condo-city for 100,000 people. Less it sound outrageous, one must recall that a decade ago, Pudong was nothing more than farmland and pie-in-the-sky blueprints.
While Pudong continues to mutate by the minute, around Shanghai proper, the madcap development of recent years has climaxed. Scaffolding still blankets many neighborhoods Ė part of the citywide sprucing up for fallís APEC summit Ė but the big cranes that pounded the city for years are disappearing.
Most major roads are finished. The dust is settling. "The hardware is all there. Now, this city is putting in the software," says Tony Zhang, a Shanghai native who returned from the United States to launch online magazine ChinaNow.com and a trio of trendy restaurants and clubs, California, Baci and Tokyo Joe.
Infrastructure in place, Shanghai faces the fitting-in Ė art galleries, theaters and museums - things that distinguish truly great cities.
"The changes are amazing," says Zhang, sipping a drink in his bar. "Iíve been back six years and there has been no let up. If anything, the pace just keeps picking up. You notice the changes on a weekly basis."
Zhangís joints have made a party stop of Fuxing Park, half-block up from the former home of Sun Yatsen, perhaps the only person revered both by the Communist Party and its enemy, the KMT, who ran Shanghai during its roaring era. Yet times are a-changing, for the Party, too.
You can see the signs at nearby Rui Jin Guesthouse. Exclusive villas housed guests like Presidents Suharto of Indonesia and Hu Zhi Ming of Vietnam; now dressy weddings are held daily on the lawns. On sunny weekends, clubbers assuage hangovers with champagne and brunch at the Face, a brick mansion housing two of Shanghaiís finest eateries: Lan Na Thai, decked with Thai statuary upstairs, and Hazara, serving Indian delicacies downstairs in a mock Rajasthan tent. On the main floor is a red billiard table, and thereís a whiff of Shanghaiís racy past about the opium beds on the balcony.
The Face is the work of Brazilian-American Charles Caball IV and Indonesian partners who run similar restaurants in Jakarta. They plan to take the same concept to London and Bangkok. Shanghai Face is in a class of itís own, though. Credit the facility, among countless colonial estates sprinkled around Shanghai, but always off-limits.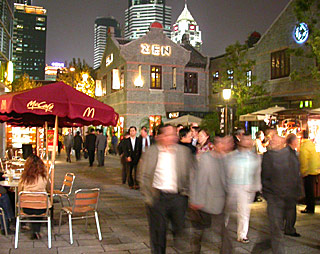 No more. Options now include Ashanti Dome (upscale French food in an old Russian Orthodox Church, with domes) and CoChinChina (Vietnamese in a mansion evoking 1880s Indochine). "Two and a half years ago, when I came to Shanghai, there was nothing like this here," says Caball. "Then, 10 places opened at once. Everyone saw the same opportunity and jumped on it."
Among the entrepreneurs: Kathleen Lau, born in southern China, but raised in the US. "This scene changes so fast it makes your head spin," says Lau, who ran a cafe and entertainment magazine in her hometown of Guangzhou, before moving to where the real action is. "Ten years ago, there was only one good place to go in Shanghai. Now there are a hundred."
Indeed, old-timers recall a restaurant scene that, at the start of the 1990s, boasted one privately-run eatery, the Grape. "Itís astonishing," gushes one customer at T8, the latest trendy outlet, which opened last month. "Five or six years ago, the height of elegance in Shanghai was the Grape and a bottle of wine. And weíre talking Dynasty."
If anything, the restaurant scene is still finding its footing. Caball and Zhang were concerned about saturation when we talked two months ago. Now, both are mulling expansion. "Weíre more bullish after our reopening," Zhang says, referring to a September re-launch of his complex, Lan Kwai Fong at Park 97 (the name refers to partners who practically invented the yuppie club scene in Hong Kong).
"The difference is the local clientele. When we started, everything was more targeted at ex-pats. The local market has grown faster than anyone expected."
Thatís true citywide. At M, where the dinner tab can run $100 per couple, the mix is 25-30 percent local, according to proprietor Michelle Garnaut, another veteran of Hong Kongís scene (M on the Fringe). In the shimmering silver tower of Pudongís Grand Hyatt, sky-high restaurants and clubs boast in-the-cloud prices; still theyíre packed with Chinese. Adds Daniel Meury, general manager of the tres-chic T8: "Weíve been very surprised by the local acceptance. This is a great market, with a surprising amount of money."
At T8, you need it. Dinner is fine art fusion: spicy prawns balanced bonfire-style over a bed of green rice, with carved vegetables and crab spring rolls. The wine list is lavish; likewise the tulip lighting and plush decor. Even the bread rolls are ritzy, baked in small black ceramic bowls.
You expect as much from Adrian Zecha, the man behind Aman resorts, palatial playgrounds for the rich and famous. Usually, they are in villas in exotic locales: rice fields of Bali, castles in Europe, on cliffs in Morocco. So, itís something of a shock to find Zecha taking luxury on a long march to China, hardly a hotbed of shishi cuisine. At least, not until now.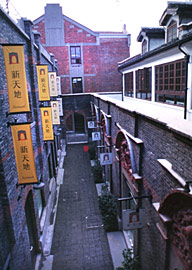 Shanghaiís transition Ė return, really - to a city of culture and cuisine has taken half a century, but Xin Tian Di provide a quantum leap. T8 is among dozens of outlets opening in a huge redevelopment of old Shikumen (terrace-style stone houses, unique to Shanghai). An entire block of gray tenements have been restored to a Disney version of Old Shanghai: vintage front, pricey boutiques, restaurants and tourist stalls inside.
Hong Kong developers Shui On Group will spend $150 million on its mock Old Shanghai and an adjacent mall and amusement complex. Millions more will go to create a huge park with manmade lake Ė Shanghaiís largest. Yet, despite its size and early splash, Xin Tian Di is merely the first phase of a sprawling 53-hectare project that will be fitted out with office towers and housing; an entire city within the old city. "Our slogan," says project manager Tony Wong, "is where yesterday meets tomorrow in Shanghai today."
Set for completion this summer, Xin Tian Di adds a new dimension to the city. Always a business destination, Shanghai has lacked the tourist attractions of Beijng or Xian. "Things are picking up," says DeCocinis. "People have always been curious about Shanghai, especially the history. But now they come for the restaurants, museums and shopping."
There is food for the soul, too. Shanghai is splashing out on stages, both old and new. "Guevara," based on the life of revolutionary Che, was staged this month at Lyceum Theatre, former home to the British Amateur Drama Club, founded in 1866. Also back in action is the Majestic, another of the old art deco palaces. You neednít be a history buff to applaud.
Opportunities have boomed for local thespians, says Yu Rongjun, marketing director of the Shanghai Dramatic Arts Center. Himself a playwright, heís staged three shows in the last year.
Critics say the scene is marked by uneven quality and short runs, but many plays are revived and picked up for television, according to Lisa Movius, who covers the scene for China.com. In early March, five plays opened in one week, she says. Few Asian cities can boast as much.
Still, many wonder if Shanghai isnít more razz-a-ma-tazz than substance. Reporters criticize projects as expensive showpieces for a new China that doesnít really exist. They point to Pudong as Potemkinville, faÁade for a false New China, concocted for foreign investment at a cost that cripples the entire country.
The recently-opened pedestrian tunnel connecting Pudong to the Bund is but one example. Promoted as a multi-media extravaganza, cost-cutting turned the glass-encased train ride into a cheesy "Lost in Space" tour with Christmas lights. Even odder are parks with piped-in bird sounds. Or the walls lining Century Avenue. Blink twice and you wonít notice that instead of shopping malls, you are passing murals painted to cast the illusion of shops.
Shanghai has been building bigger, taller, faster for so long, itís fair to ponder the ultimate outcome. While the hardware-software metaphor is widely mouthed around town, few take the long term view of returnee Zhang. "The big changes are still ahead," he says. "What you see now is just on the surface. It will take generations for everything to fall in place, but I see Shanghai taking itís place as part of that elite of world-class cities." And why not, he adds, "It certainly had that position in the 1920s and 1930s."
Many arenít as confident. "The government thinks they can create a cosmopolitan city from glass and concrete," says a long-time sinologist. As a student in Nanjing in 1983, she recalls runs to Shanghai Ė to buy Nescafe.
"But great cities arenít distinguished by how many cappuccino stalls they have. Itís by a multitude of influences, bookstores, and freedoms and free thinking. Itís the newspaper you read with your coffee."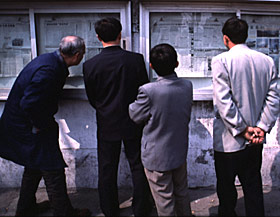 And what about the left-behinds who canít afford cappuccino at the Starbucks that are spreading like steamed milk across the city? Critics say they wonít taste many benefits of the new Shanghai. Some wonít even be here.
"We donít want to move," says one retired driver who has spent 63 of his 66 years in a stone block across the street from Xin Tian Di. He has no indoor plumbing. "But this is my home, my friends. I donít want to move to a new place." Still, others in old blocks being crowded by glass towers and cybermalls grumble but agree that the new Shanghai is vastly improved from the past.
Is Shanghaiís path to greatness rooted in, or blocked by its past? "The great irony is that Shanghai wants to become an international city again. They talk about the old glories of Shanghai, but refuse to admit that much of what made Shanghai so special was the contribution of foreigners," says Mark Kitto, publisher of Thatís Shanghai.
Indeed, the foreign presence has always been a dark card with Beijing; hence, the long prohibition on developing the Bund. Even the planning museum dares not mention this: it was foreign-built.
Yet, what makes Shanghai special wasnít the foreign population, but the magical mix. Many here discount it; "Greatly exaggerated," says Garnaut of M.
Still, talk to anyone who lived in Old Shanghai, and their eyes sparkle as twenty years drops from faces as they recall the glories. Artists and writers flocked to Shanghai, which, although western influenced, remained unquestionably Chinese. Yet it still feels distant from any other Chinese city. No wonder. The Lyceum and Majestic theaters once staged plays in Polish, Russian, French, English, German and Yiddish; the multitude of tongues and cultures made Shanghai incomparably cosmopolitan.
As any city grows to greatness, there is a moment when what is being built is balanced against what is being lost. In Shanghai, that moment of maturity may have arrived at Xin Tian Di. Critics say huge renovation costs will make profits hard to come by, but grudgingly admire the magnificent restoration.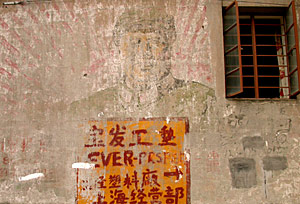 Others hail the traffic Ė some 30,000 tourists and shoppers are expected daily. Crowds are already flocking to pesto palaces like Luna, and Latina, among a half dozen Latin American barbecue restaurants that are the rage around town. Next month, the site will rock with the addition of StarEast, a sort of Planet Hong Kong launched by stars Jackie Chan and Alan Tam.
In July, balloons will fly and jugglers will work the cobbled paths for the grand opening. Much attention will focus on one Shikumen certain to be spared the wrecking ball.
Eight decades before fusion fare was so dubbed, in dingy quarters on Xingye Lu, Mao gathered with a dozen colleagues in July 1921 to form the Communist Party. Xin Tian Di plans a grand 80th anniversary. Burgers will fry at KABB (Kathleen Lauís new American Bistro Bar) and Starbucks will serve record volumes of iced lattes. Nobody need wonder what Mao might think.
---
Ron Gluckman is an American reporter based in Hong Kong, who roams around Asia for a number of publications, such as Asiaweek, which carried a special package on Shanghai that included much of this material in March 2001.
---
To return to the opening page and index

push here
---