Shanghai's Fringe Edges
Big and bright, modern Shanghai is a city on the go-go-go. But scratch the surface, and there are scores of festering sores underneath the facade of China's most liberal city. For those on the fringes of society, Shanghai is still an unpredictable place.
By Ron Gluckman/Shanghai
---
THE SIGN NAILED TO THE DOOR OF BABYLON, Shanghaiís hottest disco, said it all: "According to the latest notice by the Public Security Bureau, dancing is not allowed inside."
Thatís right, they banned dancing!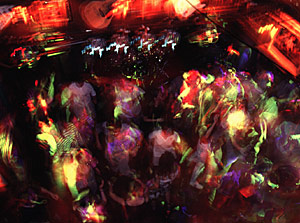 For awhile anyway. The notice was posted last fall, part of the annual cleanup before National Day on October 1. Campaigns are commonplace in the People's Republic. Party officials scour the country. Clubs close, prostitutes are jailed, as China tries to sweep some of its sleaze out of view for a while. But last year, the crackdown in Shanghai was anything but usual.
For one thing, it never stopped. Babylon reopened, closed, opened and was shut again. Pubs on the notorious Mao Ming Lu, known for drugs as well as dancing, were repeatedly raided. Even now, Shanghai clubs close at 2 a.m, strictly obeying a tight curfew.
Ravers remain depressed, turning to house parties. Or worse. "Nobody goes out now. Itís not worth the effort," laments one former all-nighter. "The in-thing now is dinner parties. Itís so boring!"
Blame the ongoing battles between uptight Beijing and swinging Shanghai. Many do. "Beijing is like a man, so anal," says local jazz singer Coco. "Shanghai is feminine. But sometimes, she can be a real bitch.
"Of course, it takes courage to be a bitch," he adds. "You canít care what other people or cities think."
Coco should know. He hangs around on what passes for the fringe of Shanghai scene. Coco is gay. Outlandishly so. With pierced nose and tattoo, heís a fixture in some of the best music venues. He sings Wednesdays at the Cotton Club, home of cool jazz and blues, and Sundays at PjJs, at the Grand Hyatt.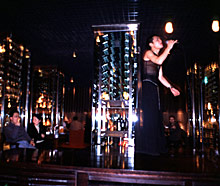 The latter might seem a funny fit. Itís swishy, where the moneyed locals play. Expensive cognac and whiskey is stocked on glass shelves. An elegant piano tickles the night away. And then there is Coco, the young diva. Dressed in slinky black skirt, with matching sleeveless top, he sulks about the stage. Not camp, but hot and sexy, tearing into torch tunes like "Summertime" and "Fever."
"People are really accepting in Shanghai," says Coco, 24, who has been on his own since he was 10, singing since his teen years. "People respond to what you show them."
Sometimes, though, it pays to stay hidden. Gay culture is decidedly unwelcome around China. Shanghai is more tolerant. There are a few gay clubs, but they move often, part of the same cat and mouse game played with authorities as the most outlandish discos.
Still, the gay scene fares much better than other areas of the underground. Rock clubs are few, and there is no real punk scene. Rave clubs come and go quickly, thanks to the ongoing hassles between Beijing and Shanghai. "Maybe itís just jealousy," says Coco coyly. "Shanghai has always been the best city in China."
---
Ron Gluckman is an American reporter and former rock critic who has been roaming around Asia since 1991, when he was based in Hong Kong. For the past year, he has divided his time between Hong Kong and Beijing, writing for a wide variety of media, including Asiaweek, which ran parts of this story in a special package on Shanghai in March 2001.
---
To return to the opening page and index

push here
---