21st Century City
Across the Huangpu River from Shanghai, a fascinating financial city of the future is taking shape. For years, Pudong was little more than muddy sites and pie-in-the-sky dreams. But Chinese planners may mold the first metropolis of the new millennium, one that may ultimately eclipse Hong Kong
By Ron Gluckman/Pudong, China

B

IGGER, HIGHER, FASTER. THOSE HAVE BEEN THE BUZZWORDS at Pudong ever since the Chinese leadership announced its intention nearly a decade ago to transform this nondescript stretch of land into a city for the next millennium.

For years, the local authorities have been escorting journalists, bankers and foreign investors to meeting rooms across the Huangpu River from Shanghai, unfurling charts, pointing to architects' impressions and, in glowing terms, touting the metropolis they envisioned. Then everybody would traipse dutifully around the muddy construction site and go home laughing.

The laughter has now stopped.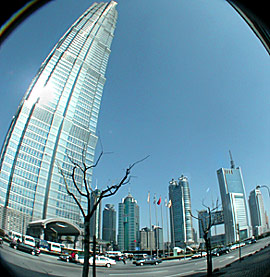 In March, Hyatt opened its first grand hotel atop the 420-meter Jin Mao Tower, and in an instant those old perceptions changed. Pudong is dramatically taking shape - and with each passing week the details are being filled in.
"This building is a quantum leap for Pudong and Shanghai," says Shaun Treacy, resident manager of the Grand Hyatt.
"There's been a perception, even in Shanghai, that Pudong is an object of ridicule. But I think the place is really starting to snowball now. It is going to come on and slap everyone on the back of the head."
From the observation deck above the dazzling five-star hotel, at the top of the majestic 88-story chrome and glass tower, you can look back and forward through time.
In front is the murky Huangpu, where a constant stream of cargo carriers, cruise ships, barges and junks attests to Shanghai's historical role as the lifeline of the entire Yangzi region.
The eye wanders further to the big brownstone buildings along the famous Bund - the elegant bankers' row that served as the financial capital of China until Mao Zedong's army put the moneymen to flight half a century ago.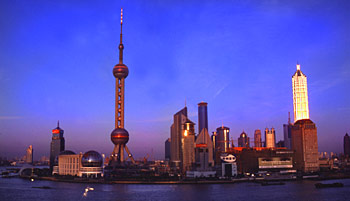 Down below, in Pudong, the view is radically different. Sprawling neighborhoods of gray houses and tiled roofs are disappearing one after another. Dirt paths are broadening into roads. Cranes swing back and forth, adding new elements to this giant's Lego set.
Already there are 140 high-rises in Pudong. About 90 of the Fortune 500 top companies have a presence here. Among them: General Motors, NEC, IBM and Hewlett Packard.
Some 45 banks have settled into the Lujiazui Finance and Trade Zone, which is anchored by the Jin Mao Building - the first of three mega-towers that will mark the corners of the Shanghai World Financial Center.
An impressive array of projects is now set to come on line. The finishing touches are being put to a $11-million convention center by the ferry terminal.
Topped with an enormous glass globe, the futuristic hall will be a meeting point for some of the world's most powerful financial and political figures when Pudong plays host to the Fortune Global Forum in the last week of September.
Welcoming the overseas visitors will be President Jiang Zemin, once a mayor of Shanghai and no doubt a man with a keen personal interest in Pudong's development.
Word has it that at least part of the new Shanghai Pudong International Airport will be operational in time for some of Fortune magazine's guests to touch down in their private jets. And Richard Branson's Virgin Atlantic Airways, which this year began a London-Shanghai route, may also make a high-profile promotional flight into Pudong.
The first phase of the $1.6 billion airport project is to be officially opened as part of festivities for the 50th anniversary of the People's Republic on Oct. 1. International flights to and from Shanghai will move to Pudong, which, initially, will be able to handle 20 million passengers a year. Plans include the addition of three runways, boosting capacity to 70 million people annually.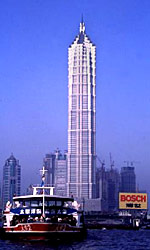 Also on Oct. 1, a subway line from Shanghai's Puxi will carry its first passengers into Pudong. Commuters already have a wide range of ways of crossing the Huangpu, with four bridges, a road-tunnel system with separate tubes and fast ferries.
And in October, they will be able to make the journey by foot - through the world's longest underwater pedestrian tunnel. This $60-million project will feature moving sidewalks to carry 5,000 people an hour through a 646-meter tube.
Touted as a multi-media phenomenon, the people-mover will feature futuristic big-screen projections. Seven other tunnels are on the drawing board, though not all are expected to be constructed.
Far simpler are plans for a new Pudong tram line, to move up to 10,000 commuters at peak hours around a 17-km circuit.
Scores of workers are swarming over the Shanghai International Expo Center in Huamu, just east of Pudong's financial zone. Billed as the largest exhibition center in the Asian-Pacific region, the 170,000-square-meter, $94-million development is scheduled to open next year. It will be the venue for the annual APEC summit in 2001.
By then, visitors will be able to amble down Century Avenue, a 100-meter-wide boulevard that some are touting as "China's Champs Elysees." The strip will feature scores of restaurants, boutiques and open-air cafes, set off by some 2,000 trees.
At least that's the plan. Right now, it's just a wide dirt path, clearly visible from the top of the Jin Mao Tower.
The Jin Mao is the tallest building in China and the third-highest in the world. A concrete pad next to it occupies the space where the world's future tallest building will rise. The planned 95-story, 460-meter structure will tip the world No. 1, the Petronas Towers in Kuala Lumpur, by eight meters.
A second part of the Shanghai World Financial Center, this $600 million skyscraper is on hold at the moment. The developer, Japan's Mori Building, has been hit hard by the Asian crisis - both here and at home.
The company has also relinquished rights to develop the third corner of the financial center. But Mori Building does have the 46-story Shanghai Senmao International Building.
However, like most commercial premises in Pudong, it is having trouble attracting tenants. According to official figures, about 40% of the zone's offices are empty. Many speculate the figure is far higher.
On the residential front, rents are tumbling under the twin pressures of over-supply and reduced rental packages for expatriates and overseas Chinese. Property agents say many people so far prefer Puxi, which already has first-class facilities.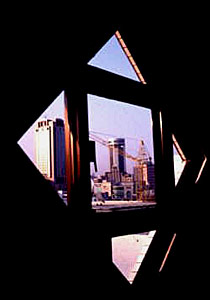 So how will the authorities fill up Pudong's gleaming towers? And how will they ensure shopkeepers and other traders follow?
Says one seasoned observer: "They will fill the stores and buildings in just the same way they got the banks to move in. They will just say, 'You go to Pudong.'"
And that is part of the problem. Can Pudong be a true international financial center when there is such a degree of state interference in the market? And what about China's currency controls, which shackle the free flow of capital? Or the authoritarianism that bans an unfettered exchange of information, the life blood of commerce?
And how about the pollution, which is sometimes so thick it sits like fog over the towers of Pudong? All questions without answers at this stage, but the Pudong planners are confident that China is changing fast enough for most, if not all, of the problems to melt away.
They believe Shanghai and Pudong together will have the edge over Hong Kong. For a start, they say the new airport and the improved sea port will match Hong Kong's for capacity and efficiency.
And then there is the manpower, which is greater, less costly and increasingly better educated. Most of all, though, there is the space advantage.
Hemmed in by mountains, Hong Kong can expand only into the sea - a costly and increasingly disputed way of creating land. Pudong can grow as much as the Chinese economy needs it to.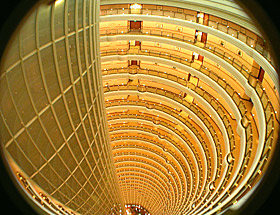 Says a Shanghai consultant: "It all makes sense. Shanghai is too cramped. Pudong was just sitting there, bare farmland ripe for development."
Well, not exactly farmland. Pudong did - and still does - have communities, but, as has happened to the residents of Beijing's hutong quarters, they will be moved on.
From 1990 to 1995, the government invested $3.02 billion at today's rates in infrastructure projects in Pudong. That sum has increased four-fold for the period 1996-2000. Will it pay off?
"You have to look at Pudong longterm," urges Michael Cottan, general manager of the Pudong Shangri-La, alongside the splendid, but so far deserted, riverfront promenade.
"Pudong will develop into a major world city, making it competitive with Hong Kong and Tokyo." When? "I'd say that will happen within eight to 10 years," says Cottan.
"But everything in Pudong moves faster than you believe could be possible."

Ron Gluckman is an American reporter based in Hong Kong, who wanders the Asian region for a number of publications, including Time's Asiaweek, which ran this story in July 1999. He's also written about Pudong and Shanghai for the Wall Street Journal, Popular Science, Geo, Mondo, KLM's Holland Herald, Silk Road and USA Today.

To return to the opening page and index
push