Vietnam's idyllic island paradise
Phu Quoc, off the coast of Vietnam but closer to Cambodia, is Asia's new secret island getaway, a glorious place to escape and revel in the serenity of bygone times, with blissful beaches and the finest seafood on Earth.
By Ron Gluckman /Phu Quoc, Vietnam
---
GETTING AWAY FROM IT ALL is virtually guaranteed upon Vietnam's Phu Quoc, one of the last, large potential island paradises left in Asia. At nearly 200 square miles (515 square kilometers) it's roughly the size as Singapore, but with a fiftieth of the population.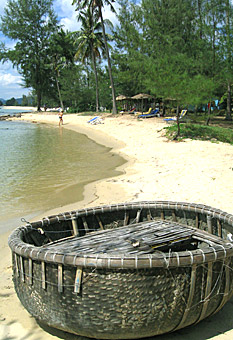 Tourism is still in its infancy, meaning beaches are dazzling and deserted, but Vietnam has ambitious plans for its big island. An international airport is planned within five or six years, and the government is encouraging resort development. Some of the biggest, and most lavish resorts are opening in the next few months, with investors from around the region touting the potential of a brand-new Phuket.
"It definitely could grow into a new Phuket," says Don Taylor, development director of Starbay Holdings, a Hong Kong-funded company that plans a US$1.5 billion complex of resorts and million-dollar villas for the north of the island. "Just like in Phuket, in the beginning, people questioned the demand. It's really just a question of infrastructure."
Already a mini-boom is underway, although signs can be hard to spy on the tranquil shoreline. "When we came here, there was nothing, just a few fishermen's shacks," says Marie Remey, a Vietnamese returnee from France who, with husband Regis, opened one of the island's first resorts.
Four cabins commanded views of untouched sand, 20 minutes from the island capital of Duong Dong. Many small resorts have since sprouted nearby, including the island's famed eco-resort, Mango Bay. "Things are picking up," she says. Bo itself has expanded to 19 bigger bungalows five years after it opened.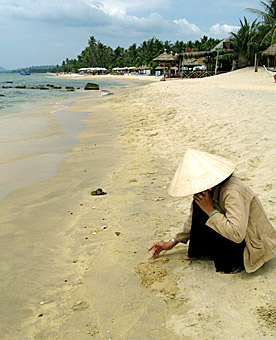 "Development is going slow, and in some ways that's a good thing," says Nicolas Josi, general manager at what has been, since its late 2006 opening, the island's top hotel, La Veranda Resort. But now, there is competition from several luxury resorts on Long Beach, Phu Quoc's enormous stretch of white sand. When the hotel opened, there was nothing on the beach except palms and coconut trees.
Josi has been visiting Phu Quoc for eight years. "Then, it was just a few bungalows, so beautiful and peaceful," he recalls fondly. Despite a spate of development near Le Veranda, he adds, "much of the island remains as when I first came."
But for how long? Besides the airport, the government wants to add ferries to Thailand and Cambodia, the latter less than 10 kilometers away. And more flights from Ho Chi Minh, which are filled in high season.
Still, others on this peaceful island, say such plans have been talked about for years, and comparison to Phuket seem decades away. "We have a very simple life, and that's the attraction here," notes Marie Remey.
Besides, she adds, luxury takes many forms. "Here, the luxury is in the clean air and the quiet environment. People write and say, 'do you have air,' and I say, yes, plenty of clean air.
"They ask if we have a pool," she says, chuckling as she indicates the gorgeous blue sea, meters away. "Yes, I tell them, we have a pool, a very big pool!
---
When to Go: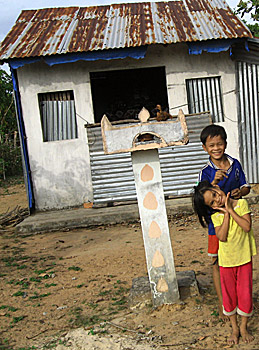 Phu Quoc is dry from November through April, but many love the rainy season, May until October. December and January are busiest, and you really have to book ahead.
Getting there:
There are several daily flights (40 minutes) from Ho Chi Minh City. Also fast ferries (three hours) from Rach Gia, which is a gateway to the Mekong Delta.
Where to Stay:
Grand Mercure La Veranda Resort & Spa (84-77/982-988; www.laverandaresort.com; doubles from $135). A picturesque period piece, and the island's top resort.
Mango Bay (84-77/981-693; www.manobayphuquoc; from $50). A superb mid-level resort, with enormous land and beachfront, run like a coastal farm.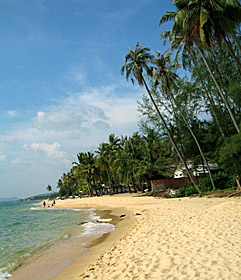 Bo Resort (84-77/986-142; www.boresort.com) One of the early island resorts, run by a Vietnamese-French couple, rustic cabins sport hammocks and great beach views.
Where to Eat:
There are clusters of restaurants in the island's only city, Duong Dong, but none are worth the haul from the beaches, especially when the resorts offer fantastic meals. Phu Quoc is famous for its seafood and the freshest squid you've ever tasted.
For a light snack or desert, try Buddy Ice Cream (26 Nguyen Trai; Tel 84/77 994181) which also offers an island rarity – free internet.
What to Do:
Visit the crystalline waters around the An Thoi Islands (Rainbow Divers; 84-91/340-0964; www.divevietnam.com)
Phu Quoc is also famous for its fish sauce, which you smell long before you see. Locals talk about it like fine wine, getting woozy at the memory of special vintages. Travel desks can arrange tours of fish-sauce factories, but don't overspend at the souvenir booth. Bottles are not allowed on planes – the contents are literally explosive!
---
Ron Gluckman is an American reporter who has been roaming around Asia since 1990. He visited Phu Quoc in the spring of 2008, researching stories for several magazines, including a travel story for the August 2008 edition of Discovery. This is the original version of that article.
All pictures by Ron Gluckman
---
To return to the opening page and index

push here
---