Penang on the Rebound
The refurbishing of the Shangri-la Rasa Sayan is only the first thrust in a welcome renaissance for a Malaysian Island that, decades ago, was Asia's first, and foremost resort. With spectacular fusion food, great hikes and a delightful ménage of Chinese, Malay and British architecture, Penang is once again on the rise.
By Ron Gluckman/Penang, Malaysia
---
N

EW RESORTS IN ASIA seem to spring from sand practically overnight, leaving Penang as a striking exception. Claiming one of the region's first beach resorts, this historic, once

world-renowned Malaysian island tumbled off tourist maps in recent decades.
This makes Penang's rediscovery all the more a delight, as new visitors find an island abounding with attractions, unrivalled heritage and a wonderfully-unique cuisine.
Time took its toll on this grand dame of Asian beach areas, which became the region's premium destination a full three decades ago, when a string of resorts began to sprout on the golden sands of Batu Feringgi Beach.
Yet, unlike many one-dimensional new developments with little appeal beyond the beach, Penang boasts an endless portfolio of attractions, from Asia's most diverse mix of temples to an equally-eclectic cuisine. Then, there is historic Georgetown, abounding with colonial relics and perhaps the region's finest stand of old Chinese shop-houses.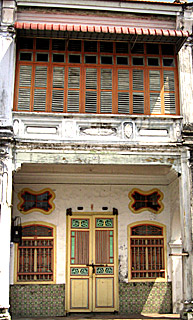 "Every street in George Town has a story to tell," says Teresa Perreira Capol, who restored one of these shop-houses. She turned it into Edelweiss, a charming café filled with historical fixtures, furniture and photos. Capol, a leading force in the local heritage association notes: "If buildings could talk, what history they would tell."
Actually, the most remarkable thing about Penang is that the island's story is still inscribed in its temples and clubhouses, teetering three-story shop-houses, entire neighborhoods little changed in centuries, rather than in history books. Around Asia, similar districts were long ago razed in flurries of redevelopment.
Credit the fickle nature of tourism. "As Asia developed, other destinations superceded Penang," explains Arbind Shrestha, general manager at the Shangri-la's Rasa Sayang Resort & Spa, the island's top resort. "Visitors moved on to Bali, Langkawi and Phuket. Penang got left behind."
Legend holds that Captain Francis Light cleared land for Penang's Fort Cornwallis (named for the general who lost the American colony) in 1786 by firing canons filled with gold coins into the jungle; excited locals tramped down the bush. Light is buried in the local Protestant cemetery; his son William went on to found Adelaide in Australia.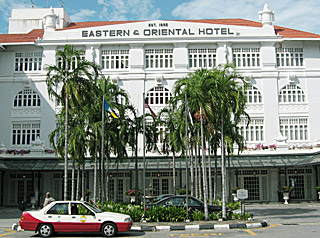 Britain took over Penang, its first possession in the region, supplanting the Dutch and Portugese, who had been trading in the port for two centuries before. All were relative newcomers compared to the Chinese, Indian and Arab seafarers who had been doing business in this bustling Malaysian Straits port since ancient times.
Each people left a mark upon the island. Most spectacular are the British-era edifices, like the grand E&O Hotel, opened over a century ago by the same Sarkies brothers who built the Raffles in Singapore and the Strand in Burma. On the waterfront, a row of old European mansions overlooks a series of wharves that are equally unique.
These are Penang's distinctive clan jetties. Each wooden pier is occupied by a huge extended Chinese family. Fisher folk, they live in stilt houses clustered in colorful self-contained communities, with their own temples, shops and club houses.
Around Penang, there are many neighborhoods that attest to the long residence of the Chinese, who form the majority of the island's population. Entire afternoons can be spent on park benches outside various shrines watching visitors light large incense sticks or releasing birds from cages in tribute to the spirits.
Penang also boasts a dozen prominent Chinese clan houses. Most famous is Cheong Fatt Tze Mansion, recently listed as an UNESCO historical monument. The stunning blue building with its ornate roof and intricate carvings, dates to 1880.
George Town claims Asia's finest surviving collection of traditional Chinese shop-houses. Visitors can lose themselves for hours by wandering into these wooden shops, where printers and calligraphers ply trades in their family for a century or more. Drug stores offer huge vats of pastes and potions, like in some old film.
Indeed, Georgetown has the feel of a grand period piece: among its many credits, the town did service as the backdrop for Old Siam in "Anna and the King."
Yet, this is no movie set, but a lively community that celebrates its multi-ethnicity in colorful displays. Turn any corner to find a garish Hindu temple flanking a Muslim mosque, or ornate Burmese or Angkorian stuppah overshadowing the dragons of a Chinese shrine.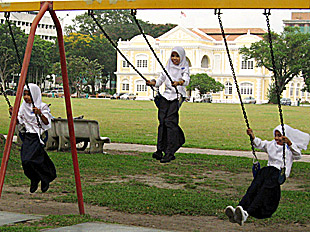 Sometimes, a mish-mash of influences co-mingle in a single structure, such as at Kok Lok Si, whose style draws on Chinese, Burmese and Thai elements.
Capol guides me into the island's lively Little India district, where nose-tingling aromas of curry fill the air. Chapatis turn a perfect brown in street stalls, as women in bright saris giggle like school girls over parcels of bhaji and samosas.
Turn a corner, though, and the offerings quickly become Chinese specialties like seafood porridge and fish-head curry and Malay satays.
This melting-pot ménage is the essence of Penang cuisine, which could lay claim to the world's first fusion, centuries before the term became hip. Called Nyonya Baba, this flavor-filled cuisine infuses basic Chinese dishes with exotic Indian, Malay and Portuguese spices.
Delights like Chicken Kapitan or Inchi Kabin involve hours, often days of preparation, as ingredients are soaked in galangal, tumeric, ginger, lime and chilies. Desert includes sweet potato and glutinous rice, usually drenched in palm sugar and coconut milk.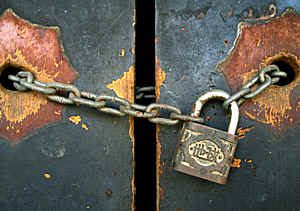 Perhaps the sweetest aspect of Penang's long, rich history is the current chapter: an island on the upswing. After years of economic downturn, a boom in the IT industry has brought top technology firms to Penang, where a revamped airport and bridge to the mainland (a second is planned) has also helped boost tourist traffic.
The old E&O Hotel underwent a complete refurbishing a few years ago; the wicker and white trim was revived without diluting the historic grandeur.
The stately Rasa Sayang reopened this year after its own $28 million restoration, including the addition of Chi, the island's first five-star spa featuring its own opulent pavilions.
Up and down Batu Feringgi beach, there are signs of further revival. Intercontinental this year opens the island's first new luxury resort in some time, and others are busily breaking ground along the beach.
"Penang is back," enthuses Shrestha succinctly.
---
Ron Gluckman is an American journalist who is based in Bangkok, but roams around Asia for a wide variety of publications, including Platinum, the American Express Card magazine, which ran this piece in the autumn of 2007.
All pictures, and words, copyright RON GLUCKMAN
For another story on Penang's renaissance, see Penang on the Rise.
---
To return to the opening page and index

push here
---