I. M. Pei
In its race to build modern cities, China has welcomed back its most illustrious native son, famous architect I. M. Pei. But his vision of the future is to look to the past to preserve the subtle characteristics of Chinese architecture.
By Ron Gluckman /Beijing, Shanghai and Chengdu
---
CHAMPAGNE GOBLETS were chiming as Beijing's high society gathered for an unusual garden party in late June (2001). They crowded around a huge fish pond, skirted by tall bamboo - all indoors.
The 30,000-square-foot garden court is the eye-popping entry to the elegant Bank of China headquarters, which had its grand opening just days before the Communist Party's 80th anniversary. The BOC's guest of honor claims an even longer legacy; he's one of China's most illustrious, albeit somewhat wayward favorite sons, Ieoh Ming Pei.
Better known as I. M. Pei, the diminutive octogenarian has designed some of the world's most acclaimed structures, from Paris' Grand Louvre to rollicking Rock and Roll Hall of Fame and Museum in Cleveland. On this night he was not only feted as 84-year-old patriarch, but proud papa.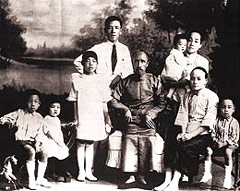 Built by his architect sons Li Chung and Chien Chung Pei, the BOC brought full circle three generations of Pei involvement with China's oldest bank.
I. M. designed the landmark BOC tower in Hong Kong (below), while his father, Tsuyee Pei was a founder of the bank, back in 1912, when it was the Bank of Qing.
Yet the family history on the mainland is marked more by frustration than accomplishment. In fact, the BOC is only the second China structure stamped with the Pei family pedigree.
The morning after the party, L. C. Pei decides to have a peak at the first.
The visit is a welcome break from the blitzkrieg of banquets and introductions since his arrival in Beijing from New York. Now that the Peis are back in circulation, everyone in China wants a piece of the action. "Five deals were discussed at the opening last night," says the 51-year-old architect. He needs a breather.
Switching off mobile phone, L. C. packs his daughter in the car and justifies dropping out thusly: he wants her to see the only building grandpa designed in his homeland. They ride to the outskirts of Beijing and Pei's famed Fragrant Hill Hotel. Famed almost as much for its tragic reception as inspired design.
Built 20 years ago, the 350-room low-rise is set around gardens in Chinese courtyard style. Beijing had requested a downtown high-rise. Tradition? Old hat. Beijing wanted western flash, the bigger, the brasher, the better.
"He was crushed," L. C. says. "They didn't respect what he was doing. Dad wanted to develop an idiom for a new generation of Chinese architects. They were all looking to the West, but he wanted to emphasis what exists and is special in China."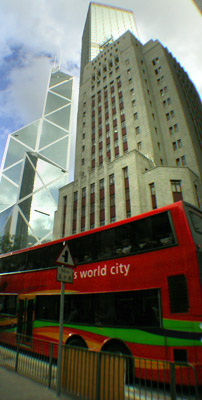 Pei tried to show that Chinese use of shrubs, screens and space was, in its way, as strong as western glass and steel. And he was right; asked by this reporter to name the five best examples of modern mainland architecture, foreign and Chinese architects alike were stumped after two or three, but Pei's Fragrant Hill made every list.
Yet in another way it's a failure: hardly anyone is able to see it. Nor was Pei's own grand-daughter. The hotel often houses state guests, and is closed to the public. "We were turned away," L. C. says dejectedly.
A parable for mainland architectural development? Perhaps; I. M. remains the only Top 10 architect to complete a building in China, but his track record can hardly encourage others. Still, he claims to be "a great friend of China," and saw much reason for optimism on his summer visit.
"The changes are heartening. China is making progress in all areas," he tells me during a tour of the bank his sons built. A harsh critic of China's mad-cap urban sprawl, I. M. drew the ire of Beijing leaders in the 1970s when he spoke out against the destruction of the old central city core, and the lack of planning.
Even his sons' building, he confides, "is not really right for such a location, so close to Tiananmen Square and the Forbidden City." I. M. Pei would prefer to see scaled-down structures that compliment these revered ancient monuments.
"I said long ago, you should be able to look out over the walls of the Forbidden City and see nothing but blue sky. Of course, now it's gray sky," he quips about the intense capital city pollution, "but you see sky."
He credits height limits that are actually being enforced. "That will eventually bring about a coherence to the buildings that you don't see now. Eventually, there will be a coherency."
I. M. is also enthusiastic about a revival of traditional Chinese architectural elements. "Garden architecture is one thing Beijing can be proud of; it's the big Chinese contribution to the world."
You can see that in his sons' BOC. The skylit atrium - largest in Beijing - could host a football match. In the goldfish pond is rock garden sporting 10-ton boulders hauled the length of China from Yunan Stone Forest; the huge bamboo was trucked three days from Huangzhou. Underneath is a beam-free auditorium seating 2,000.
"Basically, we took the garden concept and brought it inside," says L. C. And the Pei sons are not alone in paying tribute to the particular fusion of East-West architecture championed by their father. Concepts of space figure greatly in many of China's newest developments.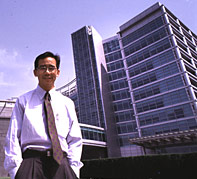 It's a big change from bigger-higher-flashier mentality of mainland development. You see that in the lobby of the nearby Industrial and Commercial Bank of China, designed by Brian Lee, of America's Skidmore Owens and Merrill.
"The wavy patterns on the floor," he says, pointing to rivulets of gray and white marble, "are designed to create a feel of the old courtyard gardens."
A third-generation Chinese-American from California, Lee says he was inspired by the stories of old poets composing sonnets in the time it took for goblets of wine to circle along the old waterways of the ancient Chinese courtyards.
Yet tradition has an uncertain place in the world's oldest civilization, especially during the pell-mell race to modernize. You only need step out of these lobbies to see that the very same qualities of design being celebrated inside the buildings are being destroyed around them.
Bejing's old courtyard houses are being knocked down, several blocks every day. "I don't have any useful advice," sighs I. M. Pei. "It's really too late. It's going this way and it's too late to change."
Nobody knows that better than I. M. In the same month his sons' BOC was finished, wrecking balls knocked down a turn-of-the-century home in Shanghai that conservationists fought to save. It was Pei's childhood home. That, sadly in modern China, seems the price of progress.
---
Ron Gluckman is an American reporter, who lived in China from 2000-2004, and roams around Asia for a number of publications, such as Asiaweek, which ran his package on architecture in China in August 2001. That included a sidebar on the Pei family; this is the original, unedited version.
See also related main story architecture in China.
Pei family photo courtesy of the Pei family.
Photo of Brian Lee outside the bank he designed by Ron Gluckman

---
To return to the opening page and index

push here
---