Nepal, where terror torments every trek
Maoists have made a mess of this Hindu kingdom in the Himalayas. But the King and his cohorts haven't helped matters, mismanaging the economy, cracking down on dissent, turning this once-popular tourism and trekking destination into a a deserted land.
By Ron Gluckman /Kathmandu, Pokhara, and around Nepal
---
L

ONDON RESIDENT SARAH RAWLINGS, 32, has known plenty of controversial taxes in her time.

Television-user fees in the United Kingdom were extremely unpopular, and Brits rioted over the Poll Tax. When confronted with an unique trekking toll on the fabled Annapurna circuit, she was strangely sanguine.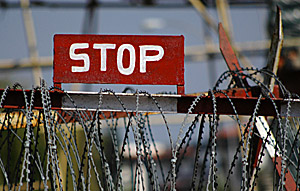 "The money goes to the Maoist rebels. They control all the trekking territory," she said. "The incredible thing is that it wasnít secret at all." The tour package, she noted, listed the rebel tax when detailing the price breakdown.
"We even got a receipt from the rebels!" added her Australian companion. A remarkable souvenir and the raging civil war, he admitted, only added titillation to a two-week trekking tour.
He conceded no fears of confrontation. In fact, his only disappointment was that rebels didnít turn up to collect the tariff in person and talk about the insurgency, as they often have in the past.
"They are hunkered down now," he said. "We werenít at all worried about the rebels. They havenít ever hurt tourists. They make their money from tourists. They arenít about to do anything to ruin their cash cow."
Sadly, for Nepal, few share such an optimistic assessment. America, the UK, Japan and Australia all warn its nationals to stay away. Even longtime ally India has suggested Nepal might be declared a failed state after the king seized power in February, ending a short but chaotic experiment with democracy.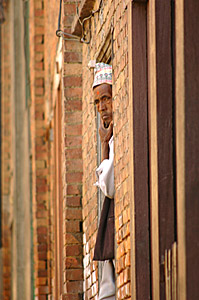 Hence, in the normally-bustling dry season, trails are devoid of trekkers, bags of muesli remain unmunched in guesthouse eateries, while rooms at the rare five-star hotel in Kathmandu go for as little as $35, a drastic 85 percent discount.
Even on Trance Party nights at Funky Buddha Cafť, the Chillout Lounge sits deserted.
Terror and war always have a damping effect on tourism, but few places have felt such roller-coaster effects as Nepal.
The worldís only Hindu kingdom opened to tourism in 1950. Early visitors were climbers lured by the worldís tallest mountains; eight of the top 10 are in Nepal. Discovery in the 1960s by hippies and hikers made this the Himalayan holiday of choice for outdoor types.
Now, only the hardiest make the trek. Last year, arrivals dipped under 300,000, sending one of the key industries in this impoverished nation back a full decade.
Through its 1999 peak, tourism was the countryís top foreign exchange earner; now it trails carpet and garment making, according to Tek Bahadur Dangi, Chief Executive Officer of the Nepal Tourism Board.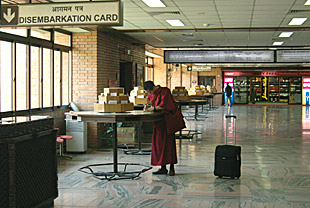 Bleak as things seem, the actual picture might be even worse, since figures donít tally the widely-conceded drop in tourism since marital law was imposed in February (2005). Phone lines and internet service were cut; mobile phones are still outlawed. "Business is probably down 75 percent over last year," moans Sunesh Khadka, manager of Green Hill Travel and Treks. "All the groups are canceling."
Yet Khadka, like most in Khatmandu, expressed support for the emergency measures initiated by King Gyanendra. "Heís handled the situation very well. Something different had to be done, because the rebels were crippling the country and the government was too divided to take action.
"Things are much better now," he noted. "But the real problem is the news on the outside. Everybody thinks things are bad in Nepal, but really itís normal. Much more normal than we expected. We just have to get the message out."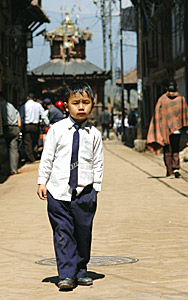 Thatís the goal of the Nepal Tourism Board, but it is ill-equipped. With a budget of about $1 million, most effort has been focused on neighboring nations like India and Bangladesh. Gains from both countries have been reported, but not in sufficient number to offset the American and European groups that are gone.
"Our business is probably down 98 percent," said American Stan Armington, who came to Nepal in 1969 and, enamored of his first expedition, has stayed on. Author of "Trekking in the Nepal Himalaya" and the Lonely Planet guide to Bhutan, he runs Malla Treks, which specializes in high-end mountain tours.
"Our customers are presidents of companies," he explained. "Safety isnít really the problem. We just cannot guarantee the schedule. As a result, they donít come."
The reason is that rebels control much of the countryside, capable of shutting down transportation at will, as they have demonstrated repeatedly with strikes. Such shows of strength undermine government claims that the rebels are wilting away.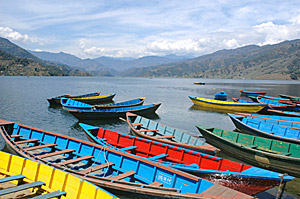 Contrasting estimates give rebel numbers from hundreds to as much as 15,000. The wide discrepancy underscores an uncertainty that belies the hopeful sense of progress. As one local reporter noted: "Nobody really knows where the rebels are or what they plan to do. The situation is a standoff right now."
Which leaves tourism in a void all too familiar. The lingering guerilla war has claimed 11,000 lives over the past decade, but even most visitors have had little awareness of the fighting. Except when tumultuous events propel Nepal back into the news.
After local soldiers were killed in Iraq, incensed Nepalese rioted at home; group tours plummeted. In 2001, the entire royal family was massacred by a drunken prince, sending tourism into a severe tailspin without end.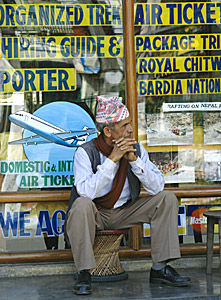 The message of instability is hammered home by all the roadblocks manned both by army and rebel forces. This leaves places like Pokhara, a scenic lakeside town at the start of many popular treks, looking like a ghost town. "Business has collapsed," said Krishna Atikari at Pokharaís Welcome Treks and Expedition.
Still, some say a turnaround could come quickly. "We saw what happened in Sri Lanka," noted John Koldowski, director of the Strategic Intelligence Centre of the Pacific Asia Travel Association, which tracks travel trends in the region. "As soon as they got to the peace table, tourists followed. Arrivals soared."
Perception, in the absence of peace, is key, said Narendra Bajracharya, president of the Hotel Association of Nepal. "Our primary task is to get out the message, let people know the real situation. Yes, there is an emergency measure in force, but not an emergency situation."
Added Dangi: "The problem is, once there is this kind of negative coverage, it takes a long time to recover." But, before the outside world's perception of Nepal can change, the country will need a lot more good news on the ground.
---
Ron Gluckman is Hong Kong-based reporter who roams around Asia for a variety of publications including the Asian Wall Street Journal, which ran this story in April 2005. This is the original draft.
All pictures by Ron Gluckman
---
To return to the opening page and index

push here
---