A coup in the Maldives Islands
President Mohamed Nasheed came to power in the tiny island nation of the Maldives on a tidal wave of local adulation and international acclaim. Like the perfect poster boy for modern change, the charismatic former political prisoner ended the rein of Asia's longest dictator, bringing democracy in this Muslim nation. He espoused reconciliation at home, and environmental action on the world stage. But the old powers staged a coup, ending this brief democratic spring and turning the ideals into unrest.
By Ron Gluckman /in the Maldives, and Beijing
---
CONFUSION AND CHAOS ARE SWEEPING THE MALDIVES. Mohamed Nasheed, the first elected president in Asia's newest democracy, either resigned or was deposed in a coup d'etat, depending on which side one believes.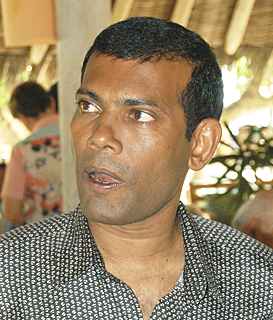 Now he is holed up at home as his supporters battle the military on the streets of the capital. It's a spectacular reversal for a talented leader who seemed poised to lead his nation toward full democracy.
The young, charismatic Mr. Nasheed won the country's first election in 2008. That unexpected victory ended the 30-year-rule of Maumoon Gayoom, Asia's longest ruling leader, who Mr. Nasheed accused of running a police state.
Instead of seeking reprisal, however, Mr. Nasheed won praise for pushing reconciliation, a courageous path considering his time in prison where he and many colleagues were allegedly tortured.
"I believe wholeheartedly in this," he told me last October. "This is not something that others have urged on us. I believe this is the only way forward, that we must make a change."
At first, President Nasheed was popular with a public hungry for change. He took office amid widespread celebration, and his nickname "Anni" was spraypainted on streets throughout the capital. But the good-will was short lived. Lacking a powerful mandate, his government was stymied by parliamentary inaction after the election.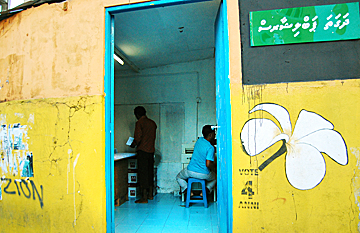 "We got a bit bogged down in 2009 and 2010," then President Nasheed conceded. "But now, we've picked up pace with our reforms. The key is not to lose your focus."
But then the president overreached and lost the confidence of the people. Mr. Nasheed pursued painful transition policies that sent his ratings plummeting. Business leaders disliked his imposition of higher taxes and austerity measures, even as the global economic crisis washed over an island nation which is highly dependent on imports. By late last year street protests were a common sight in the capital.
Even Vice President Mohamed Waheed Hassan Manik was outspoken in his criticism. Added to the election campaign to bring more experience to the ticket, he said he had been marginalized by then President Nasheed's tendency to make snap decisions. "He's a very dynamic person, with wonderful skills as a opposition speaker, but he's just not very experienced in government."
President Nasheed acknowledged the criticisms but was unapologetic. "We have a tremendous amount of work to do, and people say I am foolish to try to do so much all at once," he explained. "We had to come up with a new state constitution, rule of law, an independent judiciary, all of these things," he said.
"Definitely, the financial measures were even more difficult. But my feeling was to just get it all done, tackle everything. This is how I do things."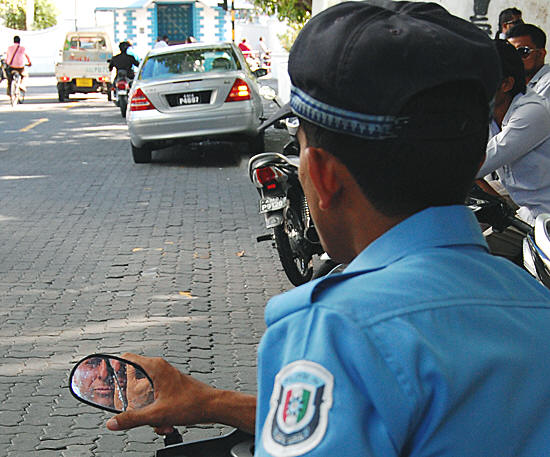 Traditional island alliances also undermined the ambitious president. In a country so dependent on overseas visitors and government largesse, many opposed his efforts to curtail pork-barrel projects in favor of greater transparency. Muslim activists portrayed Mr. Nasheed as an unbeliever. Opposition parties seized on the fervor, pushing measures to outlaw spas at the resorts that provide the Maldives' vital tourism income.
One of former President Nasheed's final acts was to revise the tourism policy, with plans to increase resorts and put them in populated areas to create economic benefits for the local population. This reversed a longstanding policy of building resorts on unpopulated islands to minimize interaction with visitors.
"The people of the Maldives have been segregated for too long," he told me. "I believe it is because of a lack of democracy. But this is a modern nation, and we need to expose people to more modern ideas."
The tensions boiled over last month when President Nasheed removed a judge he maintained was obstructing investigations into alleged illegal activities by Mr. Gayoom. Many, including Vice President Mohamed Waheed Hassan Manik, criticized the action.
Then on Tuesday the police and army made their move. According to Mr. Nasheed's communication advisor Paul Roberts, "The president had been in the army headquarters, and around noon, the doors opened in the presidential compound, and all these unmarked vehicles rolled in. There were armed police everywhere. The president was led in. He told me they forced him to resign, otherwise they would have used force against him and his supporters."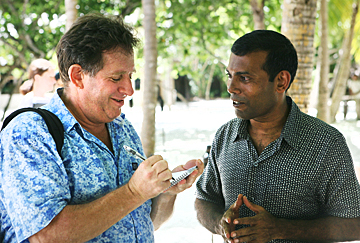 Mr. Roberts, who is also in hiding, says the president asks the international community to press for an end to the street violence that has sent hundreds to hospital. The beating of one member of parliament, now in intensive care, was videotaped and posted to the Internet.
"The police have gone crazy, and the population is in an uproar. This could slip into a military dictatorship. The president is calling for diplomatic pressure to end the violence and restore democracy."
Yesterday the new government announced charges against Mr. Nasheed over a cache of illegal alcohol allegedly seized from his office; Mr. Roberts says the bottles were planted by police. The window for resolving the crisis peacefully and in a way that preserves the progress of Mr. Nasheed's administration appears to be rapidly closing.
Maldivians are unlikely to accept a return to the dark days of Mr. Gayoom, but as we've seen from the old U.S.S.R. to the Arab Spring, one of the risks for a new democracy is a regression to old ways of repression. In Asia's tiniest nation, the growing pains are reaching a crisis point.
---
Ron Gluckman is an American reporter who is based in Asia since 1991, roaming around the region for numerous publications, including the Wall Street journal, which ran this story in February 2012.
Picture of former President Nasheed and Ron Gluckman, in happier times a few months before the coup, by Paul Mooney.
All other photos by RON GLUCKMAN
---
To return to the opening page and index

push here
---