Paradise Maintained
As more and more resorts spread across these gorgeous isles and atolls, the Maldives has shown a remarkable to flourish through the tsunami and the onslaught of mass tourism. With some of the world's most luxurious - and expensive resorts - these islands remain the very picture of paradise.
By Ron Gluckman /in the Maldives
---
A

GROUP OF ITALIANS set out a third of a century ago on the ultimate quest, to discover the perfect cocktail of sun, sand and sea. South of India, they spied a stretch of sand-skirted isles sparkling like jewels in crystalline light, each a luxurious lily pad bobbing in pristine water, aquarium-stocked reefs on every side, palms aplenty on the shores.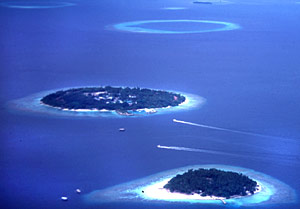 Overjoyed, one slipped a message in a bottle: "Found paradise. Come quick."
This was the Maldives in 1971, newly independent, but lacking restaurants, resorts, or commercial flights. Within a few decades, though, the Maldives crafted a vibrant tourist industry featuring some of the world's most luxurious lodges, award-winning spas and celebrated clientele that runs from Tom Cruise to Madonna.
Yet this increasingly-popular holiday getaway remains the very picture of paradise.
That's the euphoric scene that slowly unfolds out the windows as our sea-plane drops from a cloudless, powder-blue sky, and begins circling lazily down towards Kunfundhoo. High in the northern Baa Atoll, 100-acre Kufundhoo is among the largest of nearly 1,200 coral-encrusted outcroppings that comprise the Maldives.
The island is home to Soneva Fushi, flagship resort of luxury chain Six Senses. "Sometimes, when guests drop down out of the sky," the manager jokes after we've been met by a boat and taken to shore, "I feel like I should bellow, 'Welcome, to Fantasy Island.' The reference is to popular television series where guests traveled to a remote island to live out their fantasies. "Here," he says, "they come to get away from it all."
That's easy to do at a resplendent beach resort where the motto is, "No shoes, no news." Relaxation is the order of the day at this idyllic retreat that has regularly been named the world's finest resort.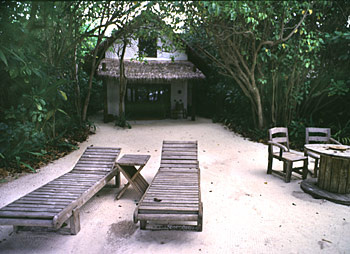 What makes the Soneva Fushi so special is its understated opulence. Facilities sport tile or dirt floors. TVs are tucked away from view. Guests, many of them millionaires, stroll about barefoot or in sandals, and pedal the island's dense, jungle-draped paths on old bikes left by staff beside well-spaced, exquisitely-outfitted beachfront cottages.
This serene resort is the brainchild of Sonu Shivdasani and his wife, former Swedish model, Eva Malmström (Soneva Fushi is a blend of their names with that of the island).
They took over a faded holiday resort in the early 1990s with the goal of creating the ultimate holiday getaway. Simple wooden chairs and coconut-shell bath fittings add to the rustic charm of a resort that naturally stirs fantasies of Robinson Crusoe.
In another part of the Maldives, Six Senses operates Soneva Gili. Here, as in much of the Maldives, space comes at a premium, since the isle is barely more than a patch of coral and sand, one-tenth the size of Soneva Fushi. The answer was to create a magical above-water fantasyland that has become a model for Maldives elegance.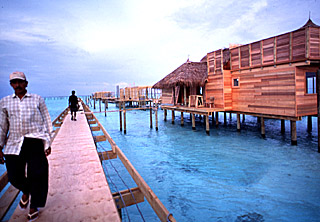 Wooden walkways lead to a series of luxurious bungalows that seem to levitate over the sea. The interior design emphasizes the sensation of being alone, aloof, adrift on an endless expanse of water.
Every room commands a spectacular ocean view, and there are glorious outdoor showers where you can scrub off sand, mesmerized by schools of resplendent fish frolicking in the colorful coral underneath.
Six Senses has shown a particular skill at creating showcase resorts in the Maldives, where it's two ultra-upmarket Soneva resorts make it a major player. And it continues its innovation with construction of Evason Laamu on Olhuveli Island in the Thaa Atoll. Evason is the group's five-star brand, and will feature 130 villas, 22 with private pools.
The rest will offer plunges in the immense ocean, perched on platforms over the sea.
The Four Seasons is the only other brand with three resorts in the Maldives, but it has one of the smallest and most unusual. The Four Seasons Explorer measures less than 40 meters, but can accommodate 22 guests on utterly unique expeditions. The Explorer is a three-deck catamaran with 10 luxury staterooms. There is even an on-board spa.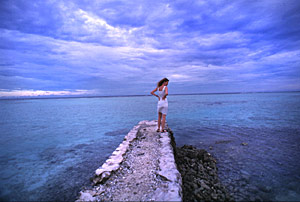 Bookings on the boat can be combined with stays at the Four Seasons Kuda Huraa, which recently reopened after an head-to-heel restoration, or the brand-new Four Seasons Landaa Giraavaru, which opened in November in Baa Atoll, about 120 kilometers north of the island capital of Male.
Utilizing the design concepts of Geoffry Bawa, Sri Lanka's most celebrated architect, the Landaa Giraavaru resort created quite a splash with its stylish villas featuring coral walls and lush gardens, along with personal pools and outdoor showers.
The 102-villa resort highlights its stunning two-kilometer reef with a variety of aquatic activities.
Similar slices of paradise are served up by 88 resorts scattered across the Maldives, each of which can guarantee a special sense of privilege and isolation, since all sit on their own individual island, devoid of any other development.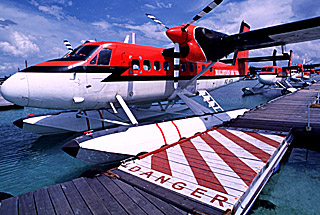 By necessity, each resort becomes a world unto itself, offering a wide variety of dining and aquatic diversions. Visits are seamless. Resorts send representatives to greet guests at the airport (visa issued on arrival), who then spirit tourists by sea plane or speedboat, James-Bond style, to the island of their choice.
Admittedly, the confined surroundings aren't for everyone. One friend returned disenchanted. A quick discussion revealed the reason: he never left shore.
Of course, you could have a wonderful holiday simply sunning yourself on the beach. But to really relish the unique magic of the Maldives, you must submerge. The borders of this republic stretch 800 kilometers, but 99.6 percent of that territory is underwater.
Jet streams flowing from Asia to Africa create unique currents that flow through the Maldives. The rich waters feed a dream world, of dazzling reefs, 70 varieties of corral, and 700 species of fish whose vibrant swatches, stripes and spots of color are even more exotic than their names: Dogtooth Tuna, Sweetlips, Butterfly fish, Wahoo and Picasso Fish.
Toss in plenty of varieties of turtles, manta rays and shark, and it's no wonder that the Maldives took the undersea Oscar, "World's Leading Dive Destination" at last year's World Travel Awards.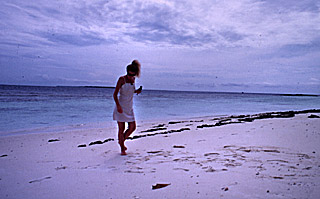 While the diving is out of this world, novices needn't feel left out. Most resorts claim a reef along shore. At the Soneva Fushi, a short stroll into the surf from a lounge chair on my own beach took me to a point where the reef plunged 20 meters, offering perfect visibility of the entire array of undersea wonders.
It proves an irresistible sight, notes Christopher Stafford, general manager of the new Anantara Resort Maldives. He estimates that probably only 10 percent of guests are divers, but adds that "another 15 percent become diving enthusiasts."
Not that you have to get wet to experience the wonder of these islands. Stafford says a high point in any visit comes at Manta Point, near the resort. "It's a great diving spot, but comes into its own at sunset when pods of dolphins congregate there. At dusk, anything up to 100 dolphins might swim past the point – it really is magical."
And so it should remain, thanks to the Maldives measured approach to tourism, which targets the high-end market and tightly restricts the number, and placement of resorts. Long before it became fashionable around the globe, the Maldives pioneered its own version of eco-tourism.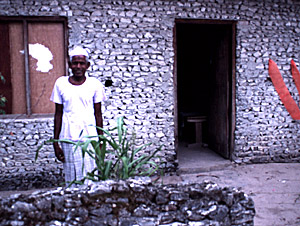 "Ecotourism is one of those buzzwords that every country defines in its own way," says Moosa Zameer Hassan, an environmental analyst with the Ministry of Tourism. "In our view, it's really sustainable tourism."
There is ample reason for caution. The Maldives already survived a huge scare during El Nino in 1998, when warm water bleached out or killed much of the coral. The coral gradually recovered, but the tsunami of two years ago destroyed almost a quarter of the island resorts. Tourism also fell off by 40 percent.
Last year, tourism returned to pre-tsunami levels of 600,000 visitors, led by increasing numbers from China, now over 4 percent of the total. This makes it the sixth top source source of tourists, but the numbers will rise even higher with the recent addition of direct flights from Macau.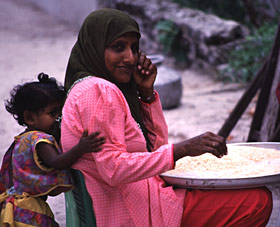 The Maldives is also planning to diversify its portfolio, recently announcing plans for the licensing of an additional 35 resorts. Including 10 mid-market resorts, these should come on line within the next three to five years, increasing the often over-booked Maldives bed capacity by about 50 percent.
Still, the growth is meticulously planned. Resorts are only allowed on uninhabited islands, minimizing the impact on the mostly Muslim populace. All resorts must provide their own sewerage and water treatment.
Thus far, it all works, marvelously well. Visitors savor that same long-ago sought cocktail of sun, sea and sand – with the new addition of some of the world's most acclaimed spas. Tourism provides 70 percent of foreign revenues, helping this island nation achieve the highest per capita income in South Asia.
The message from the Maldives these days is: "Paradise maintained."
---
Ron Gluckman is an American reporter who is based in Asia since 1991, roaming around the region for numerous publications, including Closer, which ran this story in March 2007.
Pictures by Ron Gluckman
All words and images are copyright RON GLUCKMAN, protected by international law barring any reproduction or reprint without the permission of Ron Gluckman
---
To return to the opening page and index

push here
---