Genuine Lord Jim
White forts, twisted vines and a wild river cuts straight to the darkness of Sarawak, where a rogue British pirate carved out a musky kingdom in the jungles of Borneo. Tribal warfare and voodoo still fill the wild nights in the land ruled by a real-life Lord Jim
By Ron Gluckman/Kuching, Malaysia
---
A

S THE LONGBOAT STRUGGLES UPRIVER, I bat away the bugs and search the shores for a signs of the sanctuary. Finally I spy them, the pearl-white walls of the trusted redoubt, Fort Margherita. Thick jungle lines both sides of wild Sarawak River, right up to the old fort. But neither beast nor rebel warlord has ever breached its walls.

From the second-story overlook, beneath the turrets, a sentry signals safe passage to my boatman, and we pull up to the dock, where helmeted soldiers unload my baggage.

Suddenly, across river, Kuching's clock tower sounds the hour, and I'm shaken abruptly from my daydreams. The boat bumps into a thoroughly-modern dock and the helmeted khaki soldiers dissolve along with my delusions of grand adventuring in the 19th century. Instead, our berth is beside a brick promenade, where waiters on roller skates deliver pizza, and pop music plays through speakers on a bandstand.

"Salamat Datang - Welcome to Kuching!" shouts guide Jonathon Jugat. Grabbing my hand in a strong grip, he pulls me ashore and back to reality. He chuckles when I detail my daydreams; he's heard the same story from other visitors to this part of Borneo.

"The jungle will do that. It casts a spell," he explains a few days later, while guiding me upriver through twisted vines, deep into the heart of Borneo. "The secret of Sarawak," he says, "is to just relax and enjoy it."
Indeed, there does seem to be considerable magic swirling around Kuching, capital of the Malaysian state of Sarawak. Set alongside a river, and surrounded by primary forest, the city sports Muslim mosques with onion-dome roofs mingled with tropical architecture in a setting of spectacular natural beauty. Dense forests of rarok trees extend for miles, and giant monitor lizards, colorful hornbills, barking deer, honey bears and long-nosed proboscis monkeys play among wild orchids.
But Kuching's appeal extends far beyond these wonders. No other town in Malaysia, or anywhere in the world, also boasts Corinthian columns, Renaissance towers and citadels that would do Scotland proud. The buildings are relics of an exotic empire built by the Brookes, the fabled White Rajahs who ruled this riverside Camelot for a century.
The unusual dynasty was established 115 years ago by Captain James Brooke, a young English skipper who was sailing up Sarawak River during an uprising against the ruling sultan. Brooke helped put down the rebellion and, in gratitude, was granted title to his own jungle kingdom.
That was November 1841. Brooke was 38 years old when he became the first White Rajah of Sarawak. It wasn't much of a kingdom then, but Brooke and his descendants brought British rule to Borneo. Rustic tropical palaces were built beside the wooden huts of Kuching. Soon, tea parties and piano recitals distinguished this exotic oasis in the teeming jungle.
The Brookes also left behind a legacy larger than the surviving town clock and a series of forts that helped the rajah's troops to tame the tribes and pirates up and down the Sarawak River. The Brookes also gave Kuching the finest museum in Asia, and the first parliament in Southeast Asia.
The reign of the White Rajahs came to an end in World War II, yet modern-day Kuching still boasts not only an unique heritage, but also an equally rich mix of peoples. Populated by Malays, Chinese and tribal people, Sarawak is Malaysia's largest state and its most racially mixed, with over a dozen different ethnic groups represented.
"Where else in the world can you find such diversity?" asks Aloysius Dris, director of tourism at the Ministry of Environment and Tourism in Kuching. More than any other place in Malaysia, he adds, Sarawak is like a living museum.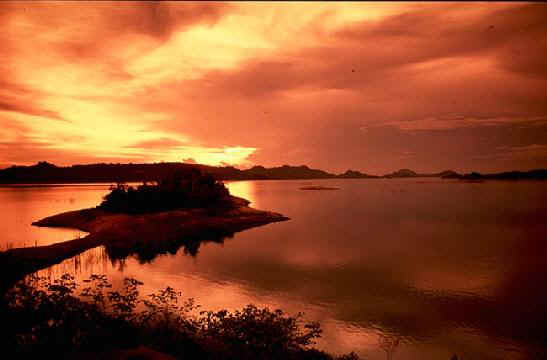 This unusual blend of scenic beauty and ethnic diversity kept Sarawak popular for centuries not only with explorers, but also anthropologists, botanists and writers. Numerous books have been written about this part of Borneo, the world's third largest island. Somerset Maugham is among many novelists who used Sarawak as a setting. The debate still rages on whether James Brooke was the model for Josef Conrad's "Lord Jim," the story of a English commoner who becomes king of a riverfront kingdom.
The son of a civilian employee of the East India Company, Brooke was born in Secore, outside Benares, in India. After an injury in Burma ended his military career, he took to the sea with his own ship, the Royalist. He set sail for the Orient in 1838.
Five months later, after stopping off in South America and Africa, the Royalist entered Singapore in May 1839. A friend reportedly remarked that "Brooke has as much idea of business as a cow has of a clean ship." However, he learned much about commerce and colonial administration during his two month-stay in Singapore, and Sir Stamford Raffles, founder of Singapore, would prove to be a major role model for Brooke.
Like Raffles, Brooke opposed slavery, and established a system of free and fair trade rare to the region at the time. "All men, whether Malay, Chinese or Dyak, were free to trade or work as they pleased and to enjoy their gain," writes Steven Runciman in his book, "The White Rajahs."
Rajah James Brooke's rule was not without trouble. There were constant battles with pirates and rebel tribes, and an uprising by the Chinese in the 1850s. Brooke protected his realm with a series of fortifications along the river, many of which survive to this day. They include Fort Emma, built of local timber and bamboo in 1859, Fort Alice, with its distinctive turrets, built in 1862, and, the oldest, Fort Lilly, built in 1855.
The dazzling white Fort Margherita was completed in 1879. This became the home of the famed Sarawak Rangers, a police force formed in 1862 by Brooke's nephew and successor, the heralded Rajah Charles Brooke. Fittingly, the old fort is now a museum of police history and weaponry.
From the walls of Fort Margherita, sentries would shout, "All's well," and the hourly call would carry to Istana Palace, built by Rajah Charles Brooke in 1870. Even to this day the palace is the residence of Sarawak's head of state.
Walk the streets of Kuching and you will find similar historical references at every turn: gothic features here, a Victorian-style police station over there. Across the street from the frilly Pavilion is the odd Round Tower, which was built in the 1880s, but for a purpose that continues to baffle historians. Many speculate that the absence of windows on the first story, and the tower suggest it was intended to be a fort.
Perhaps the proudest achievement of the reign of the White Rajahs was construction of the Sarawak Museum in 1891. Resembling a Normandy townhouse, the museum contained what was then the finest collection in Asia, partly due to the effort of Alfred Russel Wallace, a British naturalist who developed a theory of evolution much like contemporary Charles Darwin. Wallace spent two years in Sarawak at the invitation of Rajah Charles Brooke, who was succeeded by his son, Charles Vyner, third and last of the line of remarkable White Rajahs.
Kuching is also home to another unusual museum, although a far more modern one. The Kuching Cat Museum claims to be the world's largest - perhaps only - repository of exhibits devoted exclusively to felines. Nearly 2,000 items are included in the cat collection, from cat models on a cat walk and a life-size Cat Woman hanging from the rafters on a rope, to a collage of cat books, posters, figurines and Black Cat cigarettes.
"This museum is growing all the time," says Captain Handeri Haji Hashim, who is the curator and owner of six cats. "Visitors bring things, or send them later. We get people and gifts from all over the world. Everyone loves it."
The museum has become a signature tourist attraction in Kuching, which means cat in Malay. The Cat Museum sits right next to the ultra-modern Kuching City Hall, described by one Asian travel writer as "an Art Deco spaceship."
Oddly enough, the modern attractions meld well with the historical offerings in Kuching, which has been touted as one of the friendliest and most peaceful cities in Asia by many guidebooks. And the recent improvements have managed to bring a bright present to this charming city of 400,000 people with such a rich past.
Over US$1 million was spent on improvements to this riverside greenbelt that would make most European cities green with envy. The brick promenade features old-style lighting, park benches, playgrounds and scores of food huts. Music and other entertainment is offered at several pavilions along the parkbelt.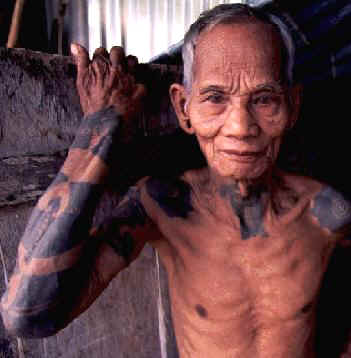 Much of Kuching's tourist appeal is focused upon the river, which includes some of the best shopping and restaurants. Rows of antique stores offer bargains on everything from blow pipes to statues. Nearby is the picturesque central market where visitors can sample the aromas of fresh fish or curry, chilli and turmeric in the Indian section.
Just like the Rajahs of olden times, visitors to the modern-day kingdom of Kuching generally use the city as a base, then explore the surrounding scenic areas of Sarawak. The adventurous can book boat rides through the jungle to traditional villages, where entire communities, sometimes numbering 200 people or more, live together in communal longhouses. Caves are the main attraction at Gunung Mulu National Park, including one that can only be reached by a rugged all-day climb up a 1,600-meter limestone hill.
For those who prefer tamer types of adventure, daytrips include visits to the oceanside resorts of Santin and Damai Beach, less than 30 kilometres from Kuching, or Bako National Park, 37 kilometres away, where wooden walkways lead through primary forest containing many of the species endemic to the area. These include long-tailed macaques, monitor lizards, wild boars and the proboscis monkeys.
Those on a tight schedule can still sample the ethnic diversity of the area by visiting Sarawak Cultural Village. The various styles of native architecture are all represented at this mock village, including several types of longhouses. Inside each dwelling, tribe members make crafts, weave and demonstrate other aspects of native life. Performances of native dance and music, along with blowpipe skills - the traditional weapon of the area - are showcased at the Cultural Village theatre by costumed performers.
For those who dream of being a king, several riverboats offer short cruises to all the city sites. Passing the ancient castles, time seems to slip away, and it's easy to imagine yourself in the realm of the White Rajahs.
---
Ron Gluckman is an American journalist who is based in Hong Kong, roaming the wild reaches of Asia for a wide variety of publications around the globe. This piece ran in Expressions, the travel magazine for American Express
The pictures on this page are by David Paul Morris, an American photographer and regular travel partner of Ron Gluckman since the 1980s. Other examples of DPM's fine work can be seen throughout this site or visit his newly-launched web site at www.davidpaulmorris.com
---
To return to the opening page and index

push here
---