Ko Lanta - Thailand's other island paradise
Samui and Phuket suck up all the attention, and most of the tourists, but sleepy Ko Lanta in southern Thailand is catching on. Once part of a the Malay-Chinese trading circuit, it retains its old wooden houses and rubber plantations on the quiet eastern side, while the west is a long stretch of beaches and, blissfully, little else.
By Ron Gluckman / Ko Lanta, Thailand
---
N

EARING THE CREST OF A HILL,

driving south on Ko Lanta, Thailand's third-largest island, I found myself holding my breath. It wasn't only due to the dramatic drop

ahead, which I remembered painfully well from my last visit, but also the severe transitional shift. Five years ago, the pavement ended here. Afterwards, the road was dirt, or mud. Only the fearless on motorbikes or with four-wheel drives dared to continue.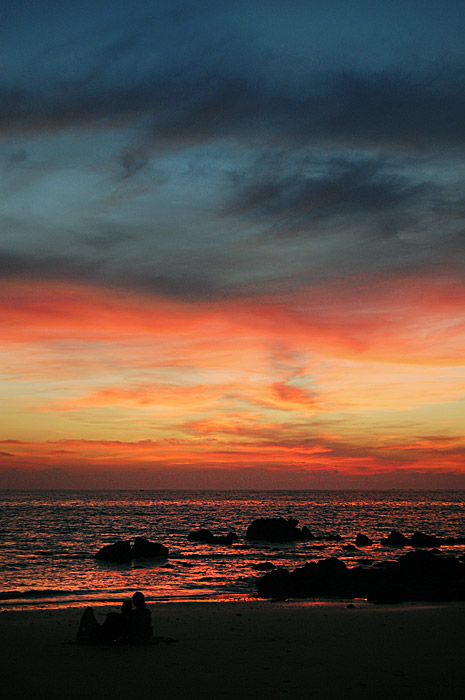 That kept the beaches and remote resorts beyond blissfully deserted. Anyone seeking solitude, as my wife and I did five years ago, could bless the bumps in the road, even as we cursed and nursed our bruises. On our previous visit, we soaked up sunsets unmarred by the beach bars and thumping music typical to much of Thailand's island circuit. In the remote resorts of southern Ko Lanta, we found scant comfort, or electricity, yet hardly a worry – until we had to face this treacherous road again on our reluctant journey back to the real world.
Returning to the scene of previous idyll is always a risky bet. Progress dictates that paradise never remains so. Destinations develop, and memories of good times grow grander over time. Rarely do repeat visits match the original thrill.
So, it was with much trepidation that we climbed the hill, and a shock, at the top, to find the asphalt continued as far as we could see. While the smooth road was easier on our bodies, we worried it would be a bad omen for the languid Ko Lanta that we fondly remembered.
But shock turned to smiles as we zipped along palm-lined coves, spotting only a few small resorts tucked tidily into trees on the way to our first stop at Pimalai Resort & Spa. "Lanta is growing and expanding, but the essence of this place really hasn't changed," promised Franck de Lestapis, general manager of what has long been among Ko Lanta's leading resorts.
For much of that time, there was little competition. When de Lestapis arrived in 2001 to open Pimalai, most thought the plan crazy. Back then, Lanta was off the map, isolated jungle on an inaccessible island. Tourists were swarming nearby Phuket, some exploring Ko Samui, but Lanta was largely unknown.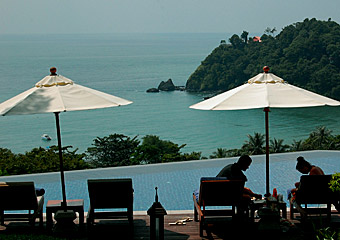 "Hardly anyone came to Lanta, or even knew where it was, but that was the appeal, and really it still is," he noted. "Everyone these days wants something different, a hideaway. People seek a secret place – and that's Lanta."
Actually, the secret has been slipping out in recent years; nowhere is that more evident than at Pimalai. The original rooms, clustered four per two-story pavilion, dotting lush tropical foliage on the 45-hectare property, still feel luxurious, with balconies overlooking Pimalai's private beach on a long, palm-lined cove. But the spacious rooms naturally pale compared to the 39 villas on the hill above, added in a major expansion three years ago.
Each of the 1-3 bedroom villas have private pools and the million-dollar views standard to top resorts on Ko Samui. But when completed at the end of 2005, Pimalai's pool villas represented a new epoch for an isle only wired for electricity a decade before. As we dined at Baan Pimalai Restaurant, we couldn't help but marvel at how much Lanta had evolved since our stay five years earlier in those rustic, lantern-lit bungalows not much further south.
Nor are critics questioning Pimalai's plan any longer. Around Lanta, we spotted a dozen trendy inns, like Thanya Resort, with 12 cozy rooms nestled in a tranquil cove on Klong Toab Beach. Further evidence of Ko Lanta's emergence came at stylish restaurants run by entrepreneurs with a renegade streak, typical of this unconventional isle. Red Snapper, hidden in jungle, sports a menu reflecting the whims of the Dutch cooks – everything from tapas and Turkish dips to mojitos, pesto mussels and homemade mango pie. Time for Lime, a lime-green fusion restaurant and cooking school outdoes the Thai-Ikea design common around Lanta; Scandinavians dominate the island ex-pat scene, which explains all the menus featuring mango salad AND meatballs.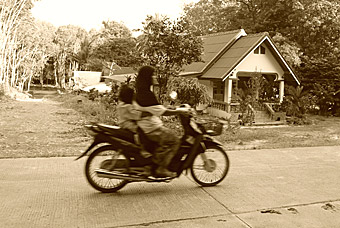 Some of Lanta also embraces the well-worn Thai model, with spas sprouting alongside the best beaches, and the first villa developments beginning to root in the green hills. Hong Kong owners recently took over Rawi Warin, Lanta's largest resort, which they refurbished and reopened last year as the lavish 185-room Langham Place Eco Resort + Spa.
Still, Lanta was largely as we remembered, lazy and carefree, with vast lengths of sand where you could slip off your sandals, spread a sarong, and plunge into a thick book or the clear sea, never seeing another tourist or tout. Inland, new roads rolled past rubber plantations, sheets of latex drying on lines between the etched trees, to Old Lanta, the original port town, with hundred-year-old wooden homes and lilting songbirds in cages denoting a vibrant Chinese community.
The wild eastern side of the island looked exactly as we remembered. Locals sat on porches, gossiping with neighbors, framed by dazzling views of the same stupendous rock outcroppings common to Ko Phangan Bay. Renting a motorbike, we putted past throwback Thai settlements to a big, jungle-shaded river where locals offered long-tail boat rides through thick tangles of mangroves.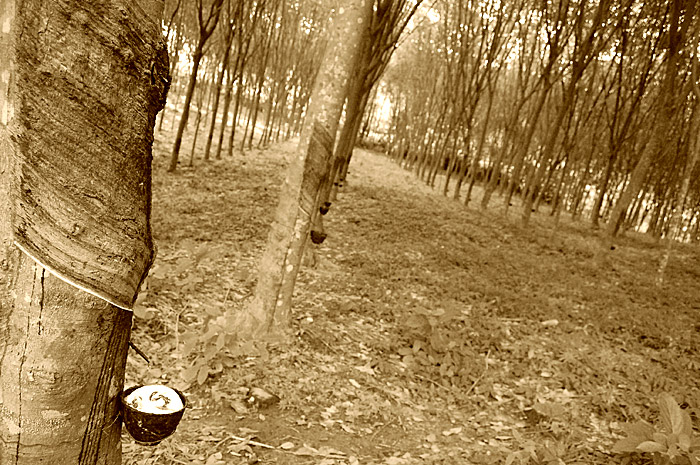 The island's undeveloped east side seemed little changed in a century, when Old Lanta thrived as a stopover for Chinese and Arabic ships plying the Phuket-Penang-Singapore circuit. But the western shore, with all the beaches, was clearly in play. Among the alluring five-star palaces that typifies Lanta's new look is Layana, an adults-only boutique resort with 50 rooms, set in royal Thai-style pavilions around a lagoon pool that snakes down to the white-sand beach.
"The island is still filled with backpackers," said resident manager Michael Vogt, who was wonderfully welcoming when I dropped by unannounced. This is part of Lanta's charm; even upscale resorts offer barefoot luxury with few airs. "But that is changing quickly. Lanta is really picking up nowadays.
"We still cannot compare with Phuket or Samui," he conceded, "but we don't want to. Nobody comes here to party. You come to Lanta to relax, stay on the beach and really do nothing."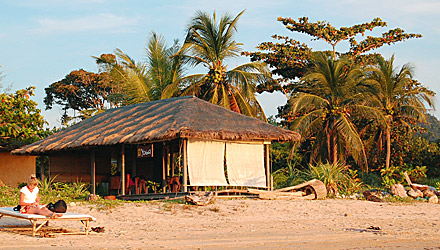 That was our agenda, both at the new generation of Lanta luxury lodges, and a series of small, affordable resorts, renting beachside bungalows for $100 a night, or much less. One of our favorite discoveries was Relax Bay, a cluster of cabins on a serene section of Phrae Ae Beach that completely lived up to the name.
"We keep it very relaxed," chuckled co-owner Alain Van Geeteruyen, showing off simple bungalows, all better for what they lacked - no TVs, and no beach bar within reach. "We figure the sound of the sea is the best music for visitors," he explained. "Our guests come here to get away from it all. We figure, if they want Phuket, they can go to Phuket.
"Most of our guests are ex-backpackers in their 30s or 40s," he added. "Now, they are coming back with their kids. They want to experience what they remember, this idyllic Asia of thatched bungalows and simplicity."
A secluded gem, Relax Bay offers a spacious setting, along a wide expanse of coastline. Yoga is popular at a seafront pavilion; you can meditate and feel waves wash over you. "We have about 800 meters of beachfront," said Van Geeteruyen. "We want to keep this spacious, special."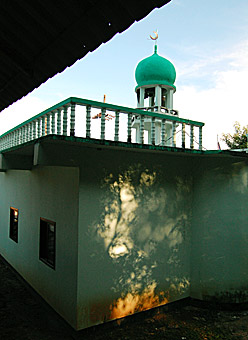 That's a refrain I kept hearing repeated, from the top of Lanta, where ferries connect to the mainland – there are no bridges to or airports on this secluded island – to the serene national park at the southern tip, and from every resort along the way, whether five-star spectacular or basic beach bungalows.
"Seven years ago, this was all different," recalled Pattama Pongsukapat, as she served me frothy cappuccino and croissants baked daily by her French husband at Faim de Loup Boulangerie. Originally from Bangkok, after seven years running a coffee shop in France, she wanted to come back home, but to a more tranquil part of Thailand. "We went all around looking. We went to Phuket and Ko Samui, riding a motorbike." At first sight, they fell in love with Ko Lanta.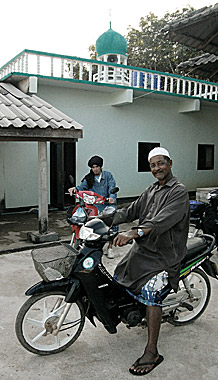 She had heard of the island from "Survivor," a television show partially filmed here. Her café fit the show's jungle setting, initially. "It was basically nothing at all," she said, eyes sparkling, sweeping her arms as she added: "The road didn't really exist. It was just a path. And this was all bamboo and forest." Now, the café sits roadside in a neighborhood packed with restaurants and guesthouses.
"I never thought I'd see this. It has all happened pretty quickly in the last two years." Most changes, she said, have been positive, with visitors coming earlier and staying longer, easing the trauma of the annual down season. She felt Lanta's allure remained little altered. "Lanta is still a special place. You get to know people here, and it's really different from Thailand."
One key contrast is the large Muslim population, which flavors cuisine with rich curries and the landscape with colorful domed mosques. Visitors are invariably astonished by the juxtaposition of headscarves and bikinis. About 90 percent of Lanta's population is Muslim, making it the most Islamic part of the country, more so even than troubled areas of the south.
Yet, turmoil has never beset the island's diverse population, which includes Thai Buddhists and ethnic Chinese, whose island roots extend over a century, along with even earlier arrivals the Chao-Le, or indigenous sea gypsies, living on stilt houses perched off the eastern shore.
Around the island are dozens of mosques, uniquely designed by local villagers. As the sun cast an orange glow over Prae Ae Beach, I arrived one day in time to catch the chant of morning prayers. Wispy-bearded men refuse to let me stay outside snapping pictures. "Come, come," insisted one, waving me inside. That was the full extent of his English, but in cheerful hand gestures, he introduced me to the congregation, who happily posed for photos.
A few hours later, in the lobby of nearby Lanta Palm Beach Resort, I marvel at staff chatting on line with boyfriends by video camera, in full headscarves. "Why so surprised?" asked a pretty Lanta girl. "We are Thais, like anyone in Thailand." Nearby, a Muslim Prayer room sits beside another internet café and a dive shop – Lanta is rimmed by prime diving sites – all run by Muslims.
"Maybe Muslim culture will help keep Ko Lanta different," mused Junie Kovacs, who first came to the island in 2001, and opened Time For Lime in 2003. Her cooking school and fusion restaurant are a Lanta institution. Thousands come each year to study Thai cooking with Kovacs, a self-taught American chef raised in Norway who espouses the virtues of organic ingredients while chain-smoking.
Originally, Time For Lime was at the top end of Lanta, near where ferries dock. That has become the busiest part of the island, filled with gift shops and tourist stalls, so she moved further down Klong Dao Beach. Like many unconventional businesspeople on this unconventional island, she doesn't cheer the boom.
"I thought Ko Lanta was different. I never thought it would become like Phuket," she explained. "I just hope with the Muslim culture, it will never become like other islands, with all the partying and bars."
Next door, at Slow Down, manager Nui provided an upbeat perspective. Guests here sit inside a mock wooden boat, sipping sundowners, served by Muslims, Buddhists and Thais from the Northeast. "We're all together here," said Nui. At sunset, customers and staff spill out to the sand to play volleyball. "We like the changes on Lanta. Now there are more people, but also more fun."
For some reason, it made me think of gado-gado, the zesty mixed-vegetable salad with spicy peanut sauce. Once a simple getaway, Lanta is growing into a more complex, complete destination. The challenge will be to maintain balance, but all the right ingredients – beaches, mountains, diving and cultural diversity – are in place. Like on the old road around Lanta, there are bound to be bumps and bruises. But five years on, I found, there is plenty of flavor left in this island.
---
WHEN TO GO:

There are really only two seasons on Ko Lanta – hot (January through April) and rainy (May to December). The temperature stays a consistent 25-32 degrees year round (and the sea a warm 29 degrees throughout), but tourism tapers off severely in wet months, especially May to October. Many resorts shut down, or renovate during this period, but more businesses have remained open in recent years; expect steep discounts during this periord. Most resorts sneak in a third season, for the peak around Christmas and New Year, when prices double, even triple over low season.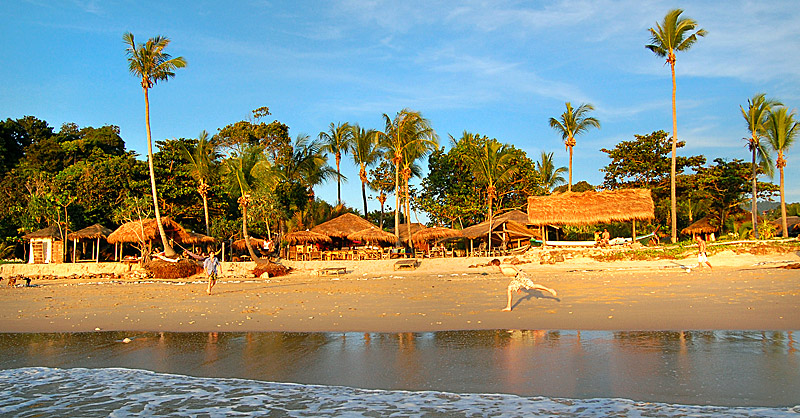 GETTING THERE:
There are no bridges to, or airports on Ko Lanta, which officially refers to a cluster of islands about 70 kilometers from Krabi. The biggest - Ko Lanta Yai, but simply Ko Lanta to everyone - is 6 kilometers wide and 30 kilometers long, and has all the services. Access is generally from Krabi, by mini-van for 3-4 hours, although waits for two ferries can add hours more. The Pimalai Resort operates its own speedboats from a private jetty, cutting the time by 1-2 hours. Other high-end resorts plan to follow suit, but service is seasonal and can be suspended in bad weather. Most resorts pickup from Krabi airport, but it's much cheaper to book directly with Krabi travel agents. Most resorts offer complimentary dock pickup and transfer service on the island.
There are also ferries from Krabi and Phuket-Ko Phi Phi, but subject to weather and demand, and regularly suspended during monsoons, often without much warning.
WHERE TO STAY: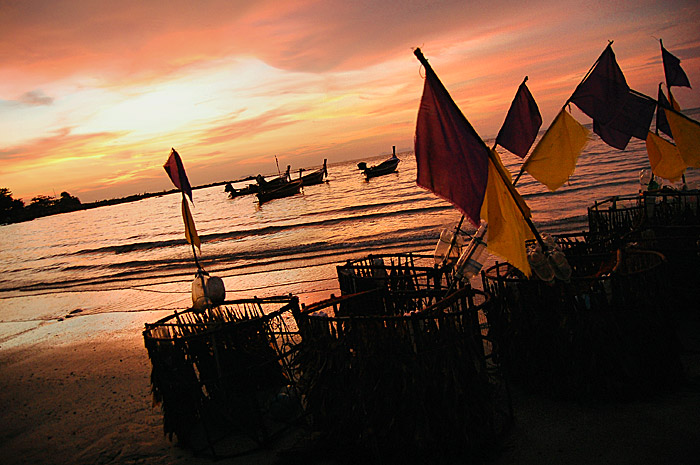 Pimalai Resort & Spa – Long among Ko Lanta's leading resorts, with 80 rooms in lush tropical gardens, plus 39 pool villas on the hillsides above. 99 Moo 5, Ba Kan Tiang Beach; 66/75 607-999; http://www.pimalai.com/; doubles from $235.
Layana Resort & Spa – An exquisite boutique resort with plush pool and dazzling sunset views. 272 Moo 3 Saladan, Prae Ae Beach; 66/75 607-100; www.layanaresort.com; doubles from $260.
Langham Place Eco Resort + Spa – The largest resort on Lanta (formerly Rawi Warin Resort) with an enormous selection of rooms and cottages including 100-square-meter pool villas. 139 Moo 8; 66/75 607-400; www.krabi.langhampalacehotels.com; doubles from $180
Relax Bay – An eclectic collection of cabins sprawling across a park-like setting, right alongside the surf. Great value and a fabulous café. 111 Moo 2; Prae Ae Beach; www.relaxbay.com; 66/75 684-194; air-con doubles from $40.
Thanya – Lovely 12-room boutique resort all alone in a tranquil cove beside a klong in the center of the island. 158 Klong Toab Beach; 66/75 662-529; www.thanyabeachresort.com; doubles from $55.
WHERE TO EAT:
Red Snapper – Lit by red lanterns, tucked into the jungle, this Dutch-run restaurant offers an extensive cocktail selection and the most eclectic menu on the island (lamb and mango chutney, fish dumplings in salsa verde, tandori fish, duck breast topped with herbal redberry mouse, and on and on…). Pra Ae; 66/7 885-6965; www.redsnapper-lanta.com; dinner for two $30.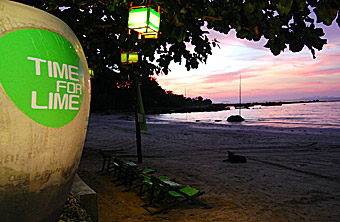 Time For Lime – Bright green open-air restaurant (and cooking school) offers small menu, but fabulous fusion dishes (don't miss the barracuda fish cakes with red-curry mayonnaise). A fine beach cafe, with surfside seating or upon the panoramic rooftop. Southern end of Klong Dao Beach; 66/75 684-590; www.timeforlime.net; dinner for two $25.
Retro Restaurant – A sprawling open-air Thai and western restaurant with knockout local cocktails like Lanta Delight or Lanta Paradise, and an equally vast menu – everything from pizza and pasta to pad thai, fresh fish and southern Thai soups. 305 Moo 2, Pra Ae; 66/75 684-838; dinner for two $35.
Slow Down – With dark wood and smart Scandinavian design, this bistro boasts a brilliant minimalist menu. For Thai, choose from a list of meats and vegetables, sauces (red, yellow, green or Penang curry), extras and heat (spicy, not, little or Thai). Great coffee, breakfast and sandwiches. Klong Dao Beach; 66/75 141-413; www.slowdownlanta.se; lunch for two $20.
Faim de Loup – A French bakery with superb coffee and fresh-baked breads, great for breakfast and packed lunches. 255 Moo 2; 66/75 684-525; Lunch for two $12.
---
Ron Gluckman is an American reporter who has been roaming around Asia since 1990, for various publications, including Travel+ Leisure, which ran this story in its Southeast Asian edition in February 2009
All pictures by RON GLUCKMAN
---
To return to the opening page and index

push here
---