Hip, Happening Ho Chi Minh
Once the most freewheeling city in Asia, a few decades after the war, former Saigon is soaring once again. With scores of chic clubs, new hotels, a vibrant arts scene, booming economy and some of the world's best cuisine, Ho Chi Minh is hip.
By Ron Gluckman /Ho Chi Minh, Vietnam
---
HIP! HAPPENING! A few years back, nobody would have applied such adjectives to Ho Chi Minh City. But this southern Vietnamese city is so "in" these days, simply getting a room at the Park Hyatt Saigon – and getting to it - proves to be quite a challenge.
In front, crowds gather to gawk at a silver stretch limousine, long as three cars, eager to see which celebrity may spill out. Inside, elevators are roped off. The head of Gucci has just checked in, hot on the heels of fellow style setters at Louis Vuitton, which just opened a flagship store in Vietnam's largest city.
Everywhere you look, the beautiful people seem to have the same buzz, and this night, they all flock to Wu, a chic restaurant run by Bien Nguyen, an Australian of Vietnamese heritage. Fashion TV is hosting a party on a tour of Asia's hotspots: Singapore, Hong Kong, Bangkok and – who would guess? – Ho Chi Minh is also on the A-list.
Suddenly, it seems, everyone wants a piece of former Saigon. "Maybe, when we opened last year, we were ahead of the curve," says Nguyen, famed for stylish eateries in Perth. "But now, things in Ho Chi Minh are really accelerating."
And how. The plush Park Hyatt Saigon, which lifted the bar for five-star lodging with its 2005 opening, runs at full volume these days. So do most Ho Chi Minh hotels, where it is sometimes impossible to even find a room.
"Things are booming," confirms Peter Van Der Ree, general manager at Park Hyatt. Yet just five years ago, he notes, hotels were begging for business. "Vietnam is definitely on the tourist map," he says. "Before it was mainly a backpacker destination. But now it's reaching more high-end travelers."
Also wheelers and dealers. "Before deals were in the range of $20 million," says Steve Reid, a partner at Glass Egg, Vietnam's biggest, and one of the world's largest outsource centers for graphics for computer games. "Now it's $250 million deals."
Intel and Hewlett-Packard are among top technology firms making multi-million dollar bets on Vietnam. Tourism is soaring, too. Vietnam hosted 3.5 million visitors last year, and the numbers are up nearly 25 percent in the first half of this year.
All these fashionistas and computerati are helping to fuel a makeover of Ho Chi Minh, which had an anything-goes reputation as wild Saigon. Now, the city has been reborn as one of Asia's most exciting new destinations, with a wonderful mix of historical and hip new attractions.
A slew of stylish international-class restaurants have opened to supplement what is truly one of the world's great cuisines.
You won't see any MacDonald's in this food-friendly city. Instead, locals favor home-town chains like Pho 24, a popular noodle bar that scrimps neither on design nor flavor.
The main dish is the celebrated Vietnamese noodle soup (pho, pronounced fuh), in a dozen variations, all with fragrant topping of coriander. Wrap and Roll specializes in scores of dishes that are wrapped in food skins and dipped in delicious sauces.
Long renowned for outstanding buys on art, Ho Chi Minh has moved upscale with a wide variety of galleries. And chic boutiques are sprouting everywhere by the score.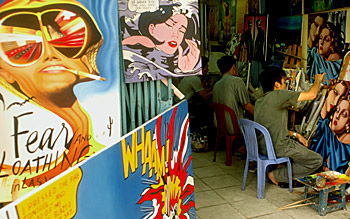 This revival of Ho Chi Minh is no surprise to locals like interior designer Arnold Hieu. "There's a great feeling these days," he says, noting that the population is young, the city exciting and fresh. "You can feel the energy." Especially in clubs like his boisterous Samsara, where customers, as well as staff, gyrate to infectious dance tunes.
Things weren't nearly as celebratory in the decades after the devastating Vietnam War. Tourism remained a trickle through the 1980s, and investment moved to more welcoming locations around Asia.
Then, Vietnam launched its doi moi reforms, much like Russia and China, designed to attract increased investment and development.
Still, it was a roller coaster ride through the 1990s, when high hopes kept ending in a series of crash landings. Initial reforms led to proclamations of Vietnam as the next sure-fire "dragon" economy, following in the footsteps of Taiwan, Thailand and Korea.
However, the early excitement wasn't matched by the pace of economic and, especially, political transformation. Much later, as the economy finally began to lift, came the crippling blows of the Asian Financial Crisis, then SARS.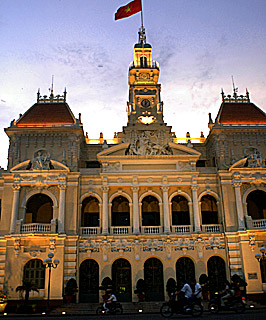 Yet this seems Vietnam's time to shine. For the past few years, the country has claimed Asia's second fastest growing economy after China.
You can see the gains on the streets – quite literally. Cranes are everywhere, as old buildings are razed, and bigger developments take their place. The streets themselves are buzzing, to the roar of thousands of motorbikes. Nearly every visitor's impression of Ho Chi Minh centers on the swarms of motorcycles choking the streets.
"The only thing worse in Ho Chi Minh these days is the traffic," says the Hyatt's Van Der Ree. "Everyone agrees on that. But just about everything else has gotten better."
Despite the rapid development, Ho Chi Minh remains rich in heritage, with ample architecture that harkens back to its Indochine heyday.
Most attractions are within easy walking distance of the plaza around the stunning Opera House, near the Park Hyatt. Indeed, the city sprawls for miles, but the central core is compact, and most of Ho Chi Minh's best hotels and restaurants are here; many themselves tourist attractions.
Facing the Opera House are the Caravelle and Continental, deco-style hotels that recall the grandeur of the French colonial era. The Q Bar, an elegant lounge, perfect for late-night meetings, with loads of cozy nooks, is tucked behind the Opera House, along with several outdoor cafes. Vietnam is one of the world's largest coffee producers. Locals like it thick in an unique drip system celebrated in hundreds of cafes around the city.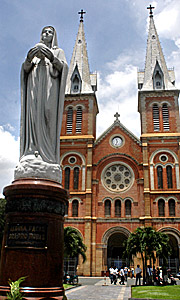 From the Opera House, a short walking tour takes in many of the historic sights of old Saigon. Proceed to Paris Square, easy to spot with the towering brick spires of Notre Dame Cathedral.
Across the street is the stunning Post Office, dating to the late 1800s, designed by Gustav Eiffel's firm. Clerks work under swirling fans dangling from a vaulted, sky-lit ceiling in a scene that seems unchanged for a century.
The historic allure is enhanced by massive antique wall maps and wooden phone booths – still in use! Big clocks overhead display the time in Moscow, Tokyo, Paris and Pretoria.
Also nearby are the People's Committee, built in 1908 to house the former city hall, and the flag-strewn Reunification Palace. A little further out are the War Remnants and Ho Chi Minh museums, packed with displays that present Vietnam's prospective on the struggles against the French and Americans. Yet visitors from both places uniformly find their welcome is genuinely warm, without any animosity.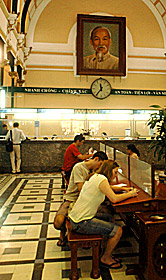 Continue a little further south, and you arrive at Ben Thanh Market, in a huge colonial building complete with stately clock tower. Inside is a chaotic market with hundreds of stalls selling local arts and crafts, textiles, trinkets, fruit, flowers and Vietnamese snacks.
More contemporary shopping is a snap in the stylish boutiques of Ton That Thiep, also near the Opera. Vietnam is famed for its artistic aesthetic, seen in the fabulous silk garments, houseware and lovely lacquer. Several shops on the street showcase unique socialist-inspired designs, like Saigon Kitsch, offering an assortment of pop-art printed shirts, mugs and handbags. Upstairs, Dogma offers reprints of propaganda posters from the old Communist era.
But the biggest change in recent years in Ho Chi Minh City is a style revolution that has swept away the stodgy restraint of the past.
Wu is but one example, an elegant bar and restaurant that would fit London or New York. Others enlivening the local scene recently include fusion restaurant Cepage and Mexican Cantina Central, a fun bar and restaurant run by a group of local scene-setters like film maker Othello Khanh.
Pacharan, a Spanish tapas bar in an exquisitely-renovated four-story colonial building by the Opera House, offers live music weekly, a massive wine list (all Spanish) and irresistible party atmosphere. The mood is widely attributed to the charm of director Andres Arias, who worked in some of London's hottest restaurants, bringing the same level of customer attention to Ho Chi Minh.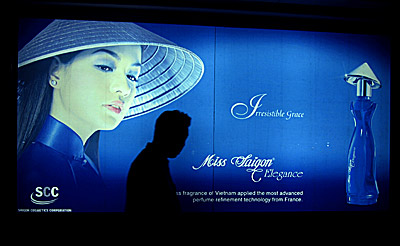 "The market has definitely grown much more sophisticated," he says, as we feast on garlic prawns and oxtail stuffed with foi gras nestled in a bed of bok choy, mashed potatoes and pan-fried oyster mushrooms. "There is more money here, big money. People like to go out and have a good time, and they really do so now."
Gino Benelli, in Vietnam for a full decade, with several authentic Italian Luna d' Autunno restaurants, adds: "This country is really booming. For a long time, things moved slow, up and down, or not at all. But now, there is really big movement.
"Everything is changing, including the people," he continues. "But essentially, this is still the Vietnam we all fell in love with." Now, millions more are discovering why.
---
Ron Gluckman is an American reporter who has been roaming around Asia since late 1990. A frequent visitor to Vietnam, he wrote this story for the December 2007 issue of Discovery Magazine.
All pictures by Ron Gluckman
Click here for details on where to eat, stay and drink in Ho Chi Minh.
Click here for another story on hip Ho Chi Minh
---
To return to the opening page and index

push here
---