Gooving on Goa
Asia's hottest new beach sensation is a total blast from the past, as in five-centuries ago. Better known for hippie huts and all-night raves, this lush, laid-back coast is making a comeback, as tourists and five-star new resorts herald a rediscovery of groovy Goa
By Ron Gluckman/Goa, Indiai
---
WE HAVE BEEN CRUISING DOWN THE COAST for hours, blue sea on one side, lush green fields and towering palms on the other. The sky is clear, the sun hot, but breezes scented with salt sweep over and refresh us as our motor scooter rolls slowly past one deserted cove after another.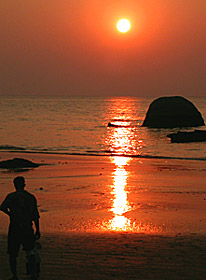 We park where we please, on a succession of postcard-perfect beaches. When hunger hits, there's always a hut nearby with freshly-caught fish, ice-cold beer, and tropical juices, all for just a couple dollars.
Paradise? Perhaps, and the thought puts me in a wonderfully contemplative mood as we unroll our sarongs for another sunbathing session. Certainly, such speculation gives our contented daydreams a fine historical context.
After all, like-minded travelers have pondered the same question upon Goa's beaches for at least five centuries.
Excitement, sexy sounds, sumptuous flavors, rich culture and history; these were our expectations a few days back in Mumbai, when my wife and I boarded a Konkan Railway sleeper for the overnight journey 600 kilometers south along the coast of the Arabian Sea to Goa.
Serenity has been the big surprise on our sojourn.
Credit—or blame—image. India's smallest state has that in mounds. Mention Goa and reactions are instantaneous, often volatile, always extreme, from fanatical yearning to queasiness. Everyone has a mental picture: either naked beach parties or techno-raves.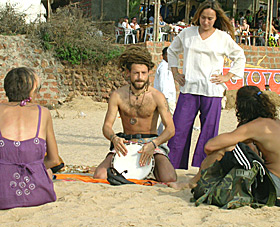 Depending on whether your youth was bar-coded for this quarter-century or the one before, Goa is George Harrison and hippies, or skimpy lycra and all-night trance sessions.
Wild barely hints at the hedonistic reputation of Asia's most exotic 100-kilometer stretch of sand, concedes Sanjay Sethi, who speaks from experience.
Sethi is general manager of three Taj Hotel properties in North Goa, all clustered around Fort Aguada Beach Resort, which became Goa's first luxury hotel in 1978. Sethi has only been boss since last summer. But in college, he came on a summer break with some classmates from Dehli for a peek at the beach that was the talk—and titillation—of India.
"It was pretty outrageous," he says, chuckling happily. "No question, Goa had quite a party scene."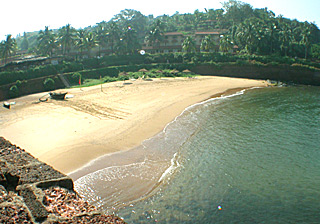 Such notoriety seems somewhat whimsical nowadays, at least from the vantage point of the Aguada Hermitage, where Sethi guides me to my self-contained cottage. Perched above the separately managed Fort Aguada property, these 15 hilltop cottages were built a decade ago to house world leaders at a Commonwealth summit.
From my front lawn the views are regal , stretching north from the ramparts of the massive 16th-century fort that lends the original resort its name.
Alongside an ancient moat is the Taj's opulent new spa, which provides my first clue to Goa's transformation from party center to pampering getaway. Inside, amidst rich fabrics and pale woods, occurs the only nudity I hear about in Goa these days.
And raves? Well, the resort's gardeners do seem in some sort of botanical trance, blissfully dancing about my private tropical garden, day and night.
Otherwise, as is emphasized repeatedly during my two-week stay, Goa has moved on, distanced itself from its nefarious past. A ban on loud music at night has put an official end to Goa's infamous beach raves, and naked revelers have been replaced by a new generation of Goan visitors. As Sethi puts it, "Goa has gone upscale."
We've heard this rather hopeful rallying cry before, over and over, from Boracay to Ko Samui; but there does seem to be a new buzz about this beach.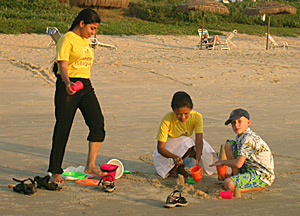 Down the coast from the Fort Aguada, Hyatt has just opened a beach resort that should put Goa on the map of the top class of world traveler. Marriott already has a hotel in Panaji, the state capital, while further south, Holiday Inn and Radison snuggle in a nest of posh lodges that include another Taj property—the Taj Exotica—and Leela Beach Resort, recently made over to bring it into the Four Seasons' fold. That deal soured, yet other luxury chains see gold in Goa's sand. This spring, InterContinental opens a 255-room resort on Raj Baga Beach.
"Goa is very much a destination of the future," says Paul McNally, general manager of the Hyatt Regency Goa Resort. He lists off the attractions. Besides mostly unblemished beaches, Goa has some of Asia's finest colonial mansions and oldest churches. The food is a zesty blend of Portuguese, Goan, and pan-Indian flavors.
Spoken English, despite 450 years of Portuguese rule, ranks among the best in the country, and Goans are renowned for their carefree manner and gracious hospitality. Add it up, and Goa seems the complete package, paradise perfectly gift-wrapped, ready for opening.
"People say Goa reminds them of all these other wonderful places in Asia, but 20 years ago," McNally says. "Goa's time has come."
Actually, some would insist, Goa's time came long ago. Lured by souls and spices, Portuguese navigator Vasco da Gama pioneered the European sea route to India in 1498. Soon after, Portugal established trading ports along the Keralan coast, but Goa, with its wide rivers and natural harbors, remained the prize.
In 1510, the Portuguese seized the city of Old Goa from the sultanate of Bijapur, and anointed it the capital of their far-flung Asian empire. Stately architecture rose quickly—though perhaps not as quickly as Christian zeal scoured the land of its Hindu temples—and the colony expanded to enclose the coastal areas of Ilhas, Salcete, and Bardez. For centuries Old Goa ranked among the richest cities in the East, rivaling many in Europe.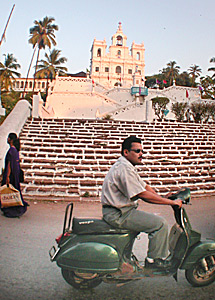 Everywhere stand markers to Portugal's 451-year rule: magnificent whitewashed missionary churches topped with crosses and bells. No reputable catalog has been compiled, but Sergio Mascarenhas de Almeida, director of Panaji's Fundacao Oriente, a Portuguese-funded heritage and preservation society, guesses Goa has more than 200 or more old churches. Most date to the 1600s, but many were built in the previous century, an astonishing collection unrivalled in Asia.
Equally impressive are the old villas and white-trimmed shops tucked around practically every corner of Panaji. Outside Almeida's office, I wander for hours through Fontainhas, the capital's Latin quarter, lost in ancient cobbled alleys, like a contented citizen of a distant century.
The obvious comparison is with Macau, Portugal's former outpost in southern China. Buildings are bigger in Macau, but there is a charm to Panaji—and Goa in general—that remains demure yet more defining. Laid-back and lush, with cows on the beach and less than 100,000 people in its largest city, the state seems neither Indian nor Iberian, but more a separate country.
We quickly get into the spirit, rolling around Goa on our Kenetic motor scooter. The name is misleading: like everything in Goa, their single-stroke engines are slow, perfectly suited to the lazy local pace. Easy to operate, they rent everywhere for US$3-5 per day.
Soon, we escape the "congestion" of the capital—Panaji has Goa's few two-lane roads—and scoot into the countryside. Our agenda is open, but easily filled.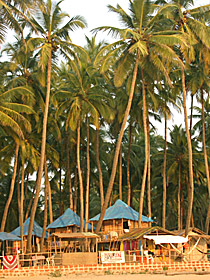 Down the coast, we sample sun and seafood all the way south to palm-fringed Palolem, one of Asia's finest beaches. At least it used to be. Nowadays, Palolem is dotted with batik stalls and beachside bars—Titanic, Hi-Tide, Paradise, Rainbow, Dylan. There is e-mail service right on the sand, amidst a profusion of ramshackle huts.
Yet, just 10 minutes further down the road, one senses the serenity that must have existed before budget tourists drifted down from the north. Patnem doesn't have the high rocks or thickets of palm that define the perfect cove of Palolem, but it also lacks the blaring beach music and shacks on stilts.
"Five years ago, Palolem was just like this," says Prashant Pagi, the owner of the only establishment around—a cluster of thatched huts called Sea View Restaurant—as we wait for our fish to fry.
Our view is of golden sand and a single child playing with his mother, while gulls swirl above two fishing boats bringing in the day's catch.
I tell Pagi that if he expanded his restaurant, perhaps business would be better. He chews this over as my wife and I dig into a delicious masala pomfret.
"That's not for us, really," he says in that succinct way Goans appraise everything. "We do small business. For us, that's enough. Most people in Goa are like us, happy with what they have.
"We like the simple life." Change, he emphasizes, isn't the Goa style.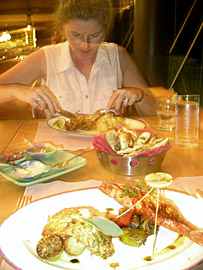 Goan cuisine, a hodgepodge of Indian spices blended with Portuguese staples like sausage and salted fish, is a cookery prized by the finest restaurants of Delhi and Mumbai.
Sadly, this fabulous cuisine is surprisingly scarce in Goa itself. Some blame immigrants from Kashmir, the Punjab, and other parts of India, who—armed with cannier business instincts—have overrun Goa's restaurants (and trinket stalls), displacing local dishes with their own delicacies.
Others point to the time and energy required for grinding spices and the slow cooking of so many Goan staples.
Whatever the cause, food is one reason to linger in Panaji, where a handful of top tables continue to serve delicious (and under-priced) local dishes.
From a funky wooden dining hall replete with Old World charm, Hospedaria Venite offers all manner of mouth-watering marvels: chicken xacuti (in a mild coconut curry); chicken cafrial (legs marinated in pepper and garlic); sausages with vinegar of toddy (the local liquor); or daily specials like hot garlic salmon—all for US$1.50 a plate.
At upscale Riorico, on the second floor of Deco-esque Hotel Mandovi, glistening chandeliers dangle from cream ceilings, while waiters with shiny, slick-backed hair in full dinner dress scurry about a blue ballroom serving peixe caldeirada (tangy fish steeped in wine), prawn balchao (a tangy dark-red sauce), and caldo verde (potato soup with spinach). Even topped by bebinca (layers of coconut pancakes) on fine linen, the tab totals a mere US$5 per person.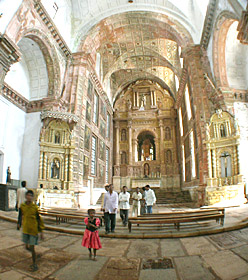 The other not-to-be-missed attraction is Old Goa. About six kilometers inland from Panaji on the left bank of the Mandovi estuary are the remnants of a capital that, in its heyday, was called "the Rome of Asia."
From a central plaza filled with massive edifices (one housing an informative archeological museum) and dominated by the 17th-century Se Cathedral—Asia's largest church—march one eye-popping holy site after another: the Church of St. Francis Assisi, with intricate carved and gilded panels; the Church of St. Cajetan, a miniature version of St. Paul's in Rome with white columns and ornate dome; and the ruins of St. Augustine, collapsed in a century of upheavals, with a spectacular 46-meter stone tower hinting of the old belfry and bygone magnificence.
Most impressive is the Basilica of Bom Jesus, renowned worldwide almost as much for its Baroque splendor as its longtime occupant, St. Francis Xavier; or rather, his mortal remains.
The peripatetic Jesuit scholar died in China in 1552, but his body was moved to Goa, where it has since been the focus of a mad 10-day festival culminating every December 3 when hundreds of thousands of Catholic pilgrims crowd the basilica to pay homage to and—once a decade— view the revered remains of Goa's patron saint.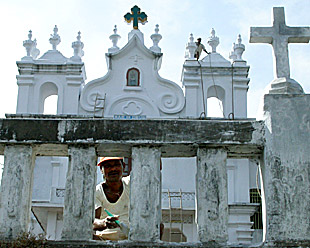 While trying to grasp the grandeur of Old Goa, one cannot help but wonder how this erstwhile metropolis—once home to twice the population of present-day Panaji—became a ghost city. A series of blows felled the place, the worse of which was disease, which so decimated the settlement that Old Goa was finally abandoned for the new capital in the 1840s.
The decline of the overall colony was more insidious. A succession of European powers—Dutch, British, French—claimed bits of India, but Goa's importance was undermined more by the advances of these rivals elsewhere in Asia. As other European powers rose in the East, Portugal's influence slid.
Except in Goa, where they hung on, barely. The Portuguese's lingering presence helps explain much about Goa to this day. While Bombay, Delhi, and Calcutta grew to greatness, Goa became a backwater. That hardly mattered to most Goans, who fished, farmed, and prayed as they had for centuries.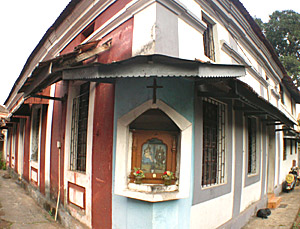 Even assimilation with India in 1961 altered little. Development always went elsewhere, to more populous, powerful and, some suggest, loyal parts of the republic.
Few Indians ventured to the baffling state, with its strange-smelling concoctions of pork and curry, and thick-mustached men named Fernandes, Alvares, and Rodrigues.
Perhaps this renegade status, as much as the golden beaches and Latin pace, gave Goa its allure to adventurous travelers in the 1960s. Word spread quickly on the hippie circuit of a Valhalla-meets-Shangri-La—with sand—and Goa's reputation was cemented by visits from rock stars like The Beatles' guitarist George Harrison.
"Until the 1970s, this was like a best-kept secret," says Gutibabi, a German fashion photographer who came to Goa over three decades ago and still lives in the hills, descending to North Goa's long-running weekly Arjuna flea market to sell crystals and organic oil.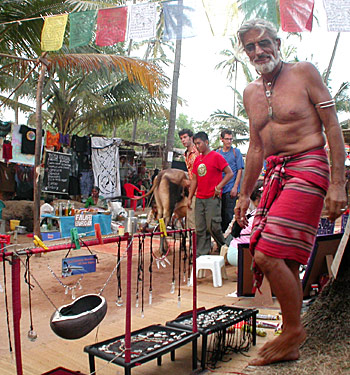 He says magazines over-hyped the hedonistic celebrations, which died down in the '80s, only to be revamped by a new generation of revelers, playing pounding techo-trance music at all-night beach raves.
"The eighties were painful at first, with all this techno," recalls Gutibabi, his white hair tied back in a long ponytail. "But we got used to the new sound. Also the dancing. We're all party people. We love to dance."
They still do, but these days in Goa the party scene is more restrained. Besides the ban on beach raves, the government has taken a stricter attitude toward drug offenses. Such approaches have put out the word on the rave circuit that Goa is gone. Just as important is a series of moves that are changing the very face of tourism in the state.
Despite its early development as Europe's earliest model for Club Med, international tourism largely bypassed Goa. Until now. Global brands are seeding Goa's beaches, and the attraction is clear. Thanks to stringent building codes, the coastline is mostly pristine, the skyline unmarred by condos. Even the beach shacks are temporary, reconstructed after each annual monsoon.
The upscale resorts should not only pull in well-heeled travelers, but also alter attractions of this old resort. Fort Aguada's spa already offers the range of treatments typical from Tahiti to Thailand, but new to Goa.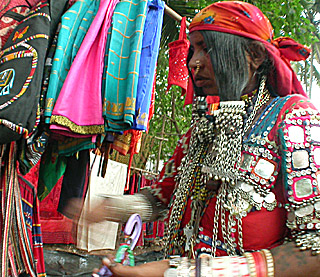 Further evidence of the upswing can be seen at the Hyatt, 15 kilometers south of Vasco da Gama airport, a palatial Indo-Portuguese-style resort sporting a library, cinema, and food plaza where fresh fish is selected for grilling in various open-air kitchens. An Islamic-style observatory is really a stylish wine bar in which floor-to-ceiling windows provide dazzling beach views.
McNally walks me around the 45-acre grounds, with India's largest lagoon-style pool and pavilions for Ayurvedic, shiatsu, and Swedish massage. Yet he's proudest of how the entire beachfront has been painstakingly returned to a natural state, replanted with native shrubs and grass.
Goan art hangs in every hallway, and Miranda, the main bar, is named after Goa's celebrated artist, Mario Miranda, who helped design what looks like a classic Goan sitting room, complete with cane furniture and the favorite local tipple, feni, a mind-bending liquor made of coconut or cashew.
All these touches appeal to the biggest wave of new tourism sweeping Goa: Indians, from around the Subcontinent. "Indians are finally discovering Goa; that's the biggest trend the last few years," agrees Gutibabi, who sees them swarm colorful Arjuna market, where they buy jewelry from Tibetans and Israelis, sarongs and shawls from Kashmiris, and handbags from flamboyantly garbed Karnataka women.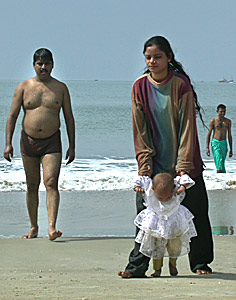 "Goa is becoming the St.-Tropez of India."
Indeed, after five centuries of foreign frolicking, Indians find they themselves are the X-factor in Goa's future. That becomes crystal clear my last night in Goa, even if my thoughts are somewhat foggy. Insight and perplexing mental state both come courtesy of Wendell Rodricks, one of India's hottest fashion designers.
Mumbai-born but Goan by ancestry—and choice—Rodricks invites me to his hilltop studio, with dazzling views over Panaji, and keeps topping up gin and tonics, all the while explaining the allure of Goa to India's in-crowd.
"Goa is the party capital of India. That comes from the attitude here, where there are no clocks, no real concept of time."
Unwinding has strong appeal to Rodricks and his set. When he isn't staging outlandish fashion shows in Goa or filling orders at various boutiques, Rodricks retreats upcountry to his simple house in a small Goan village. "I don't do much, maybe read a bit, but I'm in bed and asleep not long after dark." No surprise, since the house, he practically boasts, lacks electricity.
"Goa attracts a certain kind of people, a core group of creative people," says Rodricks. The group includes Margaret Mascarenhas, author of Skin. The novelist flits between America and Goa, but does most of her writing in a small village house down a twisting dirt road from Rodrick's own.
"Goa is especially inspiring," she tells me earlier in the day. "Nowhere has quite the energy, exactly the same feel."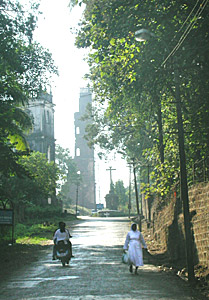 Rodricks readily agrees. "There's an acceptance here. The air is cleaner, and there is none of the pressure of the rest of the country."
Goa's main appeal, he says, is its otherness; its difference. You see that readily in the relics of the past—from the Portuguese settlements to the hippie markets—places that simply don't exist anywhere else in India. Yet other aspects of Goan appeal are homegrown. "Goa is more than a beach," Rodricks advises. "You need to explore to feel it."
The meaning becomes clear my final day, on an excursion to Chandor, a couple hours southeast of the capital.
Even on a Kinetic moving at the speed of molasses, Chandor is but an eye blink at the end of a series of ill-marked roads east of the colonial city of Margao. Hard to believe these few houses once constituted Chandrapur, which my guidebook describes as "the most spectacular city on the Konkon coast."
All that remains of that grandeur is the Braganca House, oldest and most spectacular colonial mansion in Goa. (Actually, it's a pair of identical manor houses, built in the early 1600s by two brothers.)
Inside, I find an astonishing archive of privileged life in Portuguese Goa: wooden furniture from England, chandeliers from Belgium, porcelain from China. The dining table could seat several football teams. Each home has a huge ballroom with Italian marble floors and a dozen velvet-backed love seats.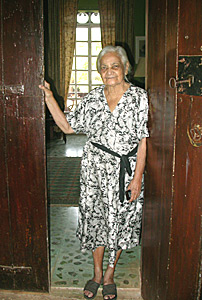 On the wall in one hangs a huge gold-framed painting of the family founder, says Aida de Menezes Braganca, an elderly matron who, like generations of Bragancas before, was born, reared and—probably—will die in this mansion.
Next door, Sharmila Pereira offers much the same tour of the Pereira house, except her commentary is more contemporary than that of the distant cousin down the hall. Still, both are bound in the same sense of people, of place, that defines Goa.
"We're not Portuguese, you know, and we're certainly not Indian," says the young Pereira at the end of the tour. "There has been too much talk of Portugal and India here," she adds. "Before the Portuguese came, this was Goan. And long before the Indians came, this was Goan."
Then, she shows me to the door. Politely. Proudly. Goan.
---
Ron Gluckman is an American reporter based in Hong Kong, who wanders around Asia for a number of publications, including Destinasian, which ran this as a cover story in 2003. Ron has also written about Goa for Time Magazine, Morning Calm (Korean Airlines), Closer, and Voyage magazines.
---
To return to the opening page and index

push here
---