Festivals around Asia




DPRK, THE SHOW - The world's weirdest film festival provides an unique opportunity to sneak a peak behind the scenes in what has to be the quirkiest reality show on the planet. All part of the zany theatrics at the Pyongyang International Film Festival.

Cambodia - When the Mekong River reverses its flow, residents of war-torn Cambodia celebrate the Retreat of the Waters Festival with a frenzy of fireworks and fancy floats (actually, neon-draped gunboats). And something more. It puts the men in the mood for marriage.



Indonesia - Spears fly and blood flows, as the worms wash ashore in a sexual frenzy when the moon is full over isolated Sumba, where stone-age tribes and voodoo culture reins. Then, and only then does the unique festival of Pasola brings a carnival of killing and sacrifice to the head-hunting tribes of Indonesia.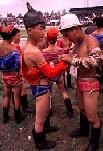 After seven decades of Soviet control, Mongolia underwent its own revolution in the early 1990s. Independence was the greatest buzz on these remote steppes since Genghis Kahn swept across with his hordes and created the world's greatest empire. Now the rugged descendents of Kahn are free to once again celebrate Naadam, their ancient Olympics, with gusto every year.