Dylan's Beijing Bob
What happens when the world's oldest protest singer plays the world's largest no-protest zone? Despite the potential for more fireworks, Dylan simply stuck to the stage, delivering a solid two-hour show in his China debut. But the local media tuned into mad dogs, whipping up the kind of shameless coverage more common in the Chinese press.
By Ron Gluckman/Beijing, China
---
THE TIMES, HE SANG SO LONG AGO, ARE A-CHANGING. Yet, when the world's greatest protest singer steps on stage in the world's largest no-protest zone, the astonishing thing is that even after half a century, little has changed.
The media assail the performer for not raising more of a ruckus, fans cheer songs few really understand, and purists complain about the sound system and ticket prices.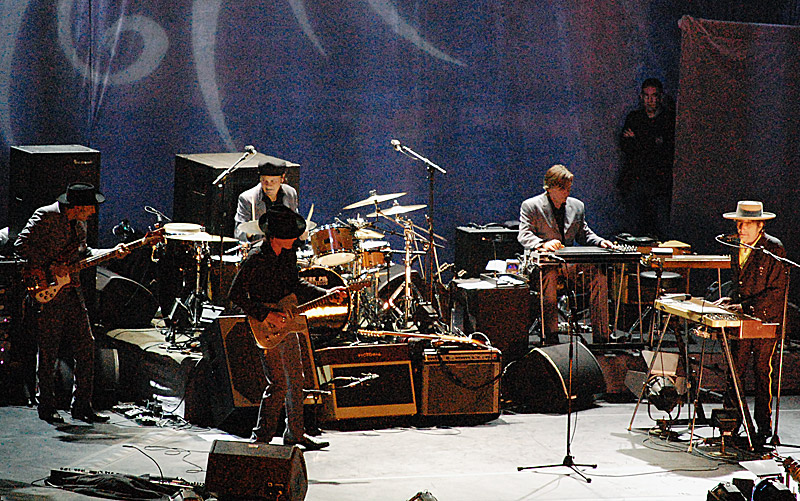 It's almost 50 years to the day since he played his first big show in the Big Apple—as a teenage folkie opening for John Lee Hooker—and Bob Dylan is making his debut on perhaps the last remaining big stage, China. Wearing a spiffy Panama hat, the dapper Mr. Dylan runs through a tight two-hour set that features his always-bewildering mix of lesser-known tracks sprinkled with landmarks like "All Along the Watchtower," "A Hard Rain's A-Gonna Fall" and "Like a Rolling Stone."
Long before his April 6 gig in Beijing, the international media was speculating whether he would buck the censors. The government has unleashed a tsunami of censorship that has seen the Internet disrupted and dissidents rounded up. On Sunday, Ai Weiwei, China's most famous artist and a belligerent critic of Beijing, was arrested.
So will the man who crafted such classics as "Blowing in the Wind" and "A Hard Rain's a-Gonna Fall" dare criticize China's abysmal human rights record? After all, exactly a year ago, Mr. Dylan's China debut was abruptly cancelled. The word on the street was that the authorities rejected some anti-establishment songs on the set-list.
However, fans who paid stiff ticket prices that topped out at more than $200 are uninterested in the manufactured controversy. They seem uniformly pleased with what Dylan veterans call a consistently entertaining performance by a star known for erratic shows.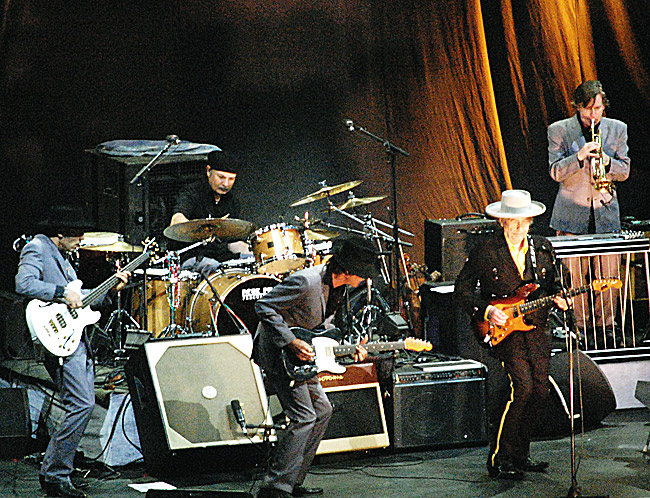 "I really like folk music, and early rock," says Tian Zizhang, 21, a university student shopping for resale tickets outside the Worker's Gymnasium with two of her young friends. They snap up three passes for $85 each. "It's a rare chance," she explains.
The crowd is a mixture of young Chinese and middle-aged expats old enough to remember the heyday of America's most iconic singer of the 1960s and 1970s. Dylan discs, while widely available in China, have never been officially released, and many questioned his appeal to a market focused more on club mixes and a range of midstream acts from Air Supply to Madonna.
Yet Mr. Dylan does have a cult following among local musicians. "He's been a huge influence on creative talents in China," says Michael Pettis, an emerging markets expert who teaches finance in Beijing and runs a music label and the punk club D-22 on the side.
Zhou Yunpeng, one of China's biggest folk singers, first heard Mr. Dylan in the early 1990s, while still at college. "I couldn't understand English, so I didn't know what the lyrics meant, but I was immediately attracted to his music," he recalls. "This is most definitely a big deal," he says of Mr. Dylan's shows (also in Shanghai April 8 and Hong Kong April 12-13). "It's second only to the Olympics in importance."
Outside the stadium, one of China's most influential rockers from the 1990s, Zhang Chu, is walking by wearing a floppy hat. "I've been listening to Bob Dylan since about 1988," he volunteers. "His influence is his words. It's great to finally see him.
"Chinese music is becoming more and more about spirit, so more like Dylan music," he adds. "The most important thing tonight was to realize that he still has that essence of the artist. You have to keep true to yourself as an artist."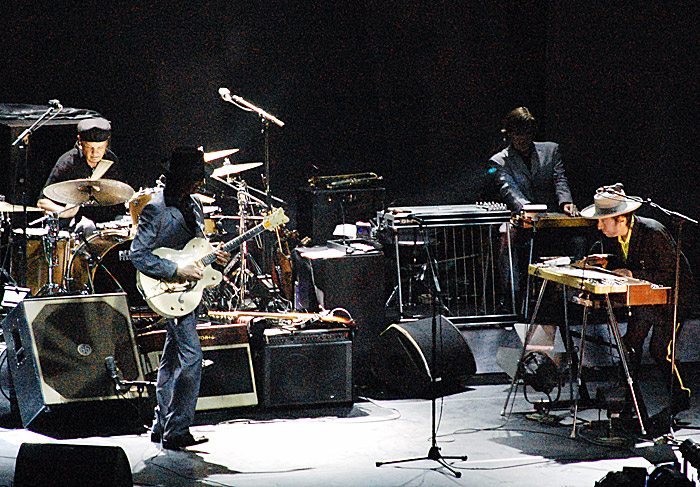 But for most Chinese, Bob Dylan remains a mystery, so it's unlikely that any pointed remark about the Chinese government would resonate. Near the stadium entrance, a vendor slowly grilling sticks of chicken, squid and lamb can only remember the performer has a B in his name. A guard at the gate knows it is "Baobo Dilun." "But he's not really a big star," he confides. "He's not famous at all."
In great voice, Mr. Dylan plays a spirited 90-minute set without pause or comment, switching from keyboard to guitar, even blowing a bit of his harmonica with astonishing energy for a man who turns 70 next month. He introduces his crack five-piece band, and plays another 30 minutes of crowd-rousing encores: "Like A Rolling Stone," "All Along the Watchtower," and "Forever Young." And then the icon is gone.
Reporters slink off to file headlines like: "Dylan bows to China censors," while fans buzz about seldom-heard material like "Beyond Here Lies Nothin'," "Love Sick," and "Gonna Change My Way Of Thinking," from "Slow Train Coming." Released in 1979 around the time of Mr. Dylan's conversion to Christianity, the lyrics carry just a hint of the old rebelliousness, for any in Beijing who are listening carefully: "I'm gonna change my way of thinking, make myself a different set of rules. Gonna put my best foot forward, stop bein' influenced by fools."
---
Ron Gluckman is an American reporter who has been living in and covering Asia since 1991. Before relocating to Asia, he was a rock critic and writer in the USA, who has seen two dozen Dylan shows, few more memorable than the Beijing show on April 6, 2011. This piece ran in the Wall Street Jounal on April 8, 2011.
The coverage of the concerts was among the most convoluted imaginable in China - no stranger to hype and media lies. But this time, the foreign media went on a frenzy, pushing Dylan to comment on topics of importance to the press (like the arrest of artist Ai Weiwei), then trashing the singer for failing to follow this press agenda. Of particular shame were some of the British press, including a pair of "correspondents" who commented on the show without attending. The media campaign even spread to the West where the same unsubstantiated information printed by the Beijing foreign press was endlessly echoes as absolute truth in papers like the New York Times, in the kind of propaganda campaign more commonly seen in China.
All pictures by RON GLUCKMAN
Words and pictures, copyright Ron Gluckman
---
To return to the opening page and index

push here
---