Stories about Tibet

TIBET AT A CROSSROADS - The new railway not only brings increased tourism to the Rooftop of the World, but an opportunity to change direction and grow. As more and more Chinese move to Tibet, many worry that their influence is pushing progress too fast, and that the magic that attracted them to Tibet will be trampled by tourism.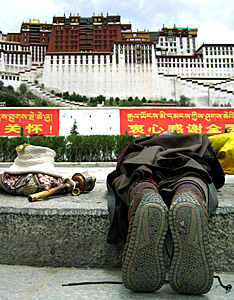 TRACKING TIBET'S TRANSFORMATION - The world's highest-altitude train has brought an influx of tourists to Shangri-la, along with renewed controversy over the influx of Chinese workers and enormous impact on Tibetan culture. But the tracks run two ways. Not only Tibetans, but Chinese, too, are grappling with new ways of tracking Tibet.

TRAIN TO TIBET - Nobody believed it possible, but Beijing spent billions to create the world's highest altitude railway, which began breathtaking runs to the Rooftop of the World in July. Chinese cheered, but Tibetans worry it's just a Golden Spike in the coffin for their Shangri-la.

TIBET IN VOGUE - Decades of debates and the best efforts of the Dalai Lama haven't budged Beijing, but to young Chinese, Tibet is the utmost of cool. They hunger for Tibetan food, trinkets, tunes and tours of the Rooftop of the World.

Tibet's holy artifacts have drawn pilgrims to the Rooftop of the World for centuries, but lately the treasures have attracted interest from less-enlightened admirers: thieves, art dealers and Chinese thugs. A special report for Travel and Leisure on the theft of Tibet's artistic heritage.


Rooftop of the World is wired! Politics and religion may still be no-nos but fast-spreading internet cafes are bringing new information - and hope - to the remote rooftop of the world.


Dharamsala - His Holiness the Dalai Lama has been a shining light for the world as he lives in exile high in the Himalayas, but he hasn't given up home of returning to the Tibetan homeland he fled nearly 30 years ago. This is an intimate portrait of the Ocean of Wisdom, revealing his warmth and his wit as we follow the God King around his mountain refuge for a few weeks

Dharamsala - and you can read a nearly complete transcript of my talks with the Dalai Lama, in an exciting period of time when he is giving his annual teachings and visiting with Richard Gere.

Lhasa - It could have been a plum assignment, making the world's highest altitude brew. Instead, running Lhasa brewery has been an ongoing nightmare, with nothing but problems in the struggle to turn out beer on the Rooftop of the World.