C
omrade Kim Goes Flying
We see North Korea in the news too regularly, but never like this - calm, colorful, comical. Foreigners are rarely allowed in the reclusive Hermit Kingdom, but a pair of film makers received unusual freedom to make a romantic comedy. Lightweight fare, for sure, but entertainment is a revolutionary commodity in such a grim place.
By Ron Gluckman /in Beijing
---
"COMRADE KIM GOES FLYING" is a rarity: a feature filmed by Westerners inside reclusive North Korea. A joint Belgian-U.K.-North Korean venture involving a two-time Oscar nominee, it has already been screened for audiences on both sides of the Korean border and is now playing on the festival circuit in the U.S.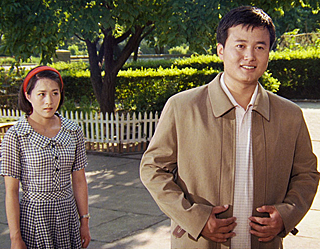 This unusual movie is in the feel-good style of a Doris Day-Rock Hudson picture, only in this case "Rock" is a circus acrobat, swooning at the sight of "Doris" hauling coal and mixing cement.
To Westerners, this is bound to sound like a cheesy product of the Hermit Kingdom's propaganda machine. "But North Koreans have never seen a film like this," said Nicholas Bonner, one of the movie's directors and producers, a British expat who has also spent nearly two decades running Beijing-based Koryo Tours, a travel agency for Westerners visiting North Korea.
"In North Korea, you rarely see an individual triumphing, and rarely a story about a woman," he noted, dryly adding: "Unless she's dying."
Nearly seven years in the making, "Comrade Kim" centers on Kim Yong Mi (played by Han Jong San), a charismatic female coal miner who dreams of soaring on the trapeze but is initially rebuffed by circus star Pak Jang Phil (Pak Chung Guk). He eventually becomes enamored of Yong Mi, and helps her realize her dream. Classic meet-cute material, except for the setting.
Western audiences have had glimpses of North Korea before, but mainly in grim documentaries, and certainly never like this. "Comrade Kim" portrays the country as a happy place—bright, buoyant, uplifting.
Simply making "Comrade Kim" has been an achievement. The script evolved from a few ideas jotted down on a scrap of paper over some whiskeys in 2006, according to Mr. Bonner. The genesis for the film, though, goes back years earlier, according Mr. Bonner's fellow co-director Anja Daelemans, a Belgian moviemaker.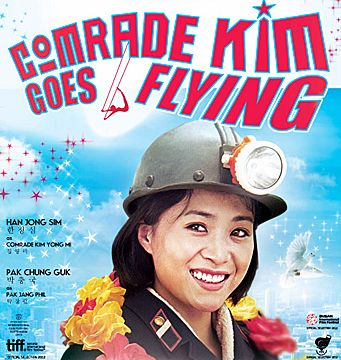 Ms. Daelemans has received Oscar nominations for two short films she produced, "Fait d'Hiver" (2002) and "Tanghi Argentini" (2006). In 2002, she attended the Pyongyang International Film Festival, and returned in 2004. Mr. Bonner was at both, showing documentaries he co-produced: "The Game of their Lives," a Cinderella tale of a North Korean soccer squad that went to the quarter finals of the 1966 World Cup; and "A State of Mind," about young gymnasts preparing for North Korea's Mass Games.
"Film festivals are all about meeting people, and ideas are born," noted Ms. Daelemans of her collaboration with Mr. Bonner. "Comrade Kim" is her first feature.
Their idea was originally for a short film, but that soon evolved into a full-length picture, with a cast and crew of 50 people. The basic story, however, never changed. "All along, we knew it needed to be about a woman, with lots of girl power, a romantic comedy," Ms. Daelemans recalled. "We wanted to make a feel-good movie, with no hidden message. Just something you could sit and watch and enjoy."
Such aspirations, however, had little traction in North Korea. The country has a huge film industry, churning out propaganda flicks. Former ruler Kim Jong Il was called Dear Leader, but he also relished the title Genius of the Cinema and was reputed to have a collection of 20,000 films, mostly foreign. He and his successor, however, have kept North Koreans on a strict diet of nationalist fables like "Righteous War," "Again to the Front," "Always Working for the People" and "The Respected Comrade Supreme Commander Is Our Destiny."
Unlike these North Korean films, "Comrade Kim" bills itself as an independent feature. All the postproduction was done in Belgium and Beijing—including the editing and sound. The filmmakers raised the funding themselves, mostly in Belgium. Still, approval from the North Korean regime was needed to film in the country. To navigate the logistics of working in this very foreign land, they turned to a local director, Kim Gwang Hun.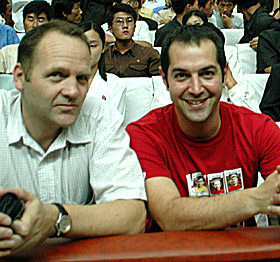 "We didn't want to make this Euro-mash that was half-Western and half-North Korean," Mr. Bonner explained. "We wanted to make a North Korean romantic comedy, shot in North Korea."
"North Korea's cinematic output is 100% propaganda, so normal themes that you take for granted in movies are subjugated for the 'message,'" said Simon Fowler, author of "101 Essential Chinese Movies," who also runs northkoreanfilms.com. "I think it's a really important film."
But Johannes Schönherr, author of "North Korean Cinema: A History," played down some of the hoopla surrounding "Comrade Kim." He noted that Western productions have been made in the Hermit Kingdom before—from the leftist French film "Moranbong," in 1960, to Italian Ferdinando Baldi's action flick "Ten Zan," in 1988.
And what of criticism that "Comrade Kim" gives aid and comfort to an enemy of freedom? "Pyongyang does look like paradise in the movie. I can understand when Western critics pan the film for sugar-coating a murderous regime," Mr. Schönherr wrote by email. "But I don't think that was the intention of the film makers. They just wanted to make a light-hearted movie and show that that was possible even in a country with such a poor reputation as North Korea."
"We've made a fiction film, not a documentary," Ms. Daelmans said. "If you want to watch for insight into North Korea, you should watch a documentary. This isn't a documentary, just a feel-good story."
Mr. Bonner prefers audience reactions. He recalled that when "Comrade Kim" screened recently at South Korea's Busan International Film Festival—rare for a North Korean film—one viewer jumped up and shouted: "It's good to see that mother-in-laws in the north are just like in South Korea."
---
Ron Gluckman is an American reporter who has been working in Asia since 1991 for a wide variety of publications including the Wall Street Journal, which ran this story in March 2013. He attended the Pyongyang International Film Festival in North Korea in 2004.
Photo credits: Nicholas Bonner (left) with film maker Dan Gordon at Pyongyang International Film Festival in North Korea in 2004, by Ron Gluckman. Other photos courtesy of Koryo Group and Another Dimension of an Idea
---
To return to the opening page and index

push here
---