Beijing Rocks!
Still, it's a struggle. Despite the profusion of outrageous bands and ardent followers, the mainland sound is mostly confined to the fringes, as musicians struggle against piracy, pitiful contracts and royalties, not to mention the ongoing grumpiness from Beijing, which keeps turning down the volume.
By Ron Gluckman/Beijing
---
THE BASS THUMPS SO HARD the walls seem certain to crack. As the stringy-haired bassist flails thumbs across his strings, the drums kick in, the pogo-ing guitarist layers a riff on top, and the result: Basic, boneyard rock. Raw, loud, reverberating with feedback. Almost primal, like early The Who.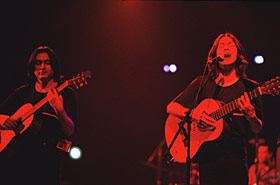 We're talking sheer power of sound, stripped-down, just bass, drums, voice and airplane-volume amplified guitar - the very essence of rock.
The crowd feels it, too. Limbs begin twitching as the band tickles that spinal tap. To an experienced ear, the music sounds tuneless, truly amateurish. That doesn't register with euphoric fans. After all, this is their generation. Four decades after conquering the rest of the world, rock is finally rolling across China.
You hear it around college campuses and in a growing number of smoke-filled venues, like Friend's Live Club in Beijing, where tonight's bill is as eclectic as the local rock scene. Fly, Tongue and Demon are among half a dozen bands sporting a like number of styles: hip-hop, rap, surf-rock and retro-glitter.
The concert stalls regularly for equipment repair, and breaks between bands often last longer then the sets, but the crowd, hair dyed a rainbow of color, doesn't care. One fan explains: "Wešve waited a long time to rock in China. Now, it's our time."
Nowhere is that more true than in Beijing, capital of the world's most populous country, and home to the biggest, boldest and oldest rock scene in the country. "Beijing is place in China with any kind of real rock scene," insists Kaiser Kuo, editor and frequent rock columnist for online site, ChinaNow.com.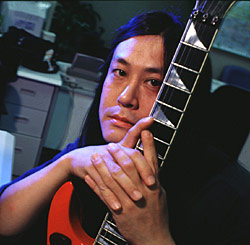 His credentials are beyond dispute. American-born Kuo played with Tang Dynasty, seminal hard rockers who became one of the few mainland acts to achieve star status. The band's records sold in the millions, and Tang Dynasty filled stadiums at a time when few other Chinese rock groups could even pack a pub.
Yet Tang Dynasty, which still headlines stadium shows in a revamped form without Kuo these days, was largely the exception. After coming of age in the same explosion of energy as China's late 1980s youth movement, rock lingered on the mainland for much of the past decade.
A few performers like legendary solo artist Cui Jian became famous, but the 1990s were marked more for its lack of recording and struggles, as China's nascent rock industry stumbled along without regular circuits, studios and record sales. Suddenly, though, the scene has turned upside down.
Last September (2000), ten bands rocked the rafters of the Worker's Stadium in Beijing's first big rock concert in a full decade. "Beijing is the place where Chinese rock was born!" shouted Dai Qin, lead singer of Thin Man, one of the mainland's hottest new bands, and his exuberance was easy to understand.
After years of wandering in a wasteland of no-name pubs, rock is becoming a big draw with several bands like hippy-drippy Flowers even exerting a measure of mainstream appeal. To be fair, rock attracts largely a fringe following nationwide, but among trend-conscious youngsters, especially in big cities like Beijing, the allure of rock 'n' roll - or yao gun, as its called here - is on the rise.
Clubs sprout around every college campus, where the mix of dyed-hair, baggy pants, pierced ears and leather gear pretty much passes for the status symbols of wild youth anywhere else. In China, that's pretty outrageous.
"Everything is better all around in China these days," says Kuo, who recalls how, if guitar strings or microphones broke in the Stone Ages of China's rock scene - just a decade ago - bands had to carry their own replacements. "Nowadays," he says, "the infrastructure is better, the venues are better and the equipment is better. That's all part of a more mature scene."
More important, he notes, is the sophistication of the music itself. "Before, rock here was dominated by a few name acts. Now there is way more choice, and all kinds of styles. Plus there is something uniquely Chinese about the rock scene here. It's not just the lyrics, the imagery and themes, which often draw on China's unique traditions. It's the sum of all that."
Beijing, he adds, is where it all comes together. Even Shanghai, far more modern and amply sophisticated in so many other ways, hasn't even a small measure of Beijing's rock scene. Why? "I think it's the diversity of the place, with all these different ethnic groups congregating here," Kuo says. "The sound is unique, the only real Chinese rock sound. Beijing is gritty. It breeds a toughness that comes across in the rock."
Finding Beijing in the forefront of Chinašs rock revival won't surprise seasoned observers. After all, that's the way its been since the start. While the rest of the country swooned to syrupy pop from Taiwan and Hong Kong, music that still dominates mainland listening, Beijing began adding an edge in the late 1980s.
Many call Cui Jian the godfather of Chinese rock. The son of a professional musician and dance performer, he played trumpet with the Beijing Symphony Orchestra in the early 1980s before launching a career as a singer-songwriter that soon drew favorable comparisons to Bob Dylan and Bruce Springsteen.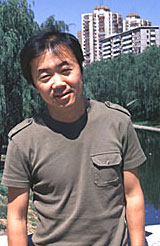 Actually, his sound has more in common with Billy Joel or Tom Petty. Cui Jian wraps his raspy voice around tight, simple songs, often featuring zesty organ or saxophone.
"There are so many more choices for the young these days," says Cui Jian, who, although 40 this year, cringes at references to being a patriarch of the rock scene. "I'm still part of it," he says, while working on his fifth album, influenced by modern hip-hop and techno. "I donšt want to be known as the godfather of rock 'n roll. That just makes me feel old."
Still, he concedes that his head sometimes spins when he thinks about the rapid progression of Chinese rock. "When I was young, there really was no choice. We were desperate for music. Any music."
He recalls how he learned about the Beatles, Rolling Stones and Talking Heads from tapes brought in by friends from Hong Kong. "Now, everything is in the stores."
Youdai also marvels at the rate of change. Perhaps Chinašs most prominent disc jockey, Youdai, whose name is a clever play on the Chinese slang for "have tapes," was a pioneer on the radio with his New Rock Magazine show, which launched in 1993.
"People had no idea what I was playing," he chuckles now. "I'd rack up whatever I could get my hands on - the Beatles, Beck, Sonic Youth. Classic or modern rock, it didn't matter. In China, it was all new."
Nowadays, Youdai spins discs at all-night raves on the Great Wall, and is a regular at Beijing's hottest discos. He has also performed at clubs in London. Yet the hometown action has a particular thrill. "Things are happening at light speed now," he says. "In China, the 1980s was like the 1980s everywhere else. But music is really catching up in a hurry. People feel like they missed something and want to find it."
Of course, there remain considerable differences between western rock and its Chinese counterpart. Mainland rockers, club owners and record producers alike bemoan the great gap in profit potential. Put simply, China lacks a viable recording industry. As a result, Chinese bands suffer the support network of industry promotions, marketing and revenue from record sales.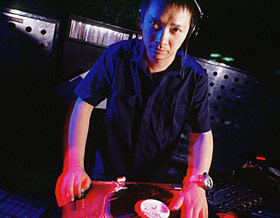 "For a recording artist in China, if you are lucky enough to get a deal, there is one small payment and no royalties," explains Youdai. "And you have to pay for everything including your own studio time from this tiny payment. Basically, there's no money in it unless you are already famous."
Adss Kuo: "In China, the only way to support yourself is by playing concerts." His own experience shows why. Although Tang Dynasty sold millions of discs during the 1990s, they sold for less than US$2 and the band only received 20-25 cents per copy.
"Nobody in China expects to make money from albums," he says. "You can't. That's why there is no real record industry. You make your living by performing."
That helps explain the vitality of venues, which are proliferating at a fast rate in China's cities. Even when clubs like Scream - a longtime favorite with Beijing punks - fold, new clubs spring up overnight to take their place. And all the adversity and challenges of the mainland music industry have only heightened the resolve of many rockers.
Cold Blooded Animal recently toured the country by train and van, just like western garage bands of the 1960s, an act that ranked coverage in Time Magazine. Meanwhile, after a decade of on-again, off-again performances, Evening News tired of waiting for recognition and record contracts. Instead, they recorded their own album. When radio play followed, they taped a video themselves that has been aired on MTV.
"We think it's the only music video ever that cost nothing to make," boasts vocalist Xiao Yiping. It quickly paid dividends, however. "We've been getting lots of media attention since the video and record came out (in October 2000). Now we're playing small stadiums and big clubs. It's really worked out."
Guitarist Leng Jee says the quartet formed in 1989, but lacked focus as members survived with a succession of day jobs or gigs in other bands. Things took a turn for the better after keyboardist Tutu joined in the mid-1990s. A highly-regarded session player from Inner Mongolia, Tutu assembled his own studio for various recording projects.
Evening News (Wanjian Xinwen) recorded tracks when the studio was free. Tutu did the engineering and production himself. The album cover is a painting by lead singer Xiao. Girlfriends contributed backing vocals.
Few bands can duplicate such zero-sum production costs, but many have the same free spirit. It helps explain the explosion of bands with names like Fruit Flavor Vitamin C, Sick Doctors, Ouch, Unfilial Son, Battle Axe and Twisted Machine.
The hard haul for Beijing rock bands helps explain the edge of their sound and presentation. After all, complacency never produced good rock. That's why bands like the Beatles emerged from bleak landscapes like Liverpool. Still, many believe the mainland rock scene has already seen its best days.
"I just donšt see another star of the stature of Cui Jian emerging," says Kuo, who says the scene is already becoming very fragmented. "The music business in China is terrible," adds Yodai. "No one is that professional."
Of course, like everything else on the mainland, the old formulas may not apply. Music is evolving as a medium everywhere, and outdated delivery modes like tapes and CDs, may well be the fodder of rock dinosaurs. Selling millions of discs may be itself an outdated method of measuring success.
"The record business is big and difficult and totally expensive in its traditional form," notes Dave OšDell, a young executive with intriguing internet site, www.weiku.com . The mass-media mainland site pays Chinese bands a nominal sum for the rights to three songs, which are posted for several months. The best bands, as determined partly by listener response, get signed to a recording contract by a sister company.
At least that's the theory. By the end of the year, no bands had been signed, but the site had 40 groups on line. "It's still early," says American O'Dell, 26, who also plays bass in Beijing band Brain Failure. "There are a lot of good bands out there The sound is loud and very angry. In Beijing, especially, it really rocks.
"The scene is getting more sophisticated all the time and the internet really opens things up. We can do broadcasts, live shows. Everything is ready for a breakthrough. Things are starting to cook in China."
For bands like Evening News, though, success a relative thing. The group's debut sold thousands of copies in its first month of release. That allowed members to curtail outside obligations and focus on the band. The result is a regular schedule of rehearsal, and a finely-honed sound.
"Of course, wešd love to go abroad and perform," says Leng. "But there's also a lot of opportunity in China right now. Things are starting to happen."
---
Ron Gluckman is an American reporter and former rock critic who has been roaming around Asia since 1991, when he was based in Hong Kong. For the past year, he has divided his time between Hong Kong and Beijing, writing for a wide variety of media, including Silk Road, which ran this story in March 2001.
For more on China's rock scene, see the inside story on China's Woodstock!
Pictures (from top): A Fun Ti, Kaiser Kuo, Cui Jian (by Ron Gluckman) and Yaodai.
All others by Chris Stowers, a Taiwan-based photographer who travels widely around Asia and the world.
---
To return to the opening page and index

push here
---