The Art of War
Every year about election time, the talk in the Taiwan Straits keeps turning to tanks and invasion schemes. Even on the other side of the Pacific, an exhibit of paintings got caught up in the political posturing, as old animosities outweighed the gentle skill of laying brush on silk
By Ron Gluckman /San Francisco
---
T

HEY ARRIVED IN WHEELCHAIRS and leaning on walkers - some of the world's most respected and venerable Chinese artists and collectors, coming together in San Francisco's Asian Art Museum for an uncommon moment. Among the pieces on show were calligraphy and paintings by the 100-year-old master Chen Li-fu and by nonagenarians Chang Long-yien and Fu Chuan-fu, two living greats of the Chinese art scene. However, the focus was not on them but on works by an even more elderly person - and one who, in all charity, could only be considered an ambitious dabbler before abandoning art altogether a quarter of a century ago.

For all that, over 10,000 people were expected to file through the gallery by the time the show closed last week. Their purpose: To get a glimpse of 10 previously unseen works by 103-year-old Soong Mei-ling, the reclusive widow of Generalissimo Chiang Kai-shek, the last man to rule both China and Taiwan. Never mind that the pieces were nondescript, without any memorable style. For many of the mainly Chinese people who gazed upon them, the paintings were less works of art than an emotional link with history and with their own troubled past.

The highlight? Lotus: A Gentleman Among Flowers, a spare, gray ink sketch of a lotus among water lilies - a work that looks just like any of the silk paintings on sale outside temples and tourist traps across China. What makes it special is a hand-sketched inscription with a red seal at the top - "In a pure wind, I smell fragrance from afar. Sitting across from my wife, I forget the heat of summer." Those are the words of her husband - and they provide a tantalizing glimpse into the private life of a man whose public demeanor was that of an unbending, ruthless soldier.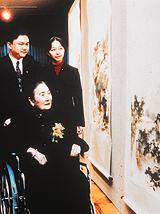 Soong, better known as Madame Chiang Kai-shek, studied under masters Huang Chun-pi and Cheng Mang-ch'ing. However, she set aside her palette when she moved to New York in 1975, following the death of her husband. Now living in a Manhattan apartment, she rarely ventures out in public. Showings of her art are rarer still. The prominent display in the museum clearly indicates her immense importance, in historical, if not strictly artistic terms. Mme. Chiang is one of three remarkable sisters who helped shape contemporary China. The two others were Ching-ling, wife of Sun Yat-sen, modern China's founding father, and Ai-ling, who married mainland finance minister H.H. Kung.

When Chiang was deposed as ruler of China in 1949, his wife fled with him to Taiwan. With them they took much of their nation's imperial art treasures. And therein lies one of the intriguing undercurrents of the San Francisco exhibition. In the ongoing battle for world attention and prominence that has pitted China and Taiwan against each other for over a half-century, even art is a combatant. Staged just before Taiwan's presidential elections - a time of such increased tension between Taipei and Beijing that China raised the specter of war - the exhibition took on an almost nationalistic resonance.

Billed as "New Millennium Painting and Calligraphy By Madame Chiang Kai-shek and the Masters of Chinese Painting and Calligraphy," the show might have better been dubbed a tribute to Taiwan's old guard. Au Ho-nien, who resides in a San Francisco suburb, was the youngest artist on exhibit - by over two decades. "I'm the baby," chuckled the sprightly 65-year-old painter.

The opening drew a tux-and-gown crowd, including an array of cheongsams (traditional Chinese dresses) from San Francisco's sizable Chinese community. Like the artists, nearly all claimed strong Taiwan connections. Likewise the money behind the exhibit, which - according to museum staff - was put together in an exceptional rush. Traditionally, shows of this stature involve at least a year's planning, but not this one. The ceramics normally on display at the Asian Art Museum were swiftly shunted off to the basement, and two chambers were readied in a month, involving lots of costly overtime work - bankrolled not by the museum, but by the World Journal newspaper.

The overseas arm of Taiwan's United Daily, World Journal claims to be the largest international Chinese paper. It hosted the show in its New York offices in January and plans to take it to its Los Angeles premises later this month. Arthur Ku, deputy general manager of the group's operations in the Bay Area, declined to say how much the exhibition had cost. "This isn't meant to be a promotion for the paper," he said. "It's really meant to give people a rare chance to see the works of Mme. Chiang Kai-shek, and of five other masters. But Mme. Chiang is of course the main interest for everyone - not just for Taiwanese, but for all Chinese."

The star draw was not present. Mme. Chiang is too frail to travel these days, but she did attend the opening of the exhibit in New York, which was viewed by more than 13,000 people. The turnout was no surprise, given that near-riots erupted in 1998 at the auction of 800 items from her longtime rural New York estate (now sold). Police were called in to control the thousands of Chinese-Americans eager to simply tour the home of the legendary matron who played such a pivotal role in almost a century of Chinese history.

The San Francisco exhibit featured a strong emphasis on calligraphy. "These are the top talents from Taiwan. All of them are very important," noted Terese Tse Bartholomew, the museum's curator of Himalayan and Chinese decorative art. She praised in particular the bold strokes of Wang Chi-chien, one of the first Chinese artists to emigrate to the U.S., where his style eventually became noticed in the West. Born in Suzhou, near Shanghai, Wang arrived in America in 1949. The 93-year-old artist served in the 1960s as chairman of the Art Department at the Chinese University of Hong Kong.

Bartholomew, who hails from Hong Kong and is a niece of Macau casino baron Stanley Ho, describes Mme. Chiang's work as "strong and competent." She is particularly struck by that intimate inscription accompanying Lotus: A Gentleman Among Flowers. She says: "For me, it's shocking. The Chinese never say anything like this. It's so personal." Mme. Chiang Kai-shek - more than a century old and still getting tongues wagging.
---
Ron Gluckman is an American reporter who is based in Hong Kong, but who roams around Asia for a number of publications, such as Asiaweek, which sent him to the USA for this story that ran in March 2000.
---
To return to the opening page and index

push here
---
[right.htm]