Bhutan offers great getaway from Thailand
With stunning scenery, colorful festivals and rich traditional life, Bhutan is a dream destination. Add in Buddhist temples and a vibrant monarchy and the appeal is only amplified for Thais, who are just a few hours from the Rooftop of the World.
By Ron Gluckman /in Paro, Thimpu, Punakha and Bumthang, Bhutan
---
T

UCKED BEHIND IMPOSING, SNOW-CAPPED MOUNTAINS

far from the outside world, Bhutan has always seemed a once-in-a-lifetime destination.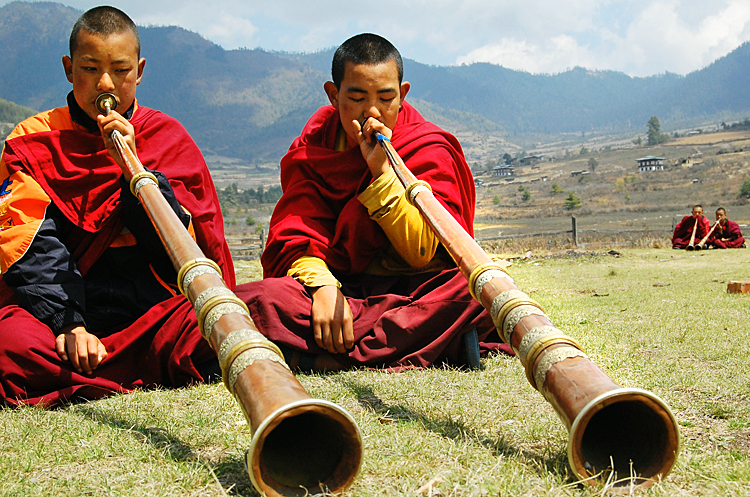 The isolation is simply heightened by this reclusive Buddhist kingdom's unique approach – many say aversion - to tourism. Visitors weren't even allowed until the 1970s, and tight quotas combined with daily tariffs of hundreds of dollars give pause to all but the heartiest adventurers.
Yet here was Apiwat Anukularmphai of Bangkok, back for his second visit. The first came only last year, but merely whetted his appetite.
"I find it very spiritual. Also, the culture is very strong. You see it in the way they dress, and how everything looks," he explained.
An architect, he was also enchanted by the traditional design of buildings, from ancient monasteries to the Tibetan-style timber and earth houses. And Bhutan's pervasive Buddhist environment naturally holds special appeal to Thais.
You feel it everywhere in Bhutan, beginning the second you step off a plane at the international airport in Paro. Greeting visitors is a huge billboard showing dapper King Jigme Khesar Namgyel Wangchuck and radiant Queen Jetsun Pema.
With their movie-star looks, the telegenic first couple beam everywhere you go in this fairytale Land of Thunder Dragon. At Tsechu, a colorful festival at Paro's main monastery, a sprawling ancient stone citadel overlooking the airport, both royals attend and pose for pictures with rapt onlookers.
Even outside such gatherings, you see the young king circulating confidently among adoring Bhutanese. I spotted King Jigme twice along the highway between Paro and the capital of Thimpu, royal legs churning under robes, atop a mountain bike trailed by his security detail. He's an avid cyclist and nature enthusiast.
When you talk to many Thais, they might not know where Bhutan is, but they all perk at the mention of King Jigme. After the youthful king wed his beautiful queen two years ago, euphoric celebrations greeted them as they honeymooned in Thailand. Visits from Thais to Bhutan tripled afterwards, and the numbers continue to rise.
The charismatic royal couple, majestic monasteries and a nation steeped in Buddhist tradition are only part of Bhutan's immense appeal to Thais. While Bhutan has long been shut off from the outside world, it is linked to Thailand not only via religion and strong traditional values. Bangkok is a major hub and gateway to Bhutan.
As a result, Bhutan has emerged as a wonderful getaway for quick-breaks, as well as the adventurous escape. More Thais – and Asians in general – are making the delightful discovery that Bhutan is both worlds away, yet practically on their doorstep.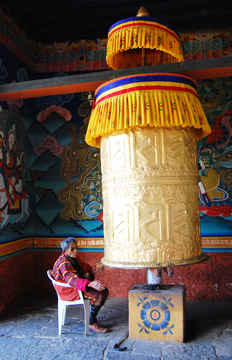 Whether on a long trip or short break, journeys invariably begin with hair-raising flight into Paro, among the world's highest-altitude airports. Planes are specially calibrated and pilots trained for the challenging landing; you plunge from powdery clouds rapidly to land at the Rooftop of the World.
As most visitors fly into Bhutan, stays tend to begin and end in Paro, which isn't a bad thing. Dispel notions of a charmless airport hotel. Practically all tourists are on package tours, so you will be met by guides who whisk you to a hotel with Bhutanese features, then sightseeing around Paro, which is packed with attractions.
Think of Bhutan as a string of picturesque valleys, encircled by hills, delineating a tiny kingdom in olden times. Each valley has its own dzong, ancient citadels that function both as monasteries and as administrative centers. They command the choicest terrain, whether on hilltops, or along idyllic rivers, with views over ancient temples scattered amongst lush pastures that sustained each tiny kingdom.
As one of the Bhutan's main cities, Paro has more than its share of arresting sights. Must-see attractions include 7th century Kyichu Lakhang, one of Bhutan's oldest temples and among 108 built in a single day by King Songsten Gampo, according to local lore.
Supposedly an ogress was wreaking havoc in the land, so the king built all the temples to pin the monster to the ground. Kyichu Lakhang nails down one of her legs.
Despite the ominous origins, it's a soothing retreat, shaded by plum blossoms and bedecked with prayer wheels. You quickly are immersed in the ancient aura. Pilgrims regularly make the circuit, twirling strings of prayer beads and mumbling citations as they spin the wobbly holy wheels, sending salutations to the spirits above.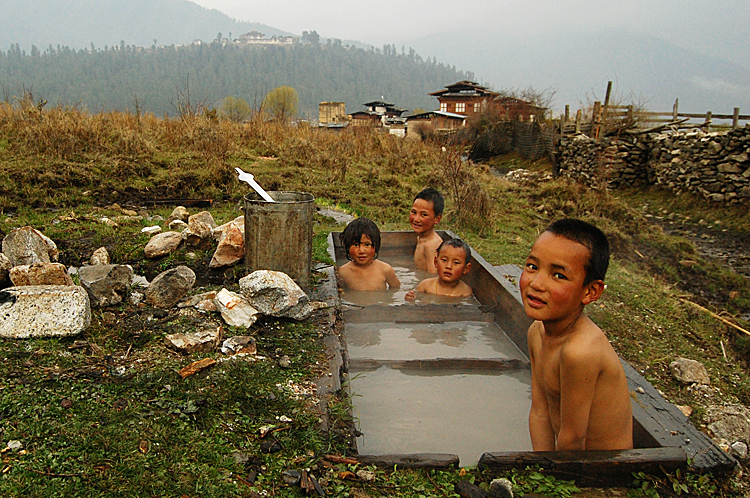 The imposing Paro Dzong is on every itinerary, justifiably so. Hovering above a crystalline river, it's reached by ancient wooden bridge, strewn with prayer flags. The interior evokes the era of kings and courts, with enormous wooden doors opening to a colossal inner courtyard paved with huge slabs of stone.
Everything is steeped in ritual and color: monks in red and orange robes mingle with locals and officials, all wrapped in traditional outfits, gho for men, ankle-length dress, or kera for women.
Short stays in Bhutan typically take in Paro and the nearby capital city of Thimpu, a fascinating arena for street walking and people watching. Despite the rich traditions, Bhutan is a land in the midst of tremendous transition.
Bhutan was among the world's last nations to allow the internet, television and cell phones, but all have been adopted with enthusiasm. A constitution and the launch of democracy resulted in elections and the first change of government this summer.
Nowhere will you sense the upheaval more than in Thimpu, where internet cafes and pizza parlors have sprouted in what really seemed a provincial town a few years ago. While new construction makes this a somewhat congested city, you can still shop for handmade darts and arrows – archery remains Bhutan's national sport – in cluttered all-in-one shops downtown, and hike in forest just 10 minutes outside the city center.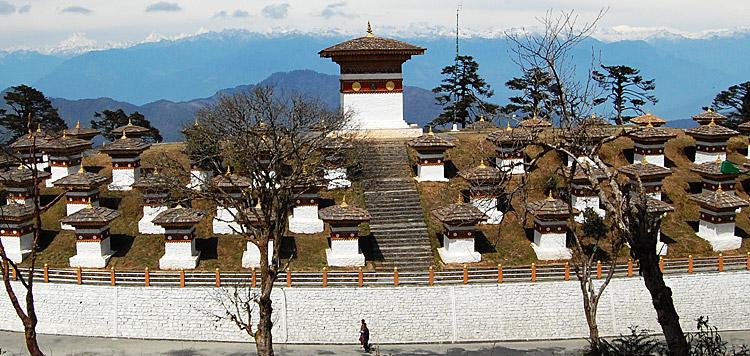 For a taste of life in the countryside, many visit nearby Punakha. Along the way, you'll stop at Dochula Pass, where 108 Chhortens poke the clouds.
The pass stands at 3150 meters; most days there are breathtaking views of the Himalayan Mountains filling the horizon, a reminder that this really is the Rooftop of the World. Even when misty, the mass of prayer flags running up the hillside make this an a spiritual stop.
The road winds down into Punakha; at only 1200 meters, it's a welcome change from Paro-Thimpu, especially to those unaccustomed to Bhutan's altitude.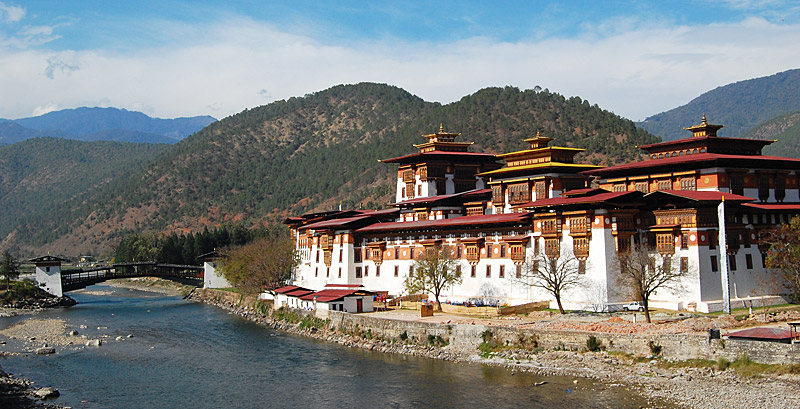 Punakha boasts absolutely sumptuous pasture and farmland, and perhaps the most beautiful dzong in all of Bhutan. Set at the confluence of the Pho Chu and Mo Chuat, the country's two main rivers, this exquisitely curving dzong was the seat of government until 1955, when the capital moved to Thimpu.
Amazingly, the distance between the two is just 30 kilometers, but the drive takes three hours on what may be the world's most winding roads.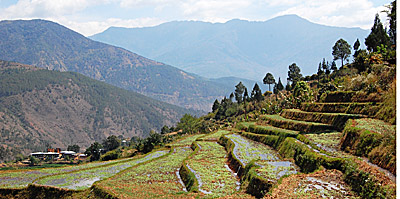 Tourism in Bhutan has grown tenfold from under 10,000 visitors in 2005, and Punakha has shared the boom. Thankfully, this charming valley has mainly benefited from better tourist facilities. The high-end Como and Aman chains run boutique properties in idyllic surroundings, and river rafting is now an option along with mountain biking.
With more time, there are other valleys, and an endless series of castles and temples clear out to Bumthang, the original stronghold of the Tibetan monks who established Bhutan. That route is also increasingly accessible thanks to the additional of regular internal flights between Bumthang and Paro.
In fact, it's on this very flight that I meet Apiwat Anukularmphai at the end of my 16-day tour. He's made essentially the same circuit, but in a whirlwind, visiting five cities in five days. Once again, it's only whetted his appetite. "There are still so many places to go in Bhutan," he says. "I'll definitely be back!"
---
Bhutan must be booked by package tour, with a minimum tariff of US$250, which often includes hotel, meals, guide, driver and vehicle.
Druk Air (http://www.drukair.com.bt/) flies about seven times weekly from Bangkok, but the schedule varies according to season.
The best times to visit are September through November, when skies are clear and mountain peaks stunning.
Alternatively, despite more rainfall, spring is popular from March through May, when hills are bursting with cascades of colorful flowers. Como Hotels and Resorts, which runs the Metropolitan in Bangkok, has designed a series of special short getaways perfect for Thai visitors (http://www.comohotels.com/)
---
Ron Gluckman is an American journalist who has been living in and covering Asia for over two decades. He contributed this travel story on Bhutan to the Bangkok Post Magazine in August 2013.
All pictures and text copyright by Ron Gluckman
---
To return to the opening page and index

push here
---