Beijing's booming property market
Measures to curtail real estate speculation have failed to slow a market that continues to chalk up record gains. While Shanghai and some inland areas have cooled off recently, Beijing remains a buy.
By Ron Gluckman/in Beijing
---
DESPITE MEASURES DESIGNED to dampen speculation and cool its most overheated real estate markets, property across China continues to attract investment, lately from overseas buyers. Returns remain solid in most sectors nationwide, but keen interest focuses upon Beijing, booming before its hosting of the Olympics in 2008.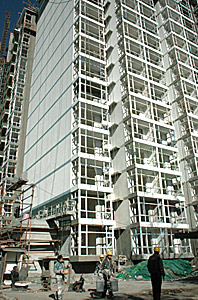 Last year, Chinese banks provided $199 billion in home mortgages, a 64 percent increase on 2004. All that lending created a seller's market. Residential property has appreciated by double-digit rates throughout the last decade, consistently beating even the lofty annual rise in Chinese GDP. Some of the greatest gains were in China's capital city, where home prices soared nearly 20 percent.
"Beijing is a buy," says Kelly Scott Morris, director of the Beijing office of Savills Property Services. "Residential is the hottest market for investors now." He notes that institutional funds are starting to move into China. "The market is very good for small and medium investors, but also for institutional investors."
At the high end of the market, Beijing real estate is driven by many factors, led by the rapid rise in Chinese affluence. Merril Lynch estimates there are now 300,000 Chinese millionaires, while Forbes notes 10 billionaires, many of them property barons; last year there were a mere three.
China accounts for 12 percent of the world's luxury purchases; five years ago, the number was one percent. More and more of that wealth is accumulating in Beijing, which last year tipped Shanghai for the first time with the country's highest average disposable income.
Wealth is extremely unevenly distributed; citizens in Beijing and China, on average, earn about $210 annually, nearly twice the national average. Still, all the new swank shops in Beijing attest to ample fast cash. The Beijing Bentley showroom has sold a half-dozen of its swank 728 limos, $1.2 million each, more than any other dealership in the world.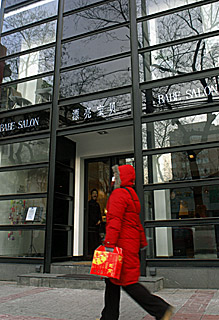 Aside from the growing ranks of ultra-wealthy, who favor villa developments boasting western styles and names in the countryside around the capital, there is also increasing interest from foreign investors, both funds and individuals.
This is a relatively new development, as foreigners have only recently been allowed to purchase property, and previously were confined to special development zones. Only in late 2003 were the zone restrictions lifted, prompting a surge in foreign buying of what had previously been considered Chinese-only developments.
Among foreign funds, ING has been most active, with high-end residential projects in both Beijing and Shanghai since the late 1990s. In February, ING Real Estate, the property investment arm of the Dutch group, announced a US$300 million fund targeting mainland property.
In recent months, Credit Suisse, Lehman Brothers, Morgan Stanley and Merrill Lynch & Co. all unveiled plans for sizeable investments in Chinese real estate.
Most focused in the past on office and commercial developments, but a shift could come with the flood of foreign buyers. "There has been a huge change in the perception of China," notes James Hawkey, executive director of Cushman & Wakefield, a real estate consultancy and part of the Rockefeller Group.
"Before, you maintained some representation here. For multi-nationals, it's become more of a strategic concern. Now, you have a world-class business center."
All those offices add to the ranks of well-paid workers, many ex-pats who find China's improved living conditions and boundless opportunities alter the view of what was largely considered a hardship posting in the past. More look to China long term. Increasingly, they are buying rather than renting their homes.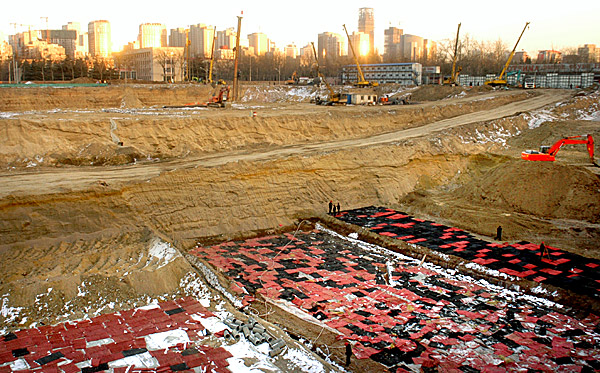 The final factor boosting the market for Beijing's luxury villas and flats, are the vast numbers of Chinese from across the country moving to the capital.
Some are lured by growth that has made China the biggest construction site and fastest-growing city in the world in the run-up to the Olympics. Others fill jobs in the expanding IT sector – practically all international tech firms have operations in Beijing – or extensive options in education and government employment.
"A lot of buyers are Chinese from other cities," says Cherry Li, research manager at Savills. The Beijing native notes: "Shanghai is hot internationally, but Beijing is hot in the same way nationally. People want to live in the capital." She estimates nearly a third of buyers of Beijing residential property are mainland Chinese from other cities.
But will Beijing's double-digit gains continue? What about a glut of housing flooding the market? Won't officials take measures to cool the Beijing market, much as they did in Shanghai?
In any case, won't the bottom fall out after enthusiasm for China wanes in the aftermath of the Olympics, responsible for a raft of infrastructure spending in Beijing before 2008?
That's the concern of observers like Jack Rodman, partner and managing director of Ernst & Young in Beijing. "There is now one billion square feet under construction in this city," says Rodman, who estimates that half that is probably residential. "Who's going to use all that?"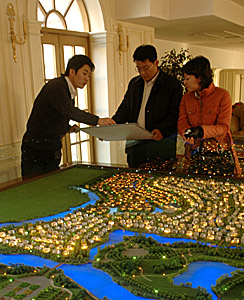 Others say Beijing can absorb the growth. "China's real estate sector will embrace a market which promises to expand for more than 10 years in a row," Meng Xiaosu, president of the China National Real Estate Development Group, one of China's largest property developers, said at last fall's International Real Estate Exposition in Beijing.
He noted that average living space across China was about 25 square meters per urban dweller. Demand wouldn't level off, he predicted, until that reaches 35 square meters.
Putting things in perspective is Anna Kalifa, senior manager and head of research at the Beijing office of Jones, Lang LaSalle. China is about 30 percent urban, she notes. In western nations, the figure is around 80 percent. "So that's a huge driver for growth."
The growth is visceral around the capital these days. Cranes move through a think haze of dust in the eastern business district (CBDB) and Beijing's fledgling financial zone, near Tiananmen Square. The frantic activity stretches far into the suburbs, particularly towards the airport, where a new runway and terminal designed by Norman Foster is underway.
Signs above expressway off-ramps, many still dirt roads under construction, tout luxurious villa developments, with names like Palm Springs, Eurovilla, Grand Hills and Yosemite.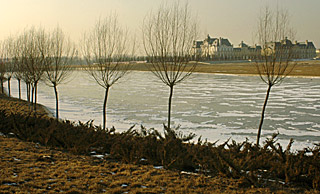 Amongst so many projects, Chateau Zhang Laffitte is unusual only in its lofty vision and quality execution. Owner and namesake Zhang Yuchen, a property developer since the early 1990s, modeled the incongruous castle, set on its own island, surrounded by moat, on a actual 17th century French chateau.
More than 10,000 photographs provided the detail, while actual white Chantilly stone sets an authentic tone.
Yet Ang Li, a sales agent, notes many improvements on a tour of the 1.5-square-mile estate. The sculpture gardens resemble Versailles (but with Greek statues) and a pair of extended wings have been added, sort of in the style of Fontainebleau.
Soon there will be a golf course, and riding stables. Billboards adjacent to this modern Chinese-French chateau advertise English horse and hound hunts.
Zhang's dream castle, already open as a hotel and used for fashion shows and corporate events, will be surrounded by 550 luxury homes. Prices start at $500,000 for 420-square meter houses, according to Li, who says the first 160-home phase of the project by Zhang's Baxien Real Estate will be completed in October. Already half the homes, none built, have been sold. Some range to $5 million.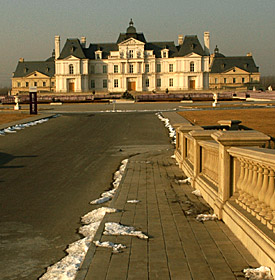 Despite the soaring cost, practically all buyers are Chinese. Likewise at Green Park, where 700-800 square-meter homes sell for $1-2 million. That puts them beyond the range of all but the ultra-wealthy, a Chinese class growing as fast as developments like Forest Hills, Green Sea Manner and Palais de Fortune. Homes here range to 3,000 square meters. Leases can run $20,000-$30,000 per month, says Jolyon Darker, manager of the residential division at Savills.
Beijing housing has evolved radically in a short time not only in price and size, but also style, design and quality. "Ten years ago, every development had some ridiculous feature," notes Hawkey.
Typical were garish statues and fountains, as well as Dutch, British and German villages. Less comical were the typical lack of closet and kitchen space, and more serious structural flaws.
"You used to walk into a place and see a dozen tiny rooms," says Morris, who has lived in China since the early 1990s. "But now, developers are getting the proportions right,"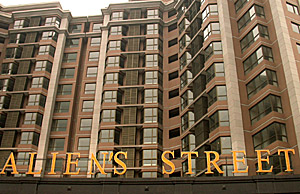 The transformation is all the more remarkable considering home ownership is such a new concept to Chinese, who lived for decades in dwellings provided by worker units.
Privatization began in the 1990s, but resale wasn't allowed until 1999. Mortgages launched in 1998. Loans run 15-25 years, with down payments of 20 percent (usually 30 percent for foreigners). More may be demanded for luxury property.
Villa developments have lately been the target of government watchdogs, who worry about the growing disparity in wealth and the rise in protests by farmers, angered by the loss of agriculture land.
Various government ministries recently reiterated restrictions on land conversion to villa use, but most regulations have been on the books as far back as 2003. In any case, most villa property was long ago rezoned, and there seems no shortage of available land for developments.
Still, a potential overstock in, and soaring prices for villas prompts many Beijing analysts to recommend luxury apartments, which typically sell for $1,900-$2,500 per square meter. Darker says such apartments can be bought for $450,000, and rented it for $3,000 per month, yielding 15-percent annual appreciation.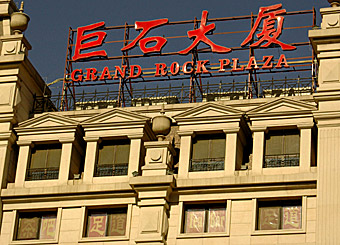 Others worry of parallels to Shanghai, where speculation sent prices doubling in a few years, forcing stern measures that cooled the market.
Indeed, a test will likely come this year, with the opening of a huge stock of high-end property in Beijing. Yet cautious observers like Hawkey note: "Even with the future supply, the market isn't particularly overheated."
Darker says the rapid construction has much to do with Beijing's plan to halt new building before the Olympics, given the air a chance to clear. "Right now, everything is going full speed." A huge amount of housing will hit the market this year, he concedes, "but then, there will be nothing in 2007, 2008, or 2009."
Morris adds: "There a lot of supply out there, more than every before. But demand is stronger than ever. I think we're still seeing just the tip of the iceberg."

---
Ron Gluckman is an American reporter who has been roaming around Asia since 1991. He lived in Hong Kong from 1991-99, and Beijing from 2000-2004, and remains a frequent visitor, writing various issues like real estate and development in this article for the magazine of Urban Land Institute, published in late 2006.
All pictures by Ron Gluckman
---
To return to the opening page and index

push here
---