Boutique comes to Beijing
Style? That was something better suited to Shanghai. China's stodgy capital was always so old-fashioned, so utterly out of it. But, in the run-up to the Olympics, a slew of hip hotels hit the scene, helping to transform Beijing into a suddenly trendy destination.
By Ron Gluckman/in Beijing
---
LOOKING LIKE AN EMERALD PALACE right out of the Wizard of Oz, Opposite House seems designed to match its quirky name. Gleaming green-glass walls tower over stands of bamboo. Spacious rooms are kitted out in minimalist grandeur, tucked behind rustic wood doors reached by translucent red elevator, rising above a vast, eerily empty lobby.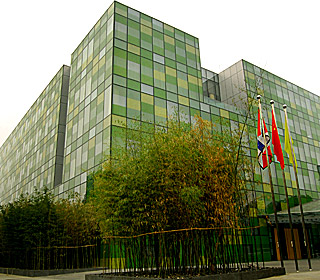 Everything about Beijing's hippest new hotel suggests surprise and contrast, and not only due to its radical look and unlikely location, in the staid diplomatic district of Beijing, but also in shaking up the drab image of this ancient Chinese capital.
Put simply, this bold, envelope-pushing hotel is not only luxurious on a grand scale, but also utterly chic, bringing a breath of fresh air to a Beijing scene previously stifled of style. And, the best news is that it's not alone. Around the capital, a new generation of stylish boutique inns has recently sprouted, redefining lodging in Beijing.
More evidence of a Sleeping Revolution in the People's Republic comes at G Hotel, with its Hollywood sheen and Andy Warhol art (plus Intimacy Kits – containing condoms and vibrators, and mirrored ceilings and mood lights).
Or Kopek, with an exterior of shimmering fiberglass, all the more striking due to its setting, alongside the ancient Forbidden City. Or the tiny but exquisite Cote Cour SL, offering five-star service in the Hutongs, or old alleys of Beijing's central core. Most of these new-generation lodges opened in the frantic months before the Olympics, but many more are on the way.
Opposite House (the name actually refers to hospitality traditions in old Chinese courtyards, where esteemed guests would be housed in rooms directly opposite their hosts) is one highlight of an enormous project by Hong Kong's Swire Properties, which is redeveloping part of the popular bar district of San Li Tun into a kind of High Street, filled with retail plazas, stylish bistros and entertainment venues.
Even amidst such high-end establishments, Opposite House stands apart. The first hotel from celebrated Japanese architect Kengo Kuma - as well as Swire, which plans another upscale inn next year in Hong Kong - this swanky 99-room hotel breaks the mold in Beijing.
Forget standard measures of five-star elegance the second you step inside the immense but largely unadorned lobby. There is no central fountain, no thick carpets or polished marble. And no welcome desk. Instead, comfortable couches beside floor-to-ceiling windows define a lounge behind what looks like the world's largest Chinese pharmacy cabinet, with over a hundred glass drawers.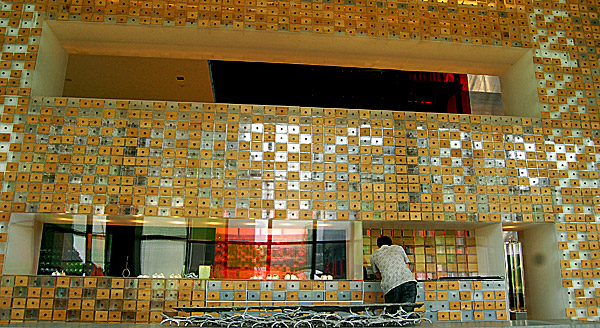 Check-in is fast, breezy, Alice in Wonderland. Staff materialize – perhaps from the cabinet - carrying portable scanners. Like a magic wand, one wave over your passport, and voila, you are in the Opposite House.
"We try to take a clean, fresh approach to everything," says general manager Anthony Ross, who shows off facilities that include a slick, dark nightclub, Punk, with metal chairs and tables, and dazzling underground pool with walkover glass bridge.
The rooms are equally daring, if far more sublime. Set behind unstained wood walls on long corridors that form zen-like lines over the expansive atrium, interiors are purposefully spare, with gorgeous Japanese-style wooden tubs and sinks.
Otherwise, all is modern chic, from massive plasma TV screen to remote-controlled curtains. An aircraft carrier's worth of electronic devices – besides standard ipod-speaker hook-up, and light and sound controls, you can also zap your laptop to the TV, or insert any USB device – all plug into a central dashboard that puts a snazzy 21st Century spin on the old beside hub. The simple furnishings and bright, floor-to-ceiling glass walls emphasize the sense of space – more than half measuring over 70 square meters, some of Beijing's biggest rooms. Nor are they slight of price, starting at 5,000 RMB (about US$800 per night).
"At this price, we will be the market leader, and no apologies, that's what we're after," Ross notes. He expects Opposite House to attract a hip set of movie stars, models and glitterati – the kind of crowd this Socialist capital has never drawn. "These will be people who are after an unique, unbranded experience," he explains.
But will jetsetters flock to a city known for its temples, tea and duck rather than mojitos? Many believe Beijing has moved from Mao to Now.
"Before, Beijing had all the historical, must-see sights, but it didn't have a hip scene," concedes Nikolaus Ellrodt, general manager of trendy new Hotel G, and working in China hotels since 1995. "But I think the hotel scene in Beijing after the Olympics will be more diverse than anywhere in China. The entire atmosphere has changed."
G is a big part of that. Another premier property from Hong Kong investors who plan rapid boutique hotel expansion around the region, Hotel G is modeled on art deco inns of the Golden Age of Hollywood. The lobby oozes classy elegance, with red sandstone walls offsetting the jet-black exterior, while pulsing LED lights and stitched leather columns suggests some of the offbeat touches to come.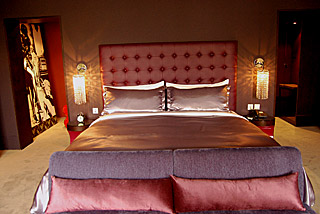 Inside, a king-size bed presides over kitschy collections of Chinese and pop art, including wall-size murals in many rooms. Again, ample space bespeaks opulence. But room categories are good-humoredly described as Good, Great, Greater and Greatest.
Designer Mark Lintott, an Englishman in Taipei who has created some of Taiwan's hippest clubs, went all out to create a flamboyant vibe for the 110-room hotel, set in Gong Ti Xi Lu, just south of the dowdy Worker's Stadium, but already home to some of Beijing's hottest discos, gay clubs and the style-setting Green T. House.
The playful qualities of his design are apparent everywhere, from quirky mood lighting in the rooms, to the cartoonish floor-indicators set behind a black-mirrored panel in the lift, which bounce around, vibrating to a stop, Ipod-style, as you reach your floor. "I wanted the design to have a theatrical nature to it, as a backdrop," Lintott says, "for the guests to interact or play out their own experiences."
Or fantasies. Windows in each room can be set to a variety of hues, programmed by guests, their own in-room mood lighting. The result will, viewed from outside, will be an unique light show, Lintott says, "different every day and probably never repeated."
Another unique element is the intimacy kit. "We want guests to indulge themselves, in any way that they like," G manager Ellrodt notes with a sly wink. These, along with the mirrored ceilings and rooftop Jacuzzi, are all spice to life in a fast-evolving city. "Beijing is really changing, opening up, becoming a world city," he says.
That's the view of Shanghai architect Lyndon Neri, who designed many of Opposite House's venues. He first came to China to work with Michael Graves on the restoration of Shanghai's style-setting Three on the Bund, then stayed on to form his own firm Neri & Hu, and the quirky design company, The Design Republic.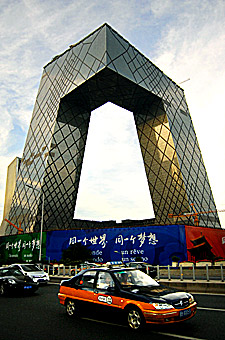 "I have been amazed by Beijing's transformation these last few years leading up to the Olympics, and have to admit that, architecturally, it has pushed the boundaries more than Shanghai or Hong Kong, at least in the last four to five years."
Adds David Laris, an Australian celebrity chef who managed London's Mezzo, before moving from Hong Kong to open his own signature Laris restaurant in Shanghai: "Beijing definitely has a huge buzz these days." He says the boom is reminiscent to a previous one in Shanghai, but that the Beijing is evolving even faster.
"When I got to Shanghai some years ago, there really wasn't much there," recalls Laris, who also works as a consultant on restaurants and bars in Beijing; he helped craft several for Opposite House. "I saw Shanghai turn a corner, and now, there is the same feeling here, but more so. Things here are moving even faster."
Sharon Leece, author of design book "New China Living," notes that Beijing has long been an artistic hub in China. Hence, the arrival of boutique hotels is only a logical progression "with more and more discerning independent travelers visiting the city."
One welcome trend, she says, is that many new hotels help to restore and save historic structures, and provide genuine local color to guests. "One of the joys of staying at a renovated hutong hotel, such as Cote Cour SL is finding it in the first place." With only 14 rooms, it's a welcome contrast to the Hutong hovels, uh, hotels of just a few years ago, typified by dingy rooms and grouchy service.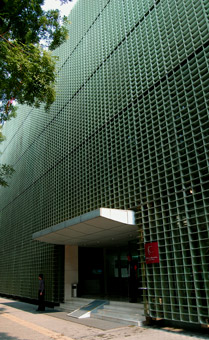 Two other outstanding boutique hotels serve the city core in fine style. Kapok has a shimmering fiberglass exterior that seems to buzz; locals call it "the blur." Designed by top local architect Pei Zhu, it has a hip, minimalist interior and lots of glass, affording interior views over the atrium or little garden nooks.
Meanwhile, Emperor is the latest talk of the town, with its scorching interiors of blinding white or blazing orange. Both hotels are close to the Forbidden City, offering a central location, with style. Soon they will be joined by internationally-acclaimed Aman Resorts' 43-room courtyard-style Aman at the Summer Palace.
And small isn't the final word in hotel style in the Chinese capital. Hyatt recently opened its first Park Hyatt in Beijing's tallest building, designed by John Portman, who gave China its first international-standard five-star hotel in Shanghai's Portman. The property sports a gorgeous dining room and lounge in the uppermost floors, with glass walls affording the most lavish views over the capital. For now.
Soon, these views will be eclipsed by a luxurious Four Seasons, in a taller tower nearby. Next to debut will be a Mandarin Hotel, in the iconic CCTV Tower, which locals call Twisted Donut, or Walking Pants. Architects say the building, like much of Beijing, is redefining notions of design. Laris simply says, "Beijing is becoming really cool."
---
Ron Gluckman is an American reporter who has been roaming around Asia since 1991, much of that time based in Beijing or Hong Kong. He did this story for Prestige Magazine (Hong Kong) in November 2008.
All pictures by Ron Gluckman
---
To return to the opening page and index

push here
---