Bangkok's hip mini-malls
As the world's biggest shopping malls proliferate at a rapid pace across Asia, a sleek, minimalist new-style mall has sprouted up - and spread successfully - in Bangkok's uber-hip Thong Lo District. The innovative architecture and subtle design could redefine Asian shopping by showing small can contain mall.
By Ron Gluckman / Bangkok, Thailand
---
C

OOL ISN'T A

word commonly associated with shopping malls, which tend to conjure images of massive Wal-Marts in enormous, endlessly-replicated arcades.

Yet, a different retail hall has caught on in Thailand, a country renowned for an artistic aesthetic that has made it a favorite of the world's design labels for production of classy interior décor items, innovative crafts and elegant house ware.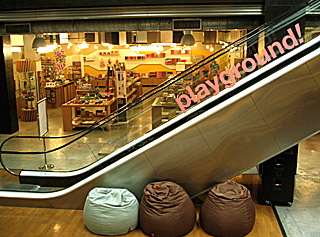 The same smart artistic style infuses numerous mini-malls that have sprouted up in Bangkok in recent years. The epicenter of this retail revolution is undisputedly Thong Lo, main boulevard of a district of the same name in northern Bangkok.
A handful of "lifestyle concept" centers, as they have been dubbed, have sprouted here, but none more trend-setting than Playground!
Calling itself "a novel art boutique store," the apostrophe added to its name is meant to provide a cutting-edge accent - as if consumers couldn't clearly distinguish this three-story mall with ipod-listening stations on the entry level and giant dinosaur roaming an interior atrium from your regular, run-of-the mill shopping centers.
In front of Playground!'s slate-black exterior stands a two-story dog statue, setting a playful mood for the plaza, with its ever-changing appearance. Tagged by some of Thailand's top graffiti artists for its 2005 opening, Playground!'s pup sported a hide of hearts on Valentine's Day, and a multi-faceted mirror coating during a subsequent visit.
"Playground! is definitely a departure for our company," confides Thongchai Busrapan, 38-year-old president of Noble Development, the Thai-listed real estate firm that built and operates this novel mall. "But we think it's a good thing for our image and to attract attention."
Playground! has garnered plenty of that. Magazines from Time to Wallpaper lavished praise upon the "uber-hip" mall. In a story headlined, "The Definition of Thai Modern," Travel + Leisure said of Playground!: "You could spend days in this place, and many people do."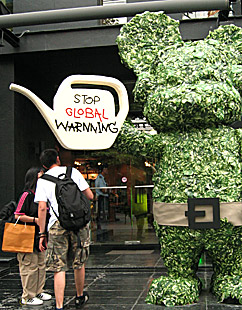 The area's transition into trendy shopping district stems from several factors. Once a long stretch of dissolute car dealerships, Thong Lo (also called Thonglor) runs through a neighborhood that was dotted with rice paddies just a few decades ago.
Then came the arrival of the elevated BTS subway system, which has had tremendous impact on urban development and consumer patterns throughout Bangkok.
With a station at the intersection of Thong Lo with Sukhimvit, one of the city's busiest boulevards, better access to Thong Lo brought attention from developers, who snapped up comparatively under-valued property for condominiums.
Adding new starter units lured a younger crowd to Thong Lo. Playground! itself was part of a Noble real estate project that was postponed. What would have been the clubhouse and lobby of the apartment complex inadvertently became Thailand's hippest shopping mall.
Or perhaps Number Two. Further up the street from Sukhimvit sits H1, which actually sparked Thong Lo's renaissance as hip neighborhood in 2004. Designed by Duangrit Bunnag, 41, among Thailand's hottest young architects, the two-story mall looks more like zen-style resort than anything to do with shopping.
The understated shops of H1 eschew signage. Instead, they sport serene white walls and huge windows. With big ponds and plenty of trees, H1 is practically a meditative space, set inside two chilling courtyards. "H1 is a new urban experience situated in the city's core," says London-trained Duangrit. "It is pleasantly coherent with nature but exposes itself in a modernistic, architectural language."
Step inside H1, and the traffic from Thong Lo quickly fades; you can actually hear birds chirping. "This isn't like the other places on Thong Lo," notes manager Anawich Srichal. "You don't pass by H1 and drop in. This is a destination."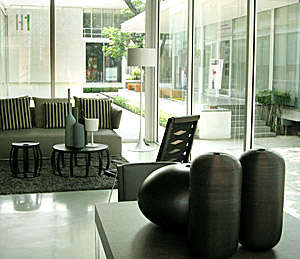 While the plaza draws camera-snapping tourists from Hong Kong, Japan and Singapore, and architecture students from Europe, the mall has been noticeably void of shoppers. On this regard, Anawich conceded, H1 hasn't been particularly successful.
Part of this is due to location. H1 is much further up Thong Lo from Playground or J Avenue, or any of the other hip plazas on the four-lane street. This drawback is only multiplied by a lack of parking. H1 responded recently by renting a few dozen spaces in an adjoining lot. However, other shortcomings clearly illustrate the teething problems facing many of Thailand's innovative lifestyles malls.
Like other lifestyle malls, H1 has no anchor tenant. Partly due to size, but also the hip perspective, they purposefully shun the bowling alleys, cinemas, massive supermarkets and food courts that anchor every big mall in Thailand. While this defines what they are not, many new malls have yet to devise their own marketing message.
Anawich concedes H1 was launched on a whim. On a visit to Italy, owner Pornrak Rattanamethanon was captivated by small, modernistic shopping centers. He called Duangrit, who had just completed the interior for Thailand Creative and Design Center, a government-sponsored showroom and library meant to nourish a new generation of Thai architecture and interior design. Create a novel space, Pornrak told Duangrit.
"We wanted to create a special place, where people would come to sit, and relax, surrounded by nature," concedes Anawich. Little attention was paid to traffic flows or client mix. Chalk it up to inexperience. Pornrak's main business, then and now, is furniture. The main shop at H1 is his own trendy furniture showroom. When H1 failed to find other tenants, Pornrak added his own bookstore and a restaurant.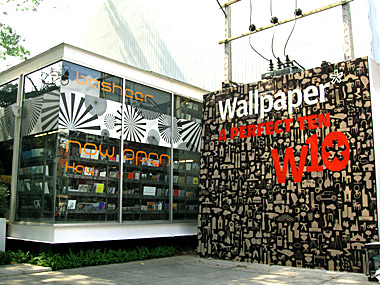 The lack of established brands, with experience in marketing and attracting customers, won't be repeated in H2, planned for another site on Thong Lo. Meanwhile, a redesign of H1 aims to improve the tenant mix and traffic. Accademia Italiana, an Italian fashion and design school, opens in September. Anawich says such students will be a perfect fit for the stylish mall and, populating the space around the ponds, will create a friendly atmosphere to lure in trend-conscious shoppers and new, like-minded outlets.
With H2, the design will focus on shopping, and cater to retail outlets from the outset. "We'll still have a low-rise place, but it will be more commercial, with some food retail and be more mass-oriented," Anawich said. Duangrit is expected to design H2, at a new Thong Lo location that is still under consideration.
Thongchai is likewise moving ahead with expansion plans guided by tough lessons learned at Playground! Another mall is planned for Sukhimvit 36, closer to downtown Bangkok. This may carry the Playground! name, but will be bigger, with merchandise from established retail firms. At most, he says, a quarter of the space will be self-run.
Despite positive reviews in the press, Playground! suffered from its size and novelty in a variety of ways. With one location, Thongchai says, Playground! lacked the volume to bring down production and distribution costs. "When we started, we had no experience in this," he concedes. A real estate firm founded in 1991, Noble had been focused since inception on projects in the Bangkok area. To date, Noble has completed 6,000 units in 18 projects, with another 6,000 units under construction in 10 projects.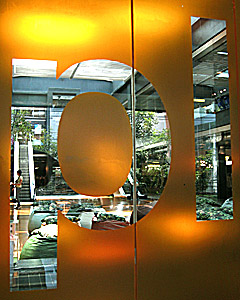 Playground! came into being when the company grabbed a plot of land on Thong Lo. At the time, Thongchai felt, the market was a bit overbuilt, so residential construction was put on hold. "But the property had great commercial potential." The three-story, 7,000-square-meter Playground! was born.
Although bigger and more conventional than H1, Playground! ran into similar problems. The space was deemed too small for many restaurants and fashion boutiques. And others worried whether the mini-mall would draw enough traffic, given the small size and lack of usual anchor tenants. Noble decided to go it alone.
"At first, we thought of trying one big store, like a bookstore, like Borders. But then it would only be one segment of the market, and that would be no fun," Thongchai says. Inspired by stores like Colette in Paris, he decided on a mix of up-market goods - books, magazines, music and fashion items – all targeted at the same young audience.
If there was any marketing plan, he concedes it took shape by accident. "We wanted to create more confusion than convenience," Thongchai notes. Rules were purposefully broken. "Department stores are about saving time. At Playground!, we want you to waste time, to be entertained, to create constant surprises."
Hence, huge bean bags are scattered around the second-story atrium. Visitors are encouraged to spend the entire day, sitting or reading. Or they can listen to music on free Ipod-style machines in the ground level. Concerts and parties are regularly held in the building. "We wanted to create a place, a scene."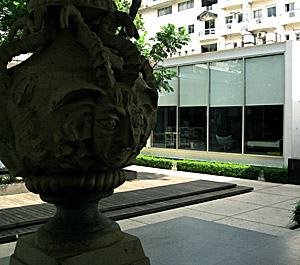 Such ambition is common to all the mini-malls along Thong Lo, but critics naturally question whether any of this makes good business sense. "Thailand has undergone an exciting retail revolution," says James Pitchon, executive director of CB Richard Ellis in Bangkok, a real estate firm that closely monitors the retail trade. But that happened over the last decade, he says, as shopping moved from small stores to mega-malls. Two huge firms in Thailand – Central and the Mall Group – dominate, each with 15 massive malls. Plazas like H1 and Playground!, Pitchon says, "are basically insignificant."
Thongchai concedes that Playground! isn't vastly profitable. Noble invested $8 million in the site (not counting land), about $3 million more than the smaller H1. Returns are decent, he maintains, around 6 to 7 percent on investment. Yet, with 100 employees, Playground! generates less than $1 million in sales annually. The parent real estate company has about the same workforce but turnover of $100 million.
"There have been a lot of headaches," concedes Thongchai, "but I told my board, look at the big picture. A good company should diversify and take risk. We had no assets. This is an investment in our future."
That future is already changing, and Playground! is playing a part. Companies like to talk about synergy, how the creative blend of parts can add up to a better whole. Often, small firms are swallowed to acquire a specific audience, or aesthetic. As Jack Johnson music plays from his Apple laptop, Thongchai shows sketches of some of Noble's new apartments. Behind him, an entire wall of the office is filled with a photo, and a quote from Frank Lloyd Wright: "The longer I live, the more beautiful life becomes. If you foolishly ignore beauty you will soon live without it. Your life will be impoverished. But, if you invest in beauty, it will remain with you all the days of your life."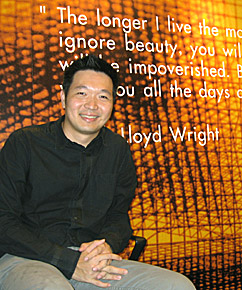 Noble's new designs are brighter, with clean interiors. "The design sense is different," Thongchai concedes. "When we started, there were probably 1,000 developers in the business, but all with very much the same design. That was boring for us." Noble's new look is open, light, exciting, much like that of Playground! "Our image has changed," he says, noting that Playground! customers are apartment buyers of the future.
Could Thailand's hip malls have similar impact on shopping centers around Asia? The two latest Bangkok mega-malls clearly sport more playful designs.
When Siam Paragon opened at the end of 2005, the 21-acre, US$375 million project boasted, besides vast cinema complex, Asia's biggest aquarium.
Rival Central responded by transforming its former World Trade Center into Central World Plaza, featuring 550,000-square meters of retail space, 500 stores, 50 restaurants, 18 cinemas and Asia's largest supermarket. As impressive as size is the style. All dark cladding was removed from the exterior of the old mall, replaced by glass. The overall look is bright, as vibrant as the mini-malls.
This could be part of a regional shift, according to Paul French, publishing and marketing director of Access Asia, a regional market research firm. "The trend away from big malls to more boutique 'destination locations' is a Asia-wide thing now."
---
Ron Gluckman is an American reporter, who has lived in and covered Asia since 1990. This piece was published by the Urban Land Institute in 2007.
Playground, despite its design innovation, failed to find a sufficient market and closed in 2008.
All pictures by Ron Gluckman
---
To return to the opening page and index

push here
---