Bangkok breathes easier
Once blighted by belching buses and thick smog, Bangkok cleaned up its act and air over recent decades. Cutting motorcycle emissions and adding an overhead subway helped, but most measures were easy, efficient and paid quick results. As Bangkok has grown greener, much of Asia, suffocating in thick layers of smog, should pay attention.
By Ron Gluckman / Bangkok, Thailand
---
J
ITENDRA SHAH, AN AIR QUALITY
special
ist covering Asia for the World Bank, always got a graphic reminder of the hard work ahead on flights to Bangkok. Circling overhead, he would look out the window and wince. Below, buried beneath thick smog, was Bangkok. He could already sense the traffic jams and belching buses. Soon, he would smell them.
That was in the early 1990s, when Shah was based in Washington DC, but roamed around Asia pushing schemes to clean up power plants and reduce poisonous levels of sulfur, carbon monoxide and lead, all too common across fast-developing Asia.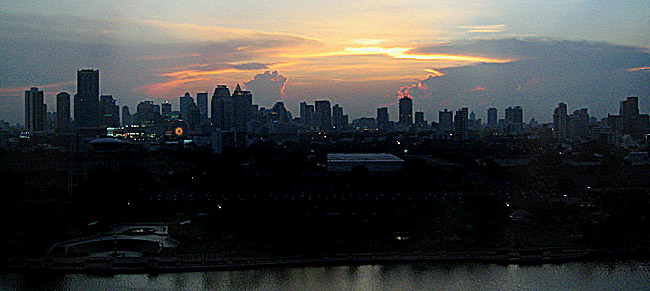 Nowadays, Shah is based in Bangkok, running the Bank's environmental programs around Southeast Asia, but his agenda has lightened. He bubbles about walk-ability studies. An avid urban stroller, he wants to make it easier for Thais to hike around their capital. Should they do so, more often than not, they will be greeted by blue skis that mark Bangkok as an unusual environmental success story.
Across the region, whether gloomy industrial centers in China or modern cities like Hong Kong, residents choke in a haze of ever-grimier air. The majority of the world's most polluted cities are in Asia; seven of the 10 dirtiest in China, according to the World Bank. Bangkok, in contrast, has cleaned up, improving air quality over the past decade.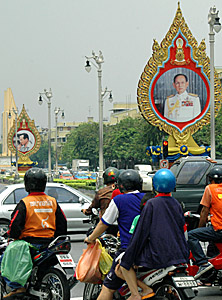 "No question," says Shah, "In many ways, Bangkok is in the forefront."
He credits a variety of measures, from crackdowns on polluting vehicles and conversion of motor bikes from two to cleaner four-stroke engines, to simple solutions, like washing streets, clearing away construction dust.
"Bangkok has really shown a can-do attitude towards air quality. In many ways, it's a model for the region."
Such appraisals surprise locals. Surveys show that air pollution and road congestion remain high among concerns of the Thai capital's 10 million residents.
Yet data proves that Bangkok has not only cleaned up its act, but bucked a trend that finds residents of more prosperous cities like Singapore and Hong Kong decrying increasingly hazy skies.
"People don't really realize the success," notes Thailand Energy Minister Piyasvasti Amranand, "but the air has improved a lot over the past 15 years. Some of the things you can see, but a lot of the improvement you never really notice."
Take lead pollution. Tests showing high lead levels among some school children and traffic policemen in the early 1990s, spurred efforts to ban leaded gas. The plan met stiff resistance from oil producers and car manufacturers. Consumers were concerned over costs, but Piyasvasti, then with the National Energy Policy Office, pushed on.
Thailand quickly went lead-free by 1995, a year before the United States, which had begun its own conversion two decades earlier.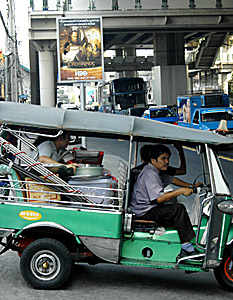 Bangkok can do even better, according to Dr. Bhichit Rattakul, founder of the Anti Air Pollution & Environmental Protection Foundation. He points to outdated buses, many retired from the government fleet, but then returned to service by private operators.
He says that almost half of the city's fleet of 14,000 buses violate air quality controls. "We need to get tougher. These rules are on the books. We just need better enforcement."
Piyasvasti promises that dirty buses "are my next target." He wants to convert them to natural gas, which not only burns cleaner but, thanks to subsidies from fuel taxes, offers better value.
However, conversion costs are high – over $5000 for trucks and buses, he says. Piyasvasti hopes to provide additional incentives with the fuel fund.
A London-trained economist, Piyasvasti is adept at financing green schemes. He raised fuel prices quietly recently to stockpile funds to increase incentives for bio-fuel, the rage across the globe.
Biodiesel (diesel mixed with local palm oil), and gasohol, (with ethanol made from local sugar cane and tapioca), have been available in limited quality since 2004. Within five years, Piyasvasti promises a complete conversion to bio-fuel.
Environmental attention in Bangkok naturally focuses upon cars because of colossal road jams. In the 1990s, when Shah began visiting, gridlock strangled efficiency. Short rides in taxis took two hours. Some workers commuted at dark, then slept in cars or under their desks. Bangkok officials seemed unable to figure out a means of easing the jams.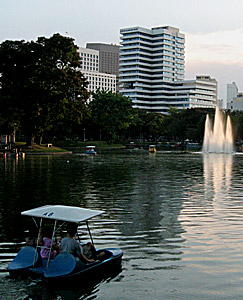 The Asian Financial Crisis that swept across the region was a blessing in disguise. The meltdown began and was perhaps the most severe here. Thailand is only now returning to 1997 levels of prosperity, but the crisis provided a vital breather from the pell-mell pace of development. Rampant real estate speculation stalled, allowing planners a chance to reassess growth and propose new directions.
Most important was the introduction of the first subway in 1999. The BTS, an elevated train, took time to win acceptance, concedes Bhichit, governor of the Bangkok region when it opened, but patronage has since doubled.
"You see everyone on it," he notes, "not just tourists. But business people with briefcases and ties. It works."
A second subway line was added a few years later, but Bhichit and other urban activists want still more track. A new line is under construction to the recently-opened airport, and the government plans major expansion into the suburbs.
Bhichit endorses even more radical measures, like dropping parking-space requirements for new buildings. This would encourage fewer people to take to congested city streets, where another 300 cars are added daily. "We need to get people out of their cars."
Doing so would provide another dividend in the battle for clear air. Bangkok residents could take pride in their bluer skies, something seldom seen elsewhere in Asia.
---
Ron Gluckman is an American reporter, currently based in Bangkok (and Cambodia), who has been roaming around Asia for 16 years for a variety of publications including Overseas Focus in the UK, which ran this piece in May 2007.
For a look at a secret green retreat in Bangkok, see Bang Ka Jao
All pictures by Ron Gluckman
---
To return to the opening page and index

push here
---