Northern Exposure in southern Thailand
Finnish design, and a couple's determination, brings a gem of a stylish new resort to a sleepy southern Thai beach. And it has woken up Khanom Bay in the process.
By Ron Gluckman / Khanom, Thailand
---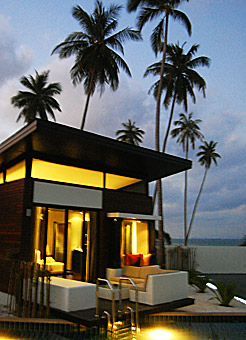 LOOKING AS COOL AS a finlandia martini, the Aava resort and Spa is turning serene Khanom Bay into an even more attractive alternative to Thailand's busier tourist destinations.
And if the property looks like something that Modernist Finnish architect Alvar Aalto might have sketched had he ever found himself swaying gently in a local hammock, that's precisely what husband-and-wife owners Atte Savisalo and Kati Hakkinen intended.
Working with Thai architect Khun Kriangkrai Buajan, they created a resort inspired by Aalto, one of the progenitors of Nordic Modernism. They then hired a Finnish interior-design agency to kit the place out.
The result is less five-star opulence and more chic minimalism, planted exquisitely on the sleepy sands of Khanom. Although it's known mainly for the footprints of tourists hustling to the nearby Koh Samui ferry, Khanom is a lure in its own right.
With waterfalls in the hills and pods of dolphins (including rare pink dolphins) in the sea, it's a place to chill, away from the crowds and crush. Savisalo and Hakkinen stumbled across the area just before Hakkinen gave birth to son Nino, who is the namesake of Aava's kids' club.
Families are a major part of the clientele at Aava (daybeds in each of the 28 bungalows can be converted into extra beds for children), but there's lots of grownup fun to be had at the slick Aalto restaurant, the spa and the poolside bar.
The resort can also organize fishing and diving excursions, Thai cooking classes and barbecue nights on nearby desert islands. After a long day of sightseeing, guests can relax in (what else?) a traditional Finnish sauna — but we imagine that southern Thailand's sultry tropical climate will be sauna enough.
---
Ron Gluckman is an American reporter, who has been roaming around Asia for over 20 years for a variety of publications including Time Magazine, which ran this story in November 2010.
For more information on the resort, see www.aavaresort.com
All pictures by Ron Gluckman
---
To return to the opening page and index

push here
---